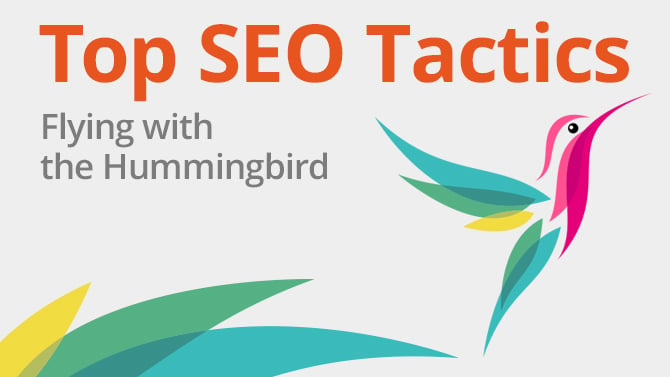 Flying with the Google's Hummingbird
In 2014, the goal of SEO remains the same as ever: to get noticed by search engines in response to relevant user queries—and to rank well enough to attract the attention (and get the click) of the user. As Google and other search engines get better at their goal of providing the best results for their customers/users, SEO becomes more of an art and perhaps less of a science.
For a short time in the past, scoring a large number of links and mentioning keywords constantly spelled "quality" to search engines not yet capable of human-like judgments of quality and relevancy. As search engines get closer to mimicking human decision-making (or understanding us better) SEO becomes less about manipulating tags behind the scenes and more about offering "true" quality content. So, more and more, what looks like quality to you and me, also looks like quality to search engines.
Your overarching SEO strategy, then, is to create value—and the rest will follow. Although it's not quite that simple, you can't really go wrong by creating the best content and user experience you can offer.
SEO Tactics for 2014
Blogging (and content marketing) consistently to enlighten, advise, and engage/entertain: Your blog, other content offerings and content marketing are primary tools to showcase your expertise, value, and/or thought leadership, solidify your reputation, establish your brand, and grow your audience. Search engines will judge you on indicators like traffic and engagement (how long people stay on your site, repeat visits, etc.) They'll also give great weight to how often you publish fresh, quality content and other indicators such as Google's +1—in essence, a vote for good, on-target content.
Links: Links will improve your ranking only if relevant—the more credible/popular the better.
social media activity and interaction: Maintaining social media pages on relevant channels can prompt activity, like links and shares that give you greater value with Google and other search engines. It also bolsters your online identity, builds customer relationships, and allows greater interaction, humanizing your brand.
Natural use of keywords: Google's recent Hummingbird algorithm sea-change represents a great leap forward. It looks at users searches in context—as whole questions rather than a series of keywords. Include long tail phrases and a variety of synonyms throughout posts and in tags. A diverse vocabulary makes your copy lift off the page—and can also expand your relevancy. Answer questions your audience is asking. Think in terms of a theme or topic, rather than just a keyword.
Depth of Content: Short, generic articles generally don't add much value and just look like excuses to include certain keywords, as they often are. Don't bother. Aim for more depth, closer to 1000 words if possible without excessive padding.
Optimized URLs: Create keyword-focused page titles up to 100 characters, separating words with hyphens/dashes. Including location keywords if applicable.
Title Tags: This is the clickable text appearing in search results—make it enticing, not just relevant, to earn the click. Use up to 65 characters, including localizing keywords. Include the company's name as part of your homepage title tag. For internal pages, include it at the end of the title tag when possible.
Headings: Go natural here as well. Use headings to help orient your reader, for scan-ability, and you'll be on target with search engines, too. Use one H1 at the top of the page. Some CMS software and/or plug-ins automatically make this your title tag.
Alt Tags: Descriptively tag images to highlight your topic and convey the message to visually impaired users—as well as to rank in Google's image search.
Google Authorship: Claiming authorship gives Google another way of measuring credibility and expertise based upon your publishing history. Authorship Markup brings in your Google+ profile image next to the search result, and since photos help to draw the eye and may rank higher, you'll attract more attention/clicks.
Optimize your SEO strategy for 2014 and beyond—with expert advice from Zero Gravity Marketing.
If You Like This Article, Please Share It!