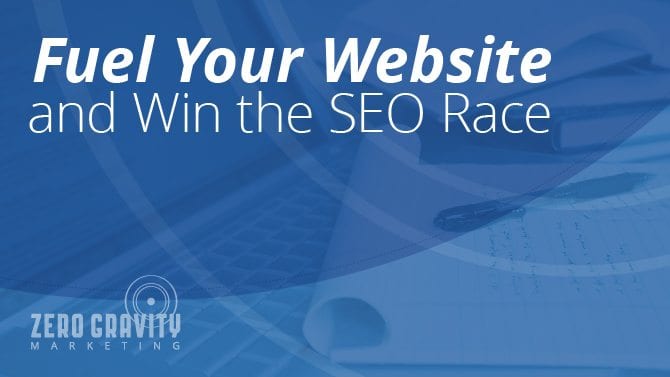 The website may look incredible. It might be the Ferrari of websites. But, just like with a Ferrari, if you don't put any gas into it, it's not going to go anywhere. You must constantly be refilling the figurative tank of your website to make sure it maintains its speed and gets you to the top of the SERPs. These are our top tips to help you amp up your engine as quickly as possible:
Get Your Metadata in Gear
Before you do anything, stop right now and go make sure your metadata is at its best. Your metadata, including the title tag, meta description, and keywords, are the first step to revving up your Digital Marketing efforts and your SEO. Justin Healy, one of our digital marketing specialists, points out that your metadata will make or break the success of your website. You must have succinct, accurate descriptions and tags to attract a targeted audience. By pre-qualifying your traffic using the right keywords, you can improve your conversions dramatically.
Drive Traffic with Great Content
You know by now that producing great content regularly is a key part of any digital marketing strategy. However, for it to truly have the optimal effect on your SEO, you must then use that content to direct readers to other parts of your site—pages where they are more likely to convert. Use an intriguing article to draw them in and teach them something, and then include a contact us link at the bottom so they can take action. Or send them to your services page so they can learn more about what you have to offer. You don't want to spend all of the time and effort to create amazing content, only to have them click off your site when they are done reading it.
Cross the Finish Line with a Strategic Layout
Finally, if you really want to accelerate your website's rankings, you must have a clean, up-to-date, easy-to-follow layout. A strategic layout draws the reader in with intriguing graphics and clever copy, and then—most importantly—it includes calls to action at all of the right places. When your layout is on point, your conversions go up. And when your conversions go up, Google takes notice, and gives you more clout in its rankings.
Digital marketing is about two things: Being consistent and putting your efforts in the most effective places. These SEO tips give your website the fuel it needs to earn momentum and win the race. To learn more about boosting your digital marketing strategy, contact Zero Gravity Marketing today. We would love to help you get revved up to take on the SERPs.