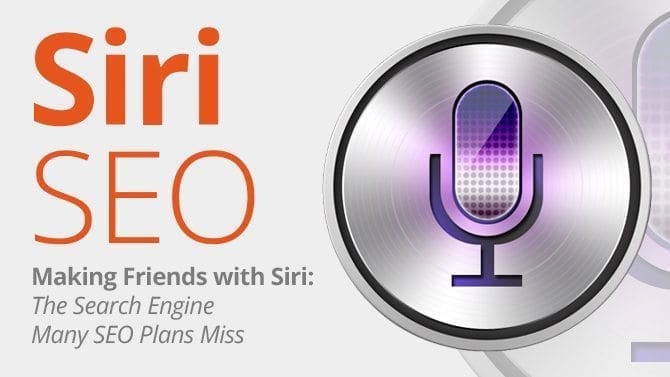 Making Friends with Siri: The Search Engine Many SEO Plans Miss
Your search marketing strategy is severely lacking if you're not taking Siri into account. Because it's likely that a sizable portion of your customer base uses an iPhone, Apple's voice-activated search feature, personified as Siri, should be one of your best friends. Your future (and repeat) customers, much like yourself, are very mobile, and they are conducting lots of product and service research and making purchases on the fly and hands-free. If you haven't given any thought to including Siri-friendly SEO into your marketing strategy, now is the time. So how can you make sure Siri notices you?
Getting Siri's Attention
If you're assuming that Siri gets her search results from Google, a quick comparison will show you that's a bad assumption—in fact, Siri now defaults to Bing. She also gets appropriate results via computational engine Wolfram Alpha. To further complicate matters, mobile search results in general, say on your smartphone, are inherently different from the search engine results you get on your laptop—even within the same search engine's realm. But rest assured, Siri has her own search algorithm.
Siri SEO Tips
Make sure your site works: Use responsive design or a mobile URL to ensure users see your site as you'd like and can find what they need most with mobile-friendly navigation.
Research your mobile audience: Do this by studying your Web analytics for mobile searchers and referrers.
Use mobile keywords, including local terms: Mobile searchers often search by city and ZIP code. Also, use common questions mobile users might "ask" as SEO/search terms within some of your content. Spoken search queries tend to be actual questions.
Customize mobile content: Personalized, targeted content gets your audience's attention on your website, in their email boxes, and everywhere, so personalize some content toward mobile users and their needs and interests. Make the content entertaining, as many people commonly use their mobile device for amusement or to pass time while waiting in line, on public transit, etc.
Test and maximize site speed: Mobile users have even less time and shorter attention spans than other online searchers.
Maintain your social media presence: Maintain relevancy on all major channels as Siri is influenced by social activity and trends.
Don't rely on PPC: Ads don't appear on Siri—rely instead upon natural search SEO.
Pay attention to relevant mobile resources: Siri refers to sources that fulfill common mobile user needs like OpenTable or Yelp and Google Places when it makes sense. Make sure your business is well-represented on those that fit your business sector. Claim your listings, and ensure correct and consistent name, address and phone numbers are listed.
The best advice we can give you about SEO is stay tuned. As voice-activated search and digital personal assistants like Siri become more popular, your SEO strategy will need to adapt. Microsoft's Windows phone digital assistant Cortana is on the horizon, and Android's Google Now is evolving. But never fear, the basics listed above will remain best practices for a good long time and should help as competitors to Siri emerge and gain traction.
For expert SEO strategy tips for the evolving online marketplace, contact Zero Gravity Marketing.
---