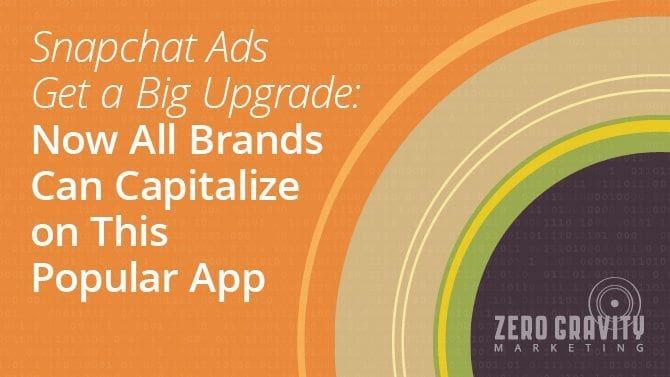 With over 300 million active users every month, 71% of which are under the age of 34, Snapchat is an ideal platform for brands targeting Millennials. But unless you had very deep marketing-budget pockets, Snapchat advertising was out of reach—until now. In June of 2017, Snapchat gave their advertising options a big overhaul by rolling out self-service tools, and now, Snapchat ads are a viable option for brands of all sizes with all types of digital marketing budgets.
Types of Snapchat Ads
One of the most enticing features of Snapchat advertising is the unique format of ads available. You can purchase three types of ads:
Basic Snap Ad – This will show up as a 10-second video between the user's stories. You can then add on an app install, a web view, an article, a long-form video, or a website view that can be accessed with one swipe on the original video.
Sponsored Geofilter – This is where it gets exciting. Imagine someone being at your place of business. They pull out their phone a take a picture in Snapchat. Then, your branded filter shows up over the photo, making it easy for them to share out so everyone knows where they are. Sponsored Geofilters aren't just based on location; they can also be integrated for sponsored events, high-traffic areas, and even for national campaigns.
Sponsored Lenses – Last is the sponsored lenses option. As you know, the lenses are one of Snapchat's most popular features, and now you can integrate your brand into them. Users love using the lenses to instantly transform their appearance, and now, when it gets shared, your logo will be in the corner.
Why Snapchat Ads?
With so many other Digital Marketing options, what makes Snapchat ads worth your time? There are a few reasons:
Did we mention there are over 300 million people using Snapchat each month—100 million every day? Talk about a great way to build brand awareness.
Snapchat ads can be extremely targeted. There are over 60 different interest categories you can focus on, as well as standard demographics, location, and type of device.
Snapchat's advertising choices are different than other sites. With interactive options like a custom filter or lens for users to use, your ad will be remembered—and probably even shared.
Snapchat ads are created to emulate the same concept of regular posts—encouraging quick action. It only takes the user one tap or swipe to take convert.
The new self-service tools available through Snapchat advertising are incredibly simple to use and analyze. Even someone with very little digital marketing experience could successful set up a campaign.
There is no minimum amount you are required to spend on Snapchat ads, so you can take it for a test-ride without investing too much.
With no minimum ad spend required, unique advertising options, and extremely targeted audiences, trying out Snapchat ads seems like a no brainer. To learn more about how to make Snapchat work for you—or to inquire about the Tinder ads that are also available—contact us today.