There was a time when the best way to get consumers' attention was to arrive right in their mailboxes. When the world started going digital, this idea remained the same, but the delivery method changed. Today, 80% of Americans access their inbox at least once per day. This is why email marketing has always been – and continues to be – a special marketing tool.
As a brand, if you're not taking advantage of email marketing already, you're missing out on a huge channel. Email marketing offers a cost-effective and straightforward way to improve connections with consumers. When you have the proper resources and support, this strategy lets your business build relationships and discover tremendous benefits without breaking the bank.
Let's discover more about email marketing and the value it can bring to your brand.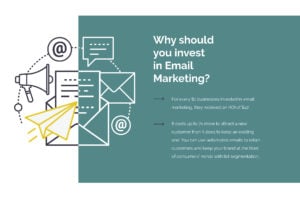 Benefits of Email Marketing
The list of value-added benefits email marketing brings to organizations is pretty extensive. So we put together a few of our favorites.
1. Emails Generate Better Results Than Most Marketing Channels
Printing and mailing flyers, attending conferences, and recruiters are all great ways to connect your brand to potential consumers, but these methods are quite costly. Most companies don't have the budget to participate in these types of marketing efforts on a regular basis. However, email marketing is readily available and yields excellent returns at an affordable cost.
In fact, according to a 2019 report by the Direct Marketing Association (DMA), for every $1 businesses invested in email marketing, they received an ROI of $42. This method has provided the highest return on investment of any marketing channel for the past ten years. Adopting an email marketing strategy is one of the simplest, most affordable ways to earn results for your business.
2. Emails Facilitate Customer Engagement and Retention
As you work to build engagement and retention with your customer base, you might ask yourself, "Why is email marketing important?" People often think about the negatives, like the brands that blow up in your inbox. However, when conducted correctly, email marketing is one of the best tools for managing and maintaining customer relationships.
Most businesses spend more time trying to acquire new customers than they do retaining the ones they already have – even though it costs up to 7x more to attract a new customer than it does to keep an existing one. You can use automated emails to retain customers and keep your brand at the front of consumers' minds with list segmentation.
List segmentation was created because one big blast to everyone who's ever given you their email address simply doesn't cut it anymore. You need to target recipients based on specific characteristics, such as gender, location, education level, buying patterns, and other demographic information. With a little magic from the automation wizards, you'll be off and running, saving time and money while your campaigns run in the background.
Remember that list segmentation and automation aren't just for online retail sales and business-to-consumer (B2C) brands; these tools also apply to business-to-business (B2B) email marketing. 
3. Emails Compel Your Audience to Take Action
Emails allow you to get creative and design attention-grabbing elements that will impact the consumer. Make your CTA buttons stand out with contrasting or bright colors, and be sure they lead to a specific landing page rather than your homepage.
It's also a good idea to keep your text short and actionable. Perform split tests to determine which email versions bring better conversions, click-throughs, opens, and other desired actions.
What is a good click-through rate, and how can you get there? A highly desirable click-to-open rate would be over 10%. However, be mindful that anything over 2% is generally considered above average. As you learn how to make an email marketing campaign, you'll start to develop email organization strategies and personalization techniques that improve the rates for your audience.
4. Emails Improve Brand Awareness
How can you ensure your audience knows who you are and will recognize your brand when your emails come in? Simple: Make your brand memorable. We've compiled the best email marketing tips to improve brand awareness for email marketing.
Insert your logo and company name into every email to increase brand recall and association.

Craft messages that are memorable and unique.

Maintain consistent branding throughout your emails to increase recognition and attract customers.

Tell emotion-evoking stories.

Provide your customers with visuals of your products and services.

Don't waste the real estate in an email.
5. Personalized Content Brings the Win
Behavior-based triggers make for effective email communication because your subscribers feel the content you're sending them was made for their unique interests. Email allows you to capture a visitor's attention and nurture the relationship with helpful and informative content.
 Does personalization actually have an impact on your audience base? Yes!
6. Emails Can Bring Loads of Traffic to Your Website
Even your most loyal customers don't visit your website or store weekly – let alone daily. So, when it's time to push a new product, promotion, or news, email is a great way to be direct and timely. When you don't over-email, each message will feel important, and consumers appreciate emails with important, relevant content. 
According to a report from DMA, 66% of consumers have made a purchase online due to an email marketing message. When your business provides valuable information in an appealing fashion, consumers will come.
7. Emails Integrate with Your Other Marketing Channels Seamlessly
One of the best things about using emails is how effortlessly they can push consumers to different places. For example, your email marketing can be combined with SMS, referral and loyalty programs, and review platforms (for testimonials) to create an integrated experience for the consumer. You can insert social media buttons and website links into your email campaigns to continue facilitating engagement on your other platforms. Place clickable icons into your newsletters' footer and embed your social media posts onto your emails to make the most of your marketing efforts. Giving the user the next step is a vital part of the marketing funnel.

Email marketing is an incredibly powerful tool for digital marketing. If you're not prepared to do it alone, ZGM's team of email marketing experts is here to help you strategize. Connect with our team today to learn more about how we can improve your email marketing efforts!