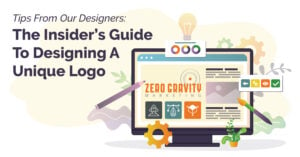 When it comes to branding, there are few things as important as your logo. That one small image is how users will identify your brand. It's one of the first things they'll see when visiting your website, following your social media, and reading your newsletters. Your logo is, essentially, the face of your brand.
A great logo creates an immediate association with the products, services, and shopping experience your company offers.
Designing a unique logo that embodies all your brand has to offer is far from easy. In fact, you might put more work into this one-and-done design than most of your financials – but, your efforts will pay off if you dedicate the time to do it right.
Why Your Logo Design Matters

Logos are the attention-grabbing, audience-enticing element that helps your brand make a strong first impression. Your logo is the foundation of your brand identity, so you want to make sure it's memorable and separates your brand from the competition. If you can successfully create a great logo the first time around, you'll foster brand loyalty and give your audience the information they need to follow your business throughout the social sphere and beyond.
How to Design a Unique Logo


The design process is far from simple, particularly when it comes to logos. After all, this is something shoppers will remember your brand by even when they've left your website. Sure, you might have an incredible website, outstanding customer service, and a product that beats everyone else in your field. But if your logo falls flat, you're not giving customers much visual representation to remember you by. After all, you can only make a first impression once.
With this in mind, here are five tips to help you design a unique and memorable logo:
Paint a Picture
We've all heard the saying, "A picture is worth a thousand words." When you're talking about a logo, this couldn't be more true. Remember, you're dealing with a very small amount of real estate, but you still need to tell the story of your company, so shoppers understand what your brand is all about.
Use simple icons to communicate what your business stands for. Visuals that get people excited about the message you're trying to convey will help usher them further down the sales funnel.
No matter how you choose to design your logo, opt to tell the story of your brand through visuals that help customers understand who you are and what your values or goals are.
Simplify Your Strategies
Your logo largely relies on three factors: font, shape, and color scheme.
If you use too many fonts or colors when designing your logo, this can cause confusion, and the message you're trying to get across will not be communicated effectively. The last thing you want is for your logo to appear messy or misleading. Stick to the basics when it comes to these design components.
When your logo's font, shape, and colors are a little more simplified, your brand appears well put together and organized. On the hunt for some design inspo? Take time to find fonts and shapes that are unique yet still understandable. You'll also want to stay away from overused or popular symbols or icons that could cause your audience to confuse your brand with another: like the check mark which is often associated with the Nike swoosh.
Keep Relevance in Mind
Logo designs need to be relevant to the ideas, values, and activities they're representing. If you run a construction business, a fancy and elegant typeface probably won't convey your message the way you want it to. On the other hand, if you're a top-rated skincare brand, you don't want a font that looks like it was drawn by a four-year-old.
Find fonts and shapes that are suitable to your business, but be sure to refrain from those that are overly used.
Don't Be Too Literal
Logos don't have to actually show what your company sells or does. In fact, it's usually better to entice your audience to learn more about your brand by not giving away all the details. Your logo should be a bit of a teaser! Give them a taste of what they could experience without revealing too much.
Remember that symbols don't show what you do (and they're not supposed to). Logos should be symbolic associations your audience forms as they get to know your brand.
Investigate Your Competitors' Logos
Don't restrict yourself to exploring design aesthetics that would work for your target audience; you also need to spend time understanding what your competitors are doing to attract customers. Take some time to dive into their logos. What do you like about their design? Why? What can be improved? Use this information to fuel your brand's design.
Begin Your Brand's Logo Journey With Zero Gravity Marketing
Whether you're just starting to think about your logo design or you're in the midst of a major rebranding, the design experts at Zero Gravity Marketing are here to help. To learn more about our design service, contact us!