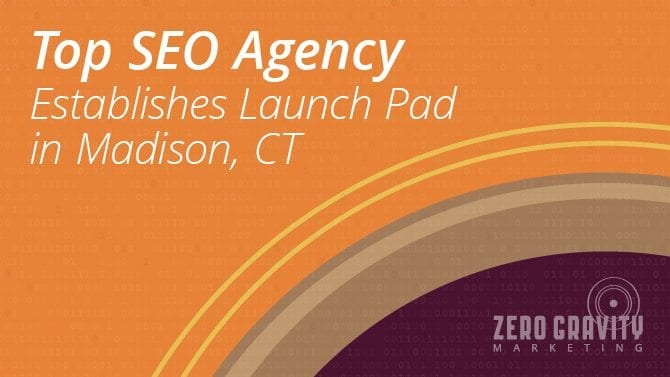 FOR IMMEDIATE RELEASE
Top SEO Agency Establishes Launch Pad in Madison, Connecticut
Zero Gravity Marketing upgrades their office space with a move from Branford to Madison, Connecticut.
Madison, Connecticut (March 2017) – Improving productivity while gaining an advantageous view, Zero Gravity Marketing has landed in Madison, Connecticut. The Connecticut-based SEO agency has been growing at light speed, and their new office gives them the space they need to continue serving their clients both locally and nationwide.
Zero Gravity Marketing has rocketed up the ranks and now employs 30 marketing experts with various niches, allowing the team to collaborate and offer their clients the absolute best marketing strategy from every angle. The latest crewmembers to join the team include Ricky Weiss and Jon Dorosh. Ricky is from Branford, CT, and has been assigned the role of SEO Strategist, and his mission is to cleverly use proven SEO techniques to improve the search rankings and conversion rates of the clients at Zero Gravity. He brings with him an abundance of expertise, which includes his time working for a company that was featured on NBC's Shark Tank.
On the other side of the Digital Marketing spectrum is Jon Dorosh from Seymour, CT, who joins Zero Gravity Marketing as a Pay-Per-Click Specialist. With expansive experience in lead generation, Jon brings his knowledge and insight to paid media. His job is to develop and optimize PPC campaigns that will ensure the effectiveness of the organic SEO efforts put in place by the rest of the team.
For further proof that Zero Gravity Marketing is headed to another galaxy, they have recently merged with Fusion Interactive Group and Typoglyphic Studios, making their owners, Keith Atchinson and Bryan Bielefeldt, partners. Keith now serves as the Chief Marketing Officer, and Bryan takes the role of Chief Technical Officer. Keith and Bryan have worked with Chris Uzzo, CEO and Founder of Zero Gravity Marketing, in the past, and the merge is exciting for all involved. With the combined talents, resources, and energies of three great companies, it is all-but-guaranteed that groundbreaking things are happening.
With its ever-expanding team and client base, Zero Gravity Marketing needed an office space that allowed for collaboration, which is exactly what the new office does. When entering the doors, clients and employees alike are greeted with a modern, open workspace that evokes feelings of cooperation. The layout features oversized community tables ideal for group brainstorming sessions, a full-sized pool table, and private meeting areas for more discreet missions.
It is clear that every detail of the office space was chosen to create a cohesive, modern environment. From the sleek grey and white color scheme to the industrial chandeliers to the metal and wood tables, the space is inspiring in its own right. With the oversized windows and see-through doors, the entire area feels spacious and inviting. Even if the doors are closed, it is still evident that Zero Gravity Marketing prioritizes collaboration and transparency.
When choosing a place to relocate, Zero Gravity Marketing wanted somewhere that was centrally located while being beautiful to look at. Madison, Connecticut, fit the requirements perfectly. Instead of the hustle and bustle of a busy city, Madison feels like home. The location is just steps away from local favorites, including the Moxie Bar & Restaurant and the RJ Julia bookstore. Hammonasset Beach State Park is also right around the corner, giving employees an idyllic place to relax during a lunch break.
While Zero Gravity Marketing loves the local feel of Madison, and they thrive on seeing local businesses succeed, they are also well versed in the needs and requirements of national companies. Zero Gravity Marketing gives their clients the sun, moon, and stars by having local roots and a deep commitment to Connecticut businesses, while also bringing the expertise and unique skillsets required when marketing for large corporations.
Josh Comen, Vice President & Creative Director, sums it up perfectly when he says, "Many of our employees are local and have native roots on the Connecticut shoreline. Those who are located inland are always impressed by the stunning beaches, quaint towns, and abundant activities available in the area which makes us excited to be in such a unique place. At Zero Gravity Marketing we have a variety of clients both large and small, we have experience with national brands and local start ups, so you get the best of both worlds with our ever-growing team."
About Zero Gravity Marketing
Zero Gravity Marketing is a full-service marketing firm helping Connecticut businesses flourish through online and offline marketing services, with online services specialized in search engine optimization (SEO), website design, content marketing, PPC (pay-per-click) campaigns, social media marketing, and email marketing. Offline marketing tactics include graphic design and copywriting for brochures, business cards, billboards, and even car wraps and trade show booths. To learn more about Zero Gravity Marketing, you can visit them online at zerogravitymarketing.com, contact them via phone at 203-533-2808 or email at [email protected]
###
Contact: Tracy Standish
Email: [email protected]
Phone: (860) 577-2967