Is your advertising budget going down the drain with wasted ad spend? Effectively managing your ad spend is essential for maximizing your marketing return on investment (ROI). Wasted ad spend can significantly impact your campaign performance and hinder your ability to achieve desired results. Luckily, the digital marketing experts at Zero Gravity Marketing (ZGM) know a thing or two about the importance of tracking and eliminating wasted ad spend and will provide actionable strategies to optimize your ad campaigns. By implementing these techniques, you can drive better results, improve your marketing ROI, and ultimately grow your business.
Understanding Wasted Ad Spend
Wasted ad spend refers to the allocation of advertising budget on ineffective or underperforming campaigns, resulting in little to no return on investment. It can occur due to various factors, including targeting the wrong audience, inefficient keyword usage, poorly designed ad creative, and ineffective landing pages. Recognizing wasted ad spend is crucial as it enables you to identify areas of improvement and reallocate your marketing budget to more effective strategies.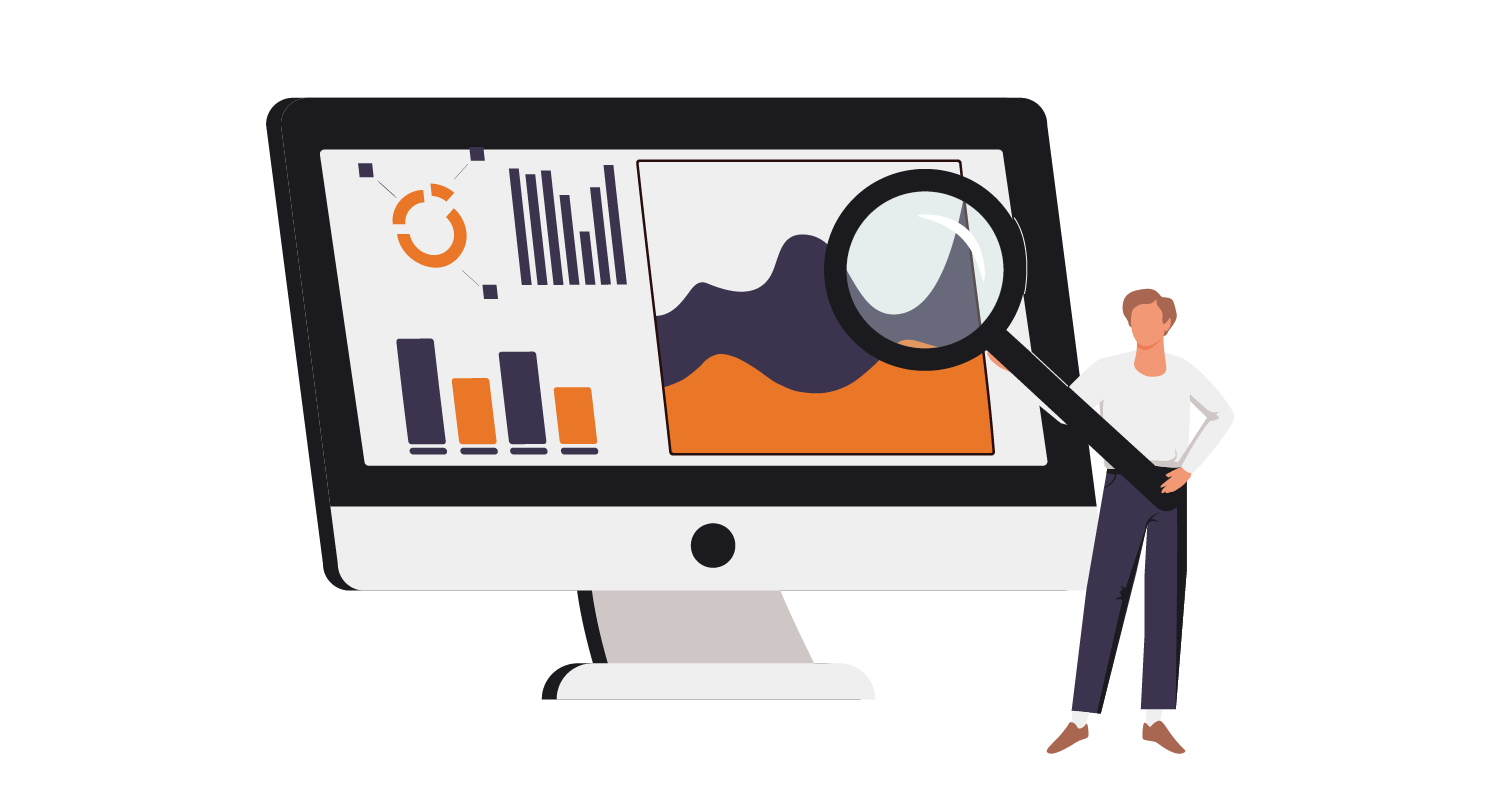 Tracking Ad Performance
Tracking and monitoring the performance of your ad campaigns is the foundation of eliminating wasted ad spend. By setting up robust tracking mechanisms and utilizing conversion tracking tools, you can gain insights into key metrics such as impressions, clicks, conversions, and cost per acquisition. These metrics provide a comprehensive understanding of how your ads are performing, allowing you to identify underperforming campaigns and areas for improvement.
Identifying Wasted Ad Spend
Conducting a thorough analysis of your ad performance is essential to identify wasted ad spend accurately. Assessing the performance of individual keywords, ad groups, and campaigns helps identify low-converting elements. By analyzing user behavior, and website traffic and utilizing attribution models, you can pinpoint areas where your ad spend is not generating the desired results. This data-driven approach allows you to make informed decisions for optimization.
Strategies to Eliminate Wasted Ad Spend
Optimizing keyword targeting and negative keyword usage: Refine your keyword targeting by focusing on high-converting and relevant keywords. Utilize negative keywords to exclude irrelevant searches and reduce wasted ad spend.
Refining audience targeting for better ad relevance: Review and optimize your audience targeting parameters to ensure your ads are reaching the right people. Tailor your messaging and ad creative to resonate with your target audience, increasing engagement and conversion rates.
Improving ad creative and messaging: Experiment with different ad variations to identify which ones perform best. Craft compelling and persuasive ad copy that grabs attention and encourages clicks. Continuously test and optimize your ad creative to enhance its effectiveness.
Testing and optimizing landing pages: A well-designed and optimized landing page is crucial for converting ad clicks into meaningful actions. Test different layouts, headlines, and call-to-action buttons to improve the conversion rate. Focus on delivering a seamless user experience that aligns with your ad messaging.
Leveraging Data and Analytics
Data-driven insights play a pivotal role in eliminating wasted ad spend. Continuously monitor and analyze your campaign performance, leveraging data and analytics tools to gain deeper insights. Implement A/B testing and experimentation to compare different strategies and optimize your ad campaigns based on real-time results. Advanced analytics tools provide invaluable information about user behavior, allowing you to make data-backed decisions for better campaign performance.
Cost-Effective Advertising Tactics
In addition to optimizing your existing ad campaigns, exploring cost-effective advertising tactics can help you reduce wasted ad spend. Consider alternative advertising channels and platforms that align with your target audience. Retargeting and remarketing strategies can be effective in re-engaging potential customers. Maximize the use of organic and earned media, such as social media marketing and content marketing, to expand your reach. Collaborating with influencers in your industry can also yield targeted exposure and drive results.
Partnering With a Digital Marketing Agency
Partnering with a full-service digital marketing agency, such as Zero Gravity Marketing, can provide valuable expertise and guidance in tracking and eliminating wasted ad spend. Agencies have the experience and knowledge to optimize your ad campaigns, leverage data-driven insights, and implement strategies that drive better results. They can analyze your current ad performance, identify areas of improvement, and tailor customized solutions to maximize your marketing ROI.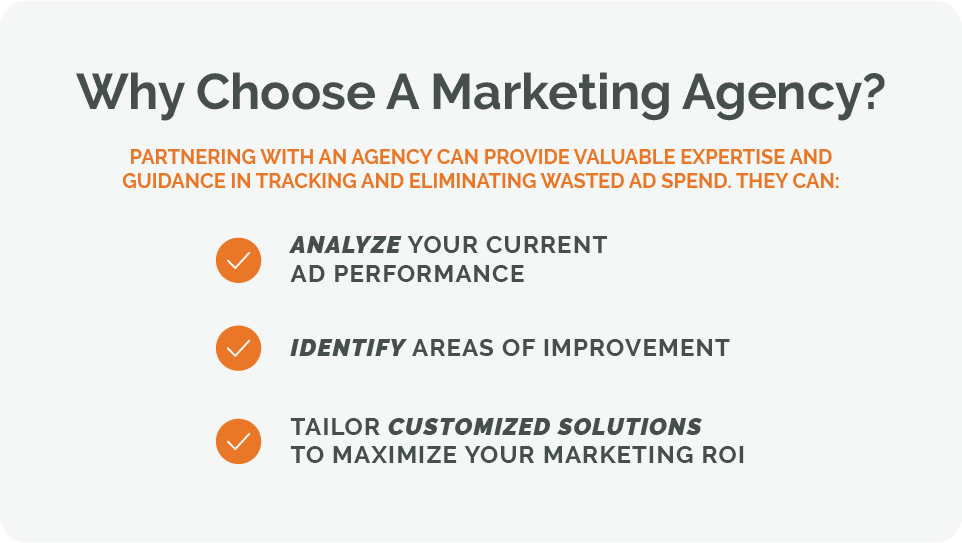 Partner With ZGM to Eliminate Wasted Ad Spend
Tracking and eliminating wasted ad spend is crucial for maximizing the effectiveness of your digital advertising campaigns. By implementing the strategies outlined in this blog, you can optimize your ad spend, improve campaign performance, and achieve higher marketing ROI. Continuously track and analyze your ad performance, refine your targeting and messaging, and leverage data-driven insights to make informed decisions. With a proactive approach to eliminating wasted ad spend, you can unlock the full potential of your advertising budget and drive meaningful results for your business.
As a leading full-service digital marketing agency, Zero Gravity Marketing has the expertise and experience to help you effectively track and eliminate wasted ad spend. Don't let wasted ad spend drain your advertising budget. Partner with ZGM to gain a competitive edge in the digital advertising landscape.