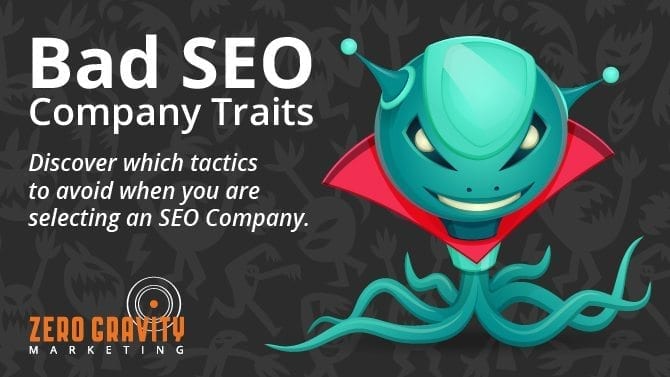 Look for the following bad traits and avoid those SEO companies at all costs.
Avoid: First-page Rank Guarantees
There is no way to promise, without doubt, that a certain keyword will rank on the front page of Google. Of course, that is always the goal, but due to constant algorithm changes and fluctuating competition, guaranteeing these top rankings is just a lie, and any legitimate SEO company knows it. The old adage, "If it sounds too good to be true, it probably is," certainly applies here.
Avoid: Quantity over Quality
If an SEO company's tactic is to get their client a thousand backlinks a month and post 500 blog posts in the same time span, a company should run away as fast as they can. This is impossible to achieve with white hat SEO techniques, which means the SEO company is using black hat ones to accomplish it. While the desired results may appear immediately, they will undoubtedly result in a huge penalty that will be next to impossible to recover from.
Avoid: One-trick Ponies
The world of digital marketing is a complex one that requires several different approaches to be successful. If an SEO company only wants to set up a PPC campaign and a blog for their client, then that is a sure sign that the SEO company has no clue what they are doing. The truth is that an SEO strategy for company A will be completely different than the one for company B, and it is only after a comprehensive analysis that an SEO company will be able to tell their client exactly what components of digital marketing they need.
Avoid: Vagueness
Transparency is key to a solid partnership with an SEO company, so if this can't be offered, it's not a good sign. Frankly, if the SEO company can't answer any questions their clients have, then they are hiding something—which probably means a penalty is not too far off.
Avoid: Cheap Pricing
When a company is only after the lowest price, black-hat SEO companies will surely lure them in. A successful SEO campaign requires a lot of time and effort. From implementing backlink strategies and composing quality content to monitoring a PPC campaign and executing social media marketing, a reputable SEO company will spend hours and hours improving their client's rankings. If they are only charging a nominal fee, something is certainly awry, because talented marketing professionals would not work for pennies on the dollar.
When it comes down to it, a business wants an SEO company that operates with integrity and understands that ranking on Google takes time and a consistent effort. At Zero Gravity Marketing, we have all of the traits a business should look for when hiring an SEO company, and none of the ones to avoid.
Contact us today to learn more about why we are the SEO company for you.