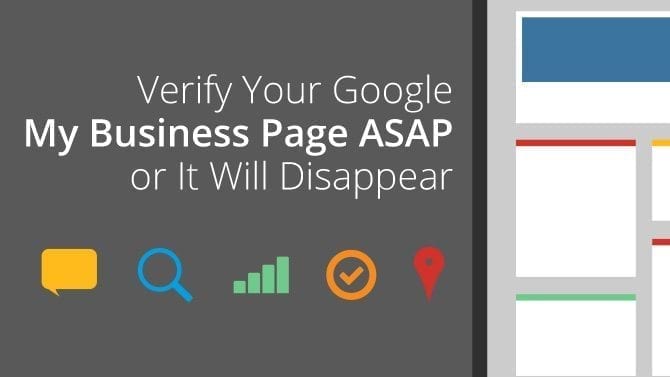 Verify ASAP or Your Google Business Page Will Disappear
A few weeks ago, Google announced that they would start removing unverified Google My Business pages, and it looks like many unverified Google business pages disappeared on July 28, 2015.
Business owners and SEO managers received email notifications from Google stating that unverified Google My Business listings would be hidden. It appears that the listings will not be deleted entirely; they are just removed from results. If an unverified business has Business View tours available, these can still be seen on Google Maps, but this may only be for a limited time.
Benefits of Removing Unverified Google Business Pages
There's a hidden perk for those who have a lot of old, unverified listings: if you have unverified duplicate pages, pages for old addresses or practitioner pages that are confusing your customers or hurting your rankings in Google, those listings should disappear. This leaves behind your most up to date, accurate and complete listing, so you are no longer competing with yourself for ranking for your terms. This benefit extends to those who are completing the search as well. Who likes to call a local landscaper only to find out they have retired?
While verification can seem like a hassle, google my business pages can be a great boon for businesses with local clients. The listings help increase your ranking in local search. You can submit your service area and hours, attach images of your services and include your phone number or reviews. And, when your listing is a mobile search away, your customers can find you on the go and when they need you.
How Do I Verify My Unverified Google Business Page?
To be verified, a listing has to provide information including a mailing or local business address. You can verify by phone or by having Google send a postcard with a verification code. In some cases, businesses who use Google Webmaster Tools can have their Google My Business pages verified instantly online.
Always meant to finish that Google My Business page? You or your marketing team still can. You can start a fresh page and go through the verification process. Contact us for more information and to verify listings. But if you want to do-it-yourself, check out these links for more information: