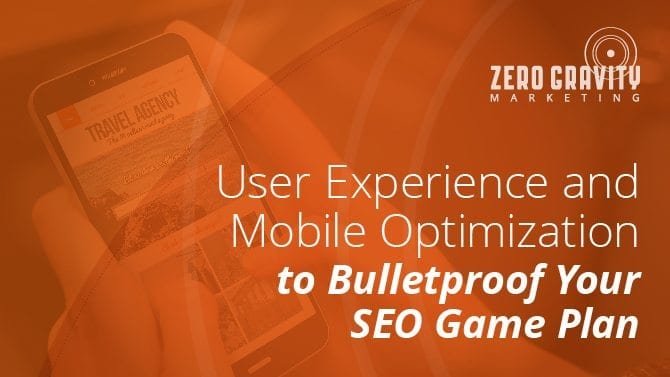 Your SEO strategy isn't just about picking the right keywords and optimizing your website for search results. A good digital marketing plan will include all aspects of your search engine optimization – it's not only about getting audience to the page, but keeping them there. Whether you're working with an SEO Agency or working on all of your digital marketing in house, user experience needs to be the center of your SEO strategy.
User Experience and Mobile Optimization for Your SEO Strategy
Traditionally websites were built for the desktop computer, but mobile searches surpassed PC searches on Google some time ago. This means, if your website is not already optimized for mobile devices, doing so needs to be a primary objective in your SEO strategy. Your SEO strategy should have the mobile user in mind because they are your biggest target audience.
Things to Consider to Improve User Experience
AMP. AMP or Accelerated Mobile Pages, are keep your audience happy and improve your search engine ranking. AMP pages load faster for mobile users and offer better experience overall.
Mobile Keyword Search. Your SEO terms also need to be adjusted for mobile use. Most users speak their search terms into their phone, which makes them slightly different than traditional keyed search terms. Your long-tail keyword phrases should be researched to not miss this market.
Pop Ups. While use of a few pop ups aren't necessarily terrible, sites should be checked on multiple devices to make certain that mobile users aren't losing functionality. Often pop ups are formatted for computer screens and mobile users may be impeded from closing them or following through to the next command.
Sizing. Sites that are created for computer use can often integrate to mobile poorly. Type is too small and difficult to read or users may need to keep zooming in their screen.
Unavailable Commands. Often a problem for mobile sites is that the commands are hidden. If you have two different touch commands in close proximity, users may have difficulty deploying the right one. Page buttons or other commands may also be hidden by other graphics or features.
When updating your SEO strategy, it's important to keep the mobile user's experience in mind while still benefiting the computer user. Sites should be checked for mobile agility prior to going live and on a regular schedule after they have been launched.
Does Your Business Need a Great Digital Marketing Agency?
If you're looking for help with your SEO strategy or any other area of expertise involved in digital marketing, contact Zero Gravity Marketing today. Our expert staff can work with you to advance any area of your marketing endeavors.