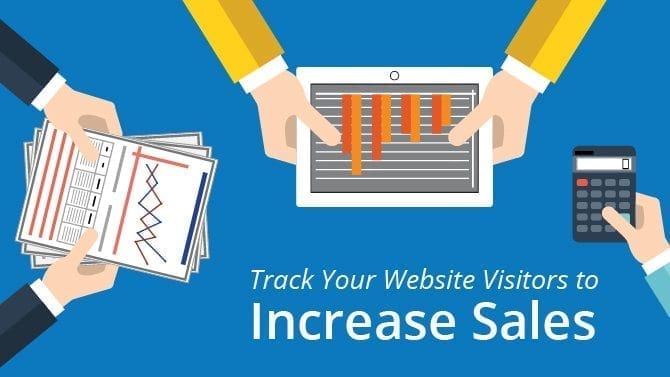 By monitoring who is visiting your website and what clicks they are making, you can gain an inside look into your business that will help you allocate your marketing budget for the most effective ROI. Find out exactly who your target market is, what types of marketing they respond to, and how you can influence them more efficiently. You may think you have all of the best systems in place, but until you actually monitor new digital marketing technology, you don't know for sure. Tracking website visitors is worth your time, and here are reasons why:
Add Call Tracking to Your Digital Marketing
Have you ever visited a website and clicked on a handy "Click to Call" button? If that website is using CallRail, the call is recorded for 'quality assurance and training.' The conversation can be accessible and reviewed for training and marketing purposes. From that call you can gather important information about your clients, how best to serve them, and how to best prepare you employees.
Maybe you think that the clients that call in are being taken care of in a timely manner and are being routed to the most qualified people. But after listening to these tracked calls, you find out that a large percentage of people are hanging up before they get to talk to someone- because they were on hold for too long. Maybe you should respond faster to incoming calls?
Track Email Marketing for Conversions
When a user opens a marketing email with software from HubSpot or Salesforce, you could learn exactly which graphic they clicked to open, what they clicked on after being directed to your website, and track their activity from page to page.
When you track which emails are getting opened, and which links are bringing these contacts to your website, you will gain a better understanding of what your customers respond to—and you won't waste valuable dollars on marketing making emails no one responds to or opens.
Even more than that, you can gain valuable information regarding the demographics of your customers. Once you realize that most of the people that actually buy from you are between the ages of 18-25, you can modify your marketing efforts to engage that age group. Or make marketing emails specifically designed for that subgroup of subscribers.
Improve Your Web Content
It is one thing to monitor how people are getting to your website, but it's just as valuable to keep track of what they are doing once they are there. How long are they staying on each webpage? If it's not very long, the page probably needs some sprucing up, or you can delete it altogether. Are there some pages nobody ever visits? Perhaps you need to make it easier to navigate to them. On the flip side of things, you should also be paying attention to which pages are garnering the most attention. Take a good, long look at them and try to replicate their format on the other pages.
Tracking & Managing Your Reputation
Tracking visitors isn't just about your website activity; you should also be monitoring your social media accounts. Which types of posts get the highest number of views? Are there certain ones that cause you to lose followers? What forms of content get shared the most? By realizing what your fan base responds to—both positively and negatively—you can alter your posts to keep them happy and engaged.
Understand What Your Clients Search
Visit a site that has Google Analytics installed, and the keywords typed into the search bar are recorded and can be viewed. This may not seem like a big deal, but if you find out all your paying customers are searching for specific product names (like 'Keen Presido Shoes') instead of broader terms (like 'Hiking shoes') you might want to tweak your SEO title tags reflect what your customers are searching.
Follow them out the Door
Have you ever visited a website and noticed that you see their ad all over the web? Let's say you visited the Jeep website to admire the 2015 Jeep Wrangler. After you leave their website and continue browsing the net, you see ads for 2015 Jeep Wranglers practically everywhere! Based on what websites you have visited in the past, Remarketing Ads can follow your customers after they click off your site. Remarketing ads are used frequently and can be very effective.
ROI Means Tracking Results
Clearly, tracking your site's visitors is not something you should take lightly. When you take the time to study their activity on your site and their demographics, you will be able to optimize your ROI on all of your marketing efforts.
For people who use the web to help sell their products and services, (and for digital marketers & seo agencies like us!) these tools are golden, and give us invaluable information about your target market. Contact us today to find out how our SEO agency tools can help your business grow.