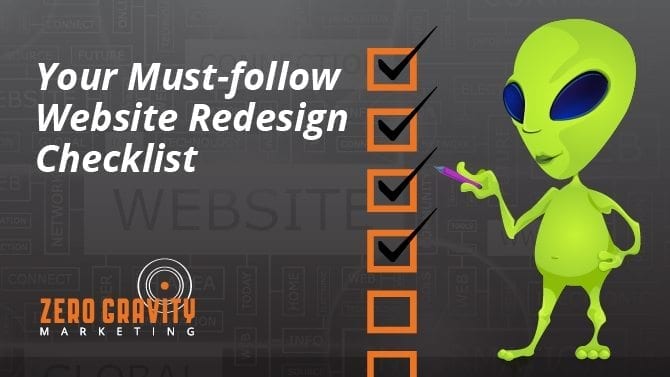 Your Must-follow Website Redesign SEO Checklist
Undergoing a Redesign? Here's Your SEO Checklist BEFORE You Launch:
Updating your website can do incredible things for your brand, but if you go about it haphazardly, you risk big losses in the SERPs. To ensure your redesign improves your user experience and brand image while still retaining all of the hard work you have put into your SEO, follow this comprehensive website redesign checklist.
Run a ranking report before you launch the new website. That way, you have a baseline of your existing website to compare to the ranking report you run after the launch.
Study Google Analytics to determine which pages on your site could benefit the most from a redesign. By considering page views, top keywords, top visited pages, and how long people stay on each page, you can clearly see what works and what doesn't.
Scrape the title tags, meta descriptions, header tags, ALT tags, and URL structure so you can carry over the effective ones into your new website design.
If your URLs will change, it's crucial that you prepare a 301 sitemap. Error codes can result in a penalty from Google and frustrate users. With 301 redirects, you can avoid both.
Once you have all of the new site content prepared, make sure to compare it with the current content. Double check that all important information is accounted for, especially if you did some page consolidation.
Remember to set up the new website's goals in Google Analytics (make a purchase, enter contact info, etc.) before the launch so that the tracking is live immediately upon launch.
Complete a pre-launch of your site—where you can view the working URL, but the general public cannot—so that you can accurately determine the speed of the new site. Run the URL through Google's PageSpeed Insights tool to ensure it loads quickly and won't impact your SEO or user experience.
Also during pre-launch, run the URL through Google's Mobile-Friendly Test This is another important factor that will affect your user experience and ranking on the SERPs.
When using a staging site to complete the aforementioned testing, don't forget to run the pre-launch URLs through txt to make sure they are not indexed. However—and this is important—remember to undo this once the site is launched so it can be indexed.
Before you launch the new site, create an updated XML sitemap so that you can submit it to Google Search Console immediately following the launch.
It doesn't do any good to go through our website redesign checklist if your site is still complicated and slow. An effective website design will be streamlined with a clean-coded theme and quick hosting to give your users the best experience possible. Zero Gravity Marketing can provide both.
Are you in need of a website redesign? At Zero Gravity Marketing, we are experts at transforming sites into works of art while retaining—and improving—your SEO efforts. Contact us to get started with your new website today.