Businesses operate much differently today, much to do with the pandemic and the limitations it caused for the workforce. Now that we're all fully transitioned from the effects of our time of working from home, employees are returning to the office, but not in the traditional sense that we're used to. Hybrid work arrangements are quickly becoming the new normal for many remote-capable employees. At Zero Gravity Marketing (ZGM), we've embraced this change and learned valuable lessons along the way.
What Is a Hybrid Agency?
A hybrid agency is a digital marketing agency that combines both in-office and remote working environments. This model allows for greater flexibility, enabling employees to work from anywhere while also having a physical office space to come into for collaboration and client meetings. The concept of a hybrid workplace is not limited to just marketing; it's a trend across various industries and businesses.
Challenges of a Hybrid Marketing Agency
Transitioning to a hybrid workplace comes with its set of challenges. At ZGM, we've come across a few obstacles and figured out a way to navigate them. Here are a few of the most common ones that we've faced at our agency: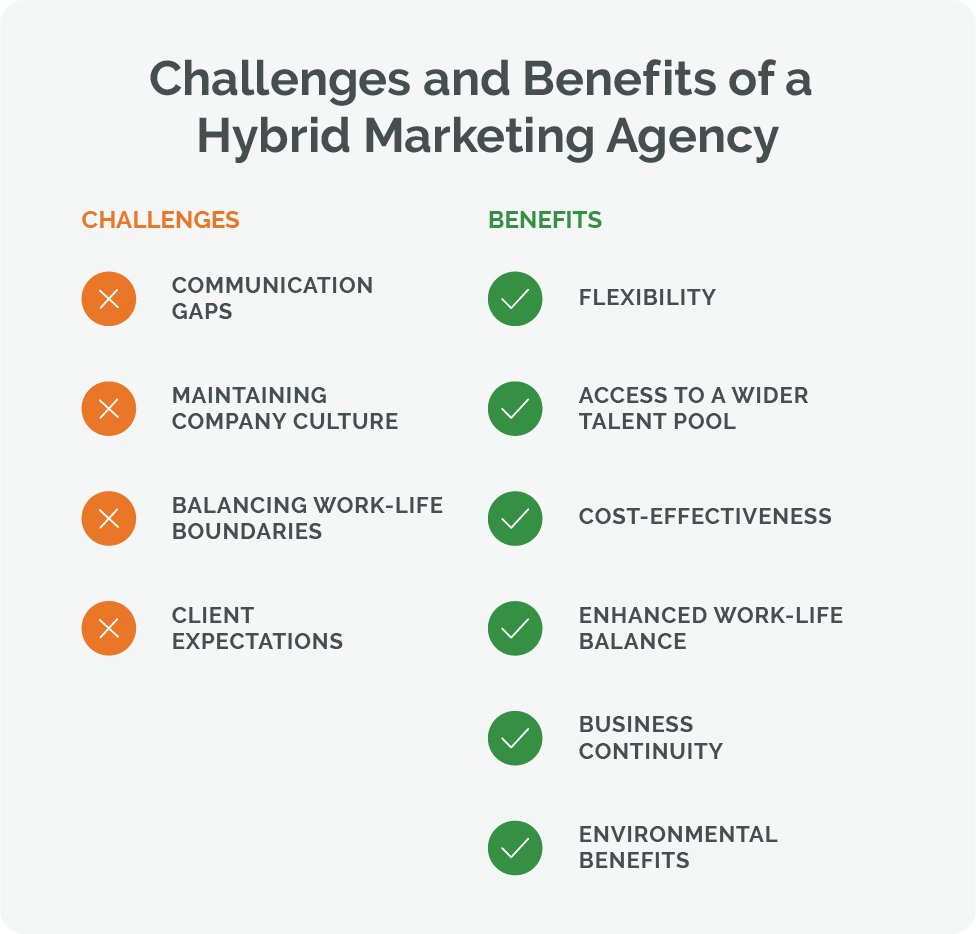 Communication Gaps
In a traditional office setting, spontaneous conversations and quick check-ins are common. However, employees working remotely can sometimes lead to communication gaps among team members. The absence of face-to-face interactions can result in misunderstandings or missed opportunities for collaboration. To combat this, we've implemented regular virtual meetings and use project management tools to keep everyone in the loop.
Maintaining Company Culture
Maintaining a cohesive company culture becomes challenging when employees are scattered across different states. The office environment often fosters community and belonging, which can be diluted in a hybrid setting. We've addressed this by organizing virtual team-building activities and ensuring that remote employees also have the opportunity to visit the office for special events or meetings multiple times within the year.
Balancing Work-Life Boundaries
In a hybrid work environment, the lines between personal and professional life can blur. Employees may find it challenging to 'switch off' from work when their home also serves as their office. To help our team maintain a healthy work-life balance, we encourage setting boundaries and offer flexible work hours, allowing our team to take a break when needed.
Client Expectations
Clients may have varying comfort levels with remote interactions. Some may prefer in-person meetings, while others are content with virtual ones. Adapting to these preferences while maintaining high service quality is another challenge we've learned to manage effectively.
Benefits of a Hybrid Marketing Agency
While a hybrid workplace has many challenges, it also comes with its benefits. At ZGM, we've come across several advantages that have improved our work culture and enhanced our services. Here are a few of our favorites:
Flexibility
One of the most significant benefits of a hybrid work model is the flexibility it offers to employees. They can choose to work from home when they need to focus on individual tasks and come into the office for collaborative projects. This freedom to choose their work environment can increase job satisfaction, reduce stress, increase trust, and ultimately, higher productivity.
Access to a Wider Talent Pool
Being a hybrid digital marketing agency allows us to tap into a broader range of talent. We're no longer restricted to hiring professionals who live within commuting distance of our offices. This has enabled us to expand our team with top-notch professionals not just from our Connecticut headquarters but also from locations like Florida, North Carolina, Texas, Arizona, Pennsylvania, New York, and Georgia.
Cost-Effectiveness
The hybrid model can be more cost-effective for the company in the long run. Reduced overhead costs for office space, utilities, and commuting can be redirected into other essential aspects of the business. These savings can be invested in enhancing our search engine optimization (SEO) services or expanding our Pay-Per-Click (PPC) campaigns, providing more value to our clients.
Enhanced Work-Life Balance
The flexibility of a hybrid model allows employees to balance their work and personal lives better. Whether taking care of family needs or pursuing personal interests, the hybrid model offers the time and space to do so without compromising on work commitments.
Business Continuity
A hybrid model also provides a built-in contingency plan for unexpected situations like natural disasters or another pandemic. With the infrastructure for remote work already in place, the business can continue to operate without significant disruptions.
Environmental Benefits
Reduced commuting means fewer carbon emissions, making the hybrid model a more sustainable choice for the environment. At ZGM, we're proud to contribute to a greener planet while delivering top-tier digital marketing services.
ZGM's Approach to Adapting to a Hybrid Work Environment
Adapting to a hybrid work model is not just about providing laptops and remote access to employees; it's a comprehensive shift that impacts various aspects of the business. At ZGM, we've taken a multi-faceted approach to ensure a smooth transition and to capitalize on the benefits of this new work model. Here's how:
Regular Check-Ins
Communication is key in a hybrid work environment. We hold regular team meetings, both virtual and in-person, to discuss project updates, share insights, and address any challenges. These check-ins serve as a platform for team members to voice their concerns and offer solutions, ensuring everyone is aligned with the company's goals.
Technology Investments
Technology is the backbone of a successful hybrid work model. We've invested in state-of-the-art technology, including project management software, video conferencing tools, and secure cloud storage solutions. This ensures that remote work is as seamless as possible and that team members can collaborate effectively, regardless of location.
Focused Solutions
Our digital marketing solutions are designed to adapt to the changing needs of our clients. Whether it's SEO, PPC, or other digital marketing strategies, our flexible work model allows us to be agile and responsive. We can quickly pivot our strategies to meet market demands, thanks to the collaborative and adaptable nature of our hybrid work environment.
Employee Well-Being
We recognize that the shift to a hybrid model can be challenging on a personal level for employees. We offer flexible work hours and mental health support to address this, ensuring our team members maintain a healthy work-life balance.
Client-Centric Approach
We've also adapted our client interaction strategies to suit the hybrid model. Whether our clients prefer virtual meetings or face-to-face interactions, we're equipped to accommodate their preferences while maintaining the high-quality service they've come to expect from us.
Contact ZGM for Your Digital Marketing Needs
Transitioning to a hybrid workplace has been a learning experience for us, but it has ultimately made us a stronger and more adaptable marketing agency. If you're looking to partner with a full-service digital marketing agency that understands the challenges and benefits of remote working, our Zero Gravity Marketing team is here to help. We offer a range of online solutions to meet your digital marketing needs, and we're hiring if you're interested in a hybrid marketing job.
Whether you're a business looking to improve your online presence or a talented individual seeking a flexible work environment, ZGM is the hybrid marketing agency for you. We understand the intricacies of a hybrid workplace and are here to help you navigate them successfully.