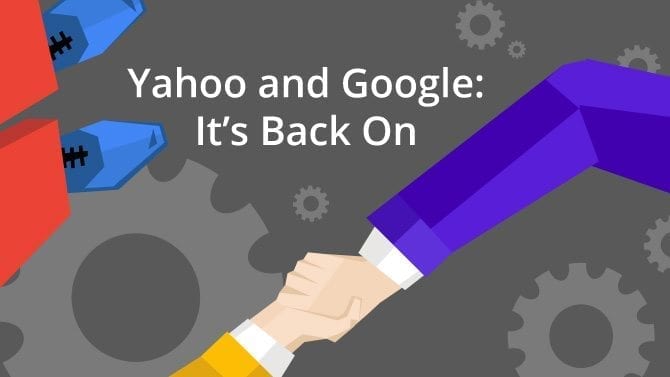 Yahoo revealed a new three-year search deal with Google last week, giving Yahoo even more flexibility to choose from suppliers of search results and ads. Yahoo can now access and display search services from both Google and Microsoft, as well as from their own search technologies.
What's In the Search Deal
Yahoo can now show Google's search results – including both free listings as well as ads.
The search results can come from a few places: through Google's AdSense for Search (AFS) service, through algorithmic web searches, and through image searches. It's available for both desktop and mobile platforms.
The free "editorial" listings are important for Yahoo – they have no editorial listings of their own.
What About Microsoft?
For the last five years, Microsoft's Bing (their web search engine) has powered Yahoo. And as part of a deal renewed in April, ads from Microsoft's Bing appear on 51 percent of desktop Yahoo searches. For the other 49 percent, Yahoo has control. Yahoo can either power those searches through their own ad system, or choose any other third party. (Enter Google.)
Mobile Could Be Limitless
Given the Microsoft deal already in place, for desktop searches, Yahoo has a cap of 49 percent of search ads that could potentially come from Google. But for mobile searches, the sky's the limit. Yahoo could choose to serve out all Google results if they wanted to.
The Backstory: Google, Yahoo, and Microsoft
It's a little like musical chairs. Yahoo and Google first partnered up back in 2000, and Yahoo carried both Google's search results and ads. It lasted a few years, until Yahoo developed its own search technology systems.
In 2010 Yahoo gave up its own search technology, and entered a formal deal to be powered by Microsoft's Bing. That deal never performed as well as Yahoo had hoped, and they've been looking for ways to generate more revenue from search.
What's the Bottom Line?
Yahoo will get a percentage of gross revenues from AFS ads displayed on Yahoo sites. That percentage varies depending on geographical location, and whether it's desktop or mobile.
Yahoo will pay Google for editorial results – both algorithmic search and image search. That percentage can also vary depending on whether it's coming from desktop or mobile
The Fine Print
The deal doesn't include Europe, most likely for anti-trust reasons. It covers all of North America, as well as Australia, New Zealand, and parts of Asia and South America.
Yahoo isn't obligated to send any minimum number of search queries to Google. If they wanted to, they could skip Google search entirely.
What's Up Next
The deal still needs US Department of Justice approval, and there is a chance it could get vetoed by EU or India anti-trust action. But it's a big deal and it could mean some interesting changes.