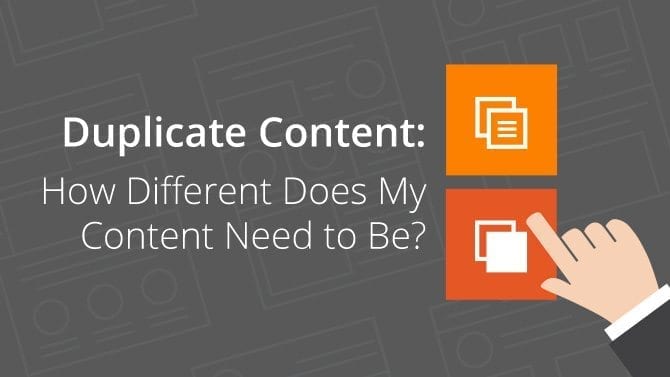 How Different Does Duplicate Content Need to Be?
Duplicate content is one of the most feared content marketing problems, and also one of the most misunderstood. Most people know that they should not have duplicate content on their sites. But, they aren't familiar with the reasons why or the consequences that duplicate content can bring.
How Do You Check for Duplicate Content?
If you are worried about content on your site being too close to something on another website, or on a competitor's website, there are tools you can use to check. Copyscape allows you to enter URLs to check for duplicate content. For a small fee, (5 cents per scan as of August 2015) you can also upload a document before publishing to see how much it has in common with content already online. It will show how many instances of duplicate content there are and how alike each section is.
How Different Does My Content Need to Be?
Your content should pass Copyscape, but officially, there's no magic XX% unique number that you need to hit. If you have specific reasons to have some duplicate content (say, quotes from testimonials or a set of statistics) then don't worry about having it. Google's Matt Cutts has come out and said that duplicate content will not hurt you unless that content is spammy or has issues with keyword stuffing. Duplicate content will also not help you since Google will show the original in search results.
Where duplicate content truly hurts is in your relationship with your prospects and current customers. It's not enough to post an article that is the same as one that is elsewhere on the web. To be of service to your readers and start building the trust that leads to business relationships, you need to give them new information.
Effective Content Marketing
So, instead of asking "how different does my content need to be?" ask instead "what sorts of content do my prospective customers look for?" Then, either with in-house staff or the services of a content marketing agency, start creating that sort of content. Post regularly so that people know to look for new offerings. Post information, articles, video, infographics and images that are unique. Show your brand's unique style. When everyone is posting about one topic, see if you can find a brand new angle that others haven't explored yet.
By communicating often, making the content useful and compelling and by putting out content that reflects your brand, you can build a successful relationship with your customers.
Contact Zero Gravity Marketing with locations in Branford, Connecticut and Cambridge, Massachusetts for unique content marketing services that drive results.