You put a lot of effort into your content and social media posts. Have you ever wished people could just click on your Instagram images and make their purchases right then and there? If so, you're in luck: Times have changed, and, thanks to a recent update, your audience can do just that.
According to a tweet from Instagram CEO, Adam Mosseri, all eligible U.S. merchants can now take advantage of checkout on Instagram.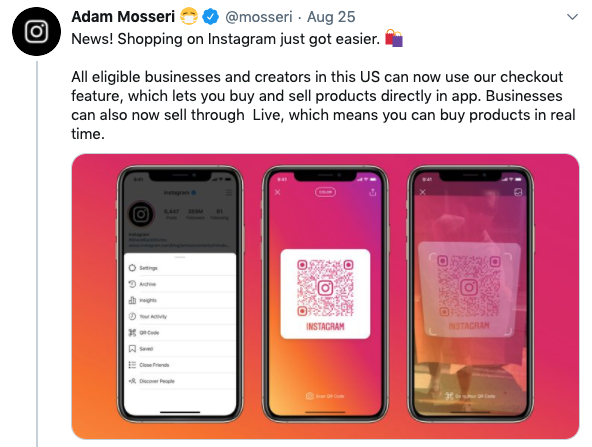 This platform offers shoppers an intuitive, seamless, and secure way to buy from the brands they already love and trust without leaving the Instagram app. In just a few clicks, browsing users can be converted into paying customers who can easily share their experiences and bolster your brand's awareness on the web. With all of this in mind, Instagram shopping could easily change the way the world works when it comes to retail sales.
Why Is the Instagram Checkout Update Important for Brands?
The Instagram shopping feature enables your audience to purchase your products without ever leaving the app. It features a streamlined, two-tap process that converts Instagram followers into loyal customers. Rather than sending people to your website to put things in their carts, Instagram shopping lets your audience make purchases simultaneously while they're scrolling around on the social media platform. As long as your Instagram content is set up as shoppable, your customers are simply sent to the payment process center where they enter their names, billing information, and shipping addresses the first time they check out. Once that's done, they can complete their purchases, and your items will be on their way to your customers' front doors in no time.
People were first introduced to shopping on Instagram in March 2019, but that update only included 26 well-known brands, such as Zara, Warby Parker, and Nike. Now, Instagram is taking its buying power mainstream, allowing all eligible businesses and creators in the U.S. to utilize the checkout feature.
So, Who Is Eligible?
According to Instagram, your brand can sell products on the platform as long as you meet the following requirements:
You comply with Instagram's policies.
You represent your business and your domain.
You are located in a supported market.
You demonstrate trustworthiness.
You provide accurate information and follow best practices.
Instagram also offers several avenues businesses can take to utilize checkout on Instagram, thanks to partnerships with major eCommerce platforms like Shopify and BigCommerce. Brands that use these services can now link their accounts and begin creating shoppable posts. Alternatively, companies can set up Facebook Shops and Facebook Commerce Manager to start selling on Instagram.
How to Set Up Instagram Shopping
Your account must be approved for Instagram Shopping before you're able to sell your products to your audience. If you're wondering how to get approved for shopping on Instagram, be sure to follow the aforementioned requirements. Once you're in good standing, you can turn on Instagram Shopping within the IG app and begin connecting your customers with your amazing products and services.
How to Take Advantage of IG Shopping
This update offers the ability to leverage greater audiences, but you have to do it right. Here are a few quick tips to implement immediately:
Be consistent with product tags.
Share exclusive product drops.
Provide multiple routes through which your customers can shop.
Are you interested in learning more about Instagram shopping? Reach out to Zero Gravity Marketing today! Our expert team can help you set up your shop and create an effective strategy for marketing and selling products online.