By the end of 2020, it's estimated that 50 percent of all online searches will be voice-activated. With this in mind, it's no surprise that businesses will have to adjust to remain competitive as the popularity of voice search expands. Voice Search Optimization (VSO), in particular, is crucial for maintaining a powerful online presence.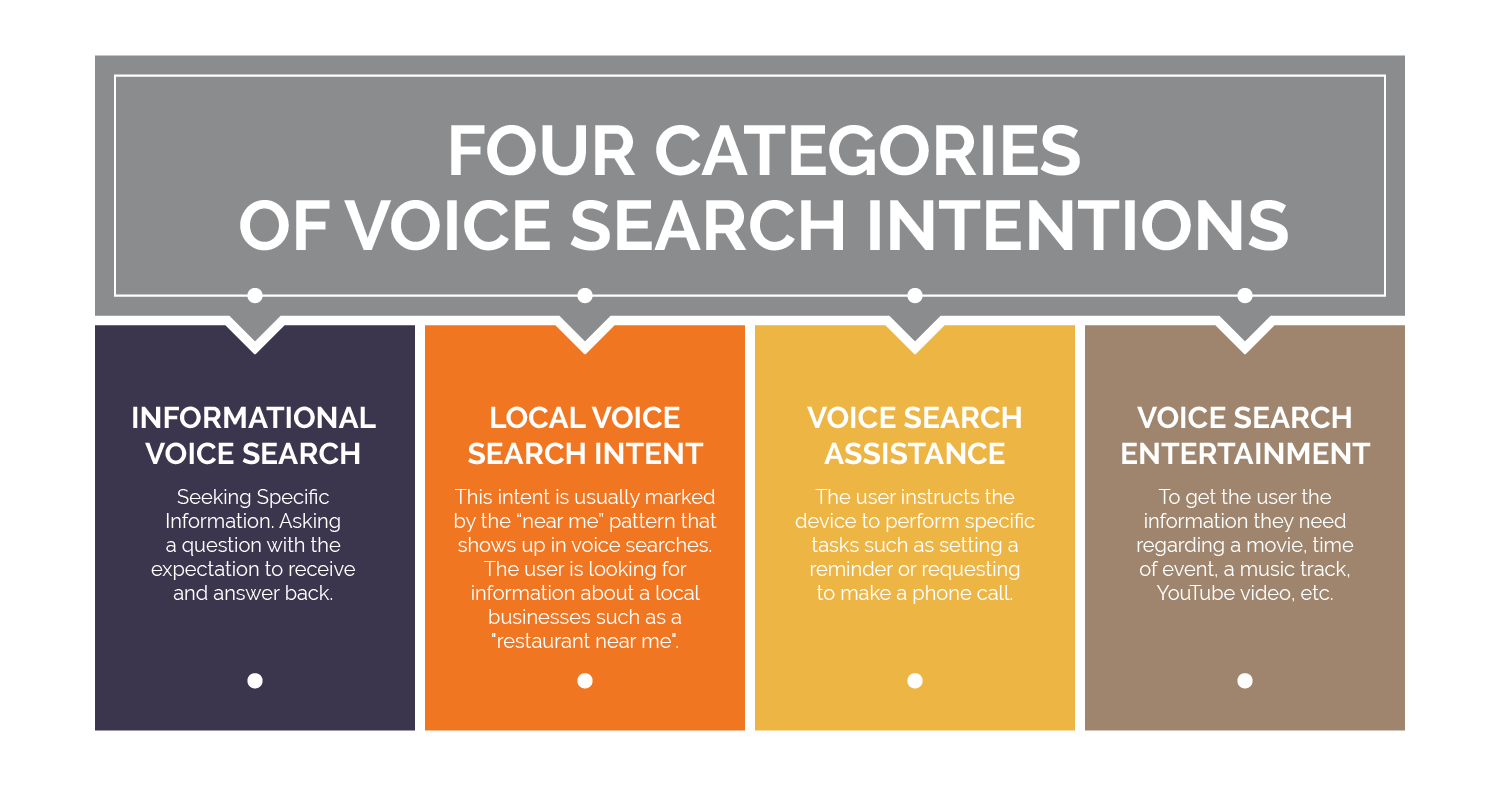 What Is Voice Search?
Voice search harnesses the power of speech recognition technology to allow users to search the internet via voice commands. In many cases, voice search is done using a smart device, such as Amazon's Alexa or a Google Home, or a virtual assistant, like Siri. Responses are pulled from featured snippets, which are short selections of text that appear at the top of Google's search engine results page (SERP). Therefore, for your business's content to be used as a voice search result, your main goal should be to write and optimize content for featured snippets. This can be accomplished through strategic Voice Search Optimization.
SEO vs. VSO
Search Engine Optimization (SEO) is an effective way to boost your business's visibility on search engines. It uses keyword research, content creation, and optimization to ensure that your website can be found easily by internet users.
At its core, Voice Search Optimization is SEO for voice. However, a key aspect that differentiates the two is how users are searching. Through a traditional online search, users often type specific keywords or fragmented queries. Voice searchers, on the other hand, ask complete questions using natural language. Therefore, VSO requires a different approach than natural SEO to yield maximum results.
Why Should You Optimize for Voice Search SEO?
According to Google, voice search is the fastest-growing form of online search. Therefore, as voice search continues to grow in popularity, VSO is no longer a trend – it's a necessity. About 30 percent of all Google searches each day use voice commands. So, if you've yet to jump on the VSO bandwagon, you're likely missing out on valuable traffic to your website.
The value of Voice Search Optimization also extends beyond smart devices and virtual assistants. This is because voice search results are pulled from featured snippets, which occupy the coveted top spot on SERPs. When your business's content ranks for a featured snippet, not only will it be used as a voice search result, but you'll also gain valuable traffic from appearing first when users conduct traditional Google searches.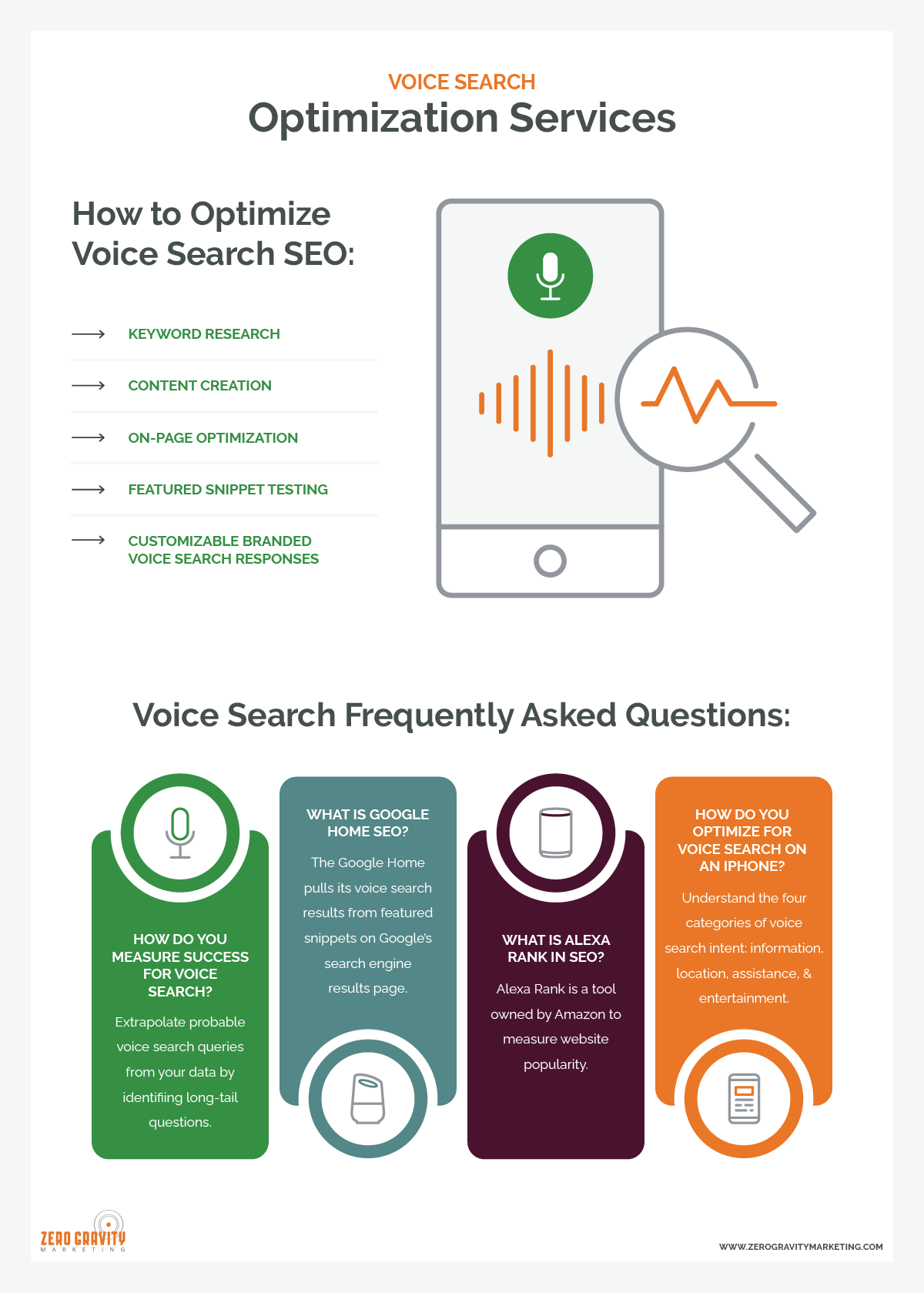 How Zero Gravity Marketing Can Help With Voice Search SEO
Interested in diving into the world of voice search? ZGM's team of VSO experts can identify the best opportunities for ranking for featured snippets based on an assessment of competition in SERPs. Once we know where your business stands, we'll create and execute effective marketing strategies that help you secure featured snippets and boost your presence in voice searches.
Voice Search Optimization Services
At Zero Gravity Marketing, we utilize a variety of specialized services to help our clients improve their VSO. These include:
Keyword Research
By performing thorough research of what search queries your target audience is using, we can compile a list of keywords that serve as the foundation of your VSO strategy. When conducting voice search keyword research, we consider monthly search volume and competition to determine which terms to target in your content. We will also do VSO keyword research to identify what natural language keyword phrases people are searching for via voice search and which phrases have featured snippets.
Content Creation
Content is a vital aspect of both VSO and traditional SEO. At ZGM, we can create and optimize high-quality content using current SEO best practices. Our Content Marketing and SEO teams collaborate to ensure every piece of content (including blogs, web pages, and more) meets your standards and reflects your business's unique voice.
On-Page Optimization
Even the most well-written content may fall short if your website isn't properly optimized for SEO. That's why our team offers on-page optimization services, where we analyze and modify your web pages to help them rank higher and earn more relevant traffic.
Featured Snippet Testing
Securing a featured snippet is a valuable accomplishment, but it requires an ongoing strategy to maintain it. To ensure you keep your rankings, our team frequently tests and improves your featured snippets. That way, you can remain present in voice search results.
Customizable Branded Voice Search Responses
At Zero Gravity Marketing, we take Voice Search Optimization a step further by creating fully customizable voice search responses. We use cutting-edge voice search technology to craft branded answers that allow users to "talk" to your business via their smart devices. For example, your audience can say, "Hey Google, talk to Zero Gravity Marketing." Then, they will be prompted to make a voice command, such as "Tell me SEO tips for eCommerce." Each response is tailored to fit your brand voice and provide the most valuable information possible.
 Smart Voice Devices and Platforms We Optimize For
At Zero Gravity Marketing, we provide VSO services for a variety of smart voice devices and platforms, including:
• Google Home, Google Mini, and Google Max
• Amazon's Echo Dot, Echo, Echo Plus, Echo Spot, Echo Show, and Echo Look
• All iOS-enabled devices (using Siri)
• Windows Cortana
• Android
Voice Search Frequently Asked Questions
Enhance Your Digital Presence with Voice Search Optimization Services from ZGM
As voice search usage continues to increase, businesses will need to invest in VSO to remain competitive. If you're ready to start building your voice search presence, Zero Gravity Marketing can help. Contact us today to learn more about our Voice Search Optimization services.
ZGM Awards & Recognition