What Is ChatGPT? 
ChatGPT is an AI-powered chatbot that can generate output in the form of natural-sounding dialogue based on a given context. It takes real-life conversations as input and then responds in a near-human conversational style that can endlessly chat on any given topic. The chatbot, currently leading online AI trends, can generate realistic and engaging stories and provide personalized recommendations based on user interests. ChatGPT can be used for various applications, such as customer service, digital marketing, and more. It is a potent AI tool that can help businesses boost engagement, increaseleads and sales, and provide a more interactive experience for customers.
ChatGPT is easy to use, requiring only a few mouse clicks. Its features include natural language processing, deep learning capabilities, and its ability to generate creative conversations from scratch. With ChatGPT, businesses can accelerate their ability to generate content, engage customers, and create meaningful connections with their audiences.
How Do You Use ChatGPT? 
To use ChatGPT and chat with AI, users must first create an account before beginning their conversation with the bot. From the home screen, users can start to type in any message they wish. Some common prompts may include:
Write a blog post:

ChatGPT can generate creative, thought-provoking blog posts on any given topic with some original direction, like a phrase, keyword, or hashtag, to get the conversation started.

Answer a FAQ:

ChatGPT can quickly answer any frequently asked questions about your business, product, or service to provide customers with the information they need in an engaging and conversational way.

Create a story:

Through its natural language processing capabilities, ChatGPT can generate entertaining stories and interactive dialogue around any topic.
ChatGPT will generate an appropriate response based on understanding the user's input. As the conversation progresses, ChatGPT will learn more about the user's preference, like an algorithm, and respond with increasingly accurate responses. This can help create an engaging, personalized experience for the user inputting the conversation that becomes increasingly more accurate and useful.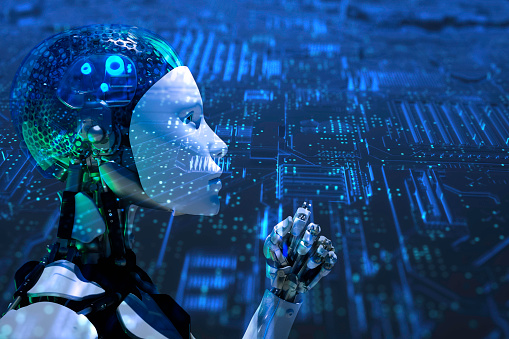 Impact of ChatGPT on Digital Marketing AI 
With the rise in popularity of chatbots and digital marketing AI tools, ChatGPT has created new opportunities for businesses in the digital marketing space that has never been seen before. Some of the most compelling ways ChatGPT can be used for digital marketing include:
Engagement and customer service:

Through its

natural language

processing capabilities, ChatGPT can be used to engage with customers and provide efficient customer service. This helps build a relationship between the brand and its customers while giving real-time personalized responses.

Content creation:

ChatGPT's AI-powered capabilities can generate valuable content such as blog posts, stories, and interactive dialogue that can be used in various digital marketing campaigns. This helps businesses develop engaging content quickly and efficiently without relying on manual labor.

Lead generation:

ChatGPT can

generate business leads

by engaging with customers and providing personalized responses that drive conversions. For example, ChatGPT can create automated conversations with customers, which helps identify potential leads and nurture them until they're ready to purchase.

Brainstorming:

By taking in real-life conversations as input, ChatGPT can offer creative insights and ideas that could be used to generate new marketing strategies. For example, ChatGPT could create ideas for new product launches or marketing campaigns, such as a new

email campaign

or a

social media advertising strategy

.
ChatGPT Optimization 
To maximize the potential of ChatGPT, there are a few steps businesses need to take to ensure their chatbot is optimized for the best results.
First, businesses need to set up an effective conversation flow. This means having a clear structure for the conversation and providing information concisely so that the ChatGPT can understand the conversation and provide relevant, helpful responses.
Once the conversation flow is established, businesses need to define the objectives of their chatbot AI to guide the conversation and ensure that ChatGPT provides useful information relevant to the user's needs.
Finally, businesses must ensure that their ChatGPT provides accurate and up-to-date information. This involves a check-and-balance system to ensure that the chatbot is providing accurate information and not feeding outdated responses. One option is to use external sources of information, such as news websites and online databases, to double-check the accuracy of ChatGPT's answers.
By taking these steps, businesses can maximize the potential of open AI optimization and ensure that it provides a seamless and engaging experience for their customers.
ZGM's Opinion On ChatGPT 
With every new AI comes cool new features, but also things it can not do and, quite frankly, are better done by an actual person. Yes, ChatGPT is free (for now), and what normally takes writers hours can be done in seconds. However, the most important element of content marketing is that you're creating new, original content that's not already out there and written by competitors that's of value. This is something ChatGPT simply cannot do. Why? It's not trained to come up with information that's not already on the web. It can also process information and data but simply can't replace writers with their original ideas and real-life stories. That also means it can't be used for critical thinking – meaning it can't analyze, evaluate, and synthesize information like a human can. Content marketing is all about considering different points of view and perspectives and putting them on the page, so it will be impossible  to create new solutions and ideas using something that simply can't do that.
Another important thing to include in your content? Emotion…and who's better than a human to do that? AI can't put into words what you or your potential customers or leads might be feeling, no matter how many times you ask it to revise what it's written. On top of that, it doesn't have personal experience to add to the pieces of content to give them that relatable aspect that is so important nowadays to make your brand unique.
You'll also need to be careful using ChatGPT if you use a lot of sources, statistics, and rely on accurate information. It pulls information that people put out on the web, but that doesn't always mean what it's creating for you is 100% accurate. You'll still need to fact-check and edit the work to ensure what it's provided makes sense. 
And if search engine optimization (SEO) is a big part of your digital marketing strategy it's crucial to understand this as said by Senior SEO Strategist Manager, Dan Hamilton: "The machine based learning AI can ASSIST (emphasis on assisting) in your content, but it should NOT be your solution. Quality content from humans is still at the forefront of Google and should take precedence over any tool, ESPECIALLY if you want good rankings from Google. Having quality content and a strong SEO strategy is how you will increase your organic traffic and visibility because Google is capable to sniff out the fluff and shortcuts via automated content."
Think you can use it for your paid social and Pay-Per-Click (PPC) ads? Similar to all the points above, it's high-efficiency and speed are enticing and can get you a large number of ads with the click of a button. However, ChatGPT lacks the creativity, quality control, cultural understanding, and empathy that a copywriter has. So, all in all it can be a great thought-starter for paid media, but not the end all be all for what you use for your advertising campaigns. 
Lastly, while ChatGPT seems cool and all, there's no better way to create content that with a super awesome team of copywriters by your side. Plus, you can't have a close-knit relationship with ChatGPT like you can with your content strategists, can you? 
So, what is our opinion on AI over humans when it comes to things like blogs, SEO content, and paid ads? Copywriters all the way! But it doesn't hurt to have a tool in your back pocket to help you if needed – cause we wouldn't be real digital marketers if we weren't excited about a brand-new tool, right?
FAQ
Q: What is Open AI?
A: Open AI is an artificial intelligence research laboratory founded in 2015 by Elon Musk, Sam Altman, and other tech industry leaders. OpenAI's mission is to advance artificial intelligence technology in the way that is most likely to benefit humanity as a whole. It focuses on researching and developing general-purpose learning algorithms for AI systems, with applications such as natural language processing, robotics, and computer vision.
Q: Will ChatGPT make digital marketing obsolete?
A: No, ChatGPT is not intended to replace digital marketing. Instead, it can supplement current strategies by providing valuable insights and content to help businesses create more engaging campaigns. Additionally, ChatGPT's AI-driven capabilities can generate leads and provide efficient customer service, which could positively complement any existing digital marketing strategies.
Q: How can I make a digital marketing plan?
A: A digital marketing plan should include an analysis of your target audience, a strategy for how to reach them through different digital channels, and tactics for creating engaging content. Additionally, create measurable goals and track your progress to ensure that your digital marketing plan achieves the desired results.
Q: Should I give up on my online marketing?
A: No. Online marketing can be highly effective if done correctly, and many resources are available to help you get started. Additionally, ChatGPT can boost your digital marketing efforts by providing valuable insights and content that could help you create more engaging campaigns. Ultimately, the success of your online marketing depends on the effort you put into it.
Contact Zero Gravity Marketing Today 
If you need a partner to help you optimize content strategy and teach you how to improve digital marketing efforts, contact Zero Gravity Marketing today. Our team of skilled digital marketing specialists will work with you to create a custom plan that fits your needs perfectly. We have a proven track record of transforming businesses through website design, chatbot SEO, PPC campaigns, and more. Contact us today to get started.