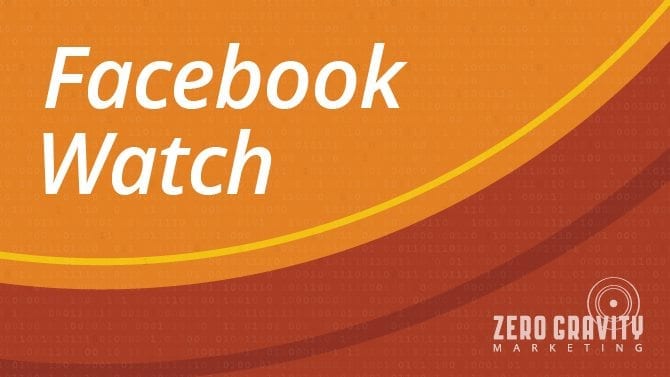 The steady stream of algorithm updates, new features and rival social networks can sometimes be exhausting to keep up with, so for those of you wondering about Facebook Watch, we've got the lowdown for you here:
What is Facebook Watch?
Facebook Watch is essentially an expansion of Facebook's video feature. Our social media experts have been helping brands stand out among the chatter and create videos for years now. With 500 million people watching videos on Facebook each day, and online now rivaling TV for ad spend, it's perhaps unsurprising that Facebook wants a piece of the Netflix and YouTube markets with their new Facebook Watch feature.
Facebook Watch will show up as a separate content category (with, it's rumored, a spin off app à la messenger in the works if it proves successful), and will initially be rolled out to select accounts in the US. On the mobile app, this will show up as a small TV play icon nestled between the newsfeed and marketplace icons on the bottom of your screen.
Facebook has made deals with different TV channels for some of the initial content, as well as commissioned original programming for the new feature. (You may remember youtube having done something similar way back in 2012 and 2015 with popular YouTube stars). Initial offerings include original content from National Geographic, NASA, and David Lopez, as well as sports coverage from the NBA and MLB. There isn't much in the form of scripted content; most of the Facebook Watch offerings focus on documentary, reality, or sport, and this is obviously Facebook's attempt to catch an even larger share of the pie for content marketing.
Watch will also be incorporated into your Facebook newsfeed when friends and Pages share Watch videos, and the 'save for later' functionality that already exists will be expanded into a watchlist for things that look interesting but you don't have time to watch immediately. Over on the Watch tab, Facebook will use an algorithm to show you recommended content, and, similar to the newsfeed, will also let you know what's popular among your friends.
Facebook is keen to make watching as interactive as possible and generate engagements off the back of the content. The recently announced linking possibilities of Facebook Pages to Groups has also been extended to Facebook Watch – popular shows can be associated with fan groups and generate additional interactions and discussions. Similar to Facebook Live, viewers will also be able to see a stream of comments and reactions from other viewers.
Advertising on Facebook Watch
The ad opportunities will come during content breaks, similar to ad breaks in programs on TV, but a bit less frequently. Just like on YouTube, creators keep a portion of the advertising proceeds from their content – 55% will go to creators, and Facebook will keep the remaining 45%. Creators can also choose to keep their content free and forgo any advertising. Details are still being ironed out, so it's likely the advertising portion of Facebook Watch might shadow the feature's rollout by a few months, at least.
Given the slow roll out speed, you don't need to reshuffle any of your ad budgets immediately, but this is definitely an area to keep an eye on in the coming months. We'll be keeping a close watch on any new developments or roll-outs in this area, so if this is something that sounds like it might be a good opportunity for your business, please drop us a line and we can have a chat about how this might fit into your overall digital marketing strategy.