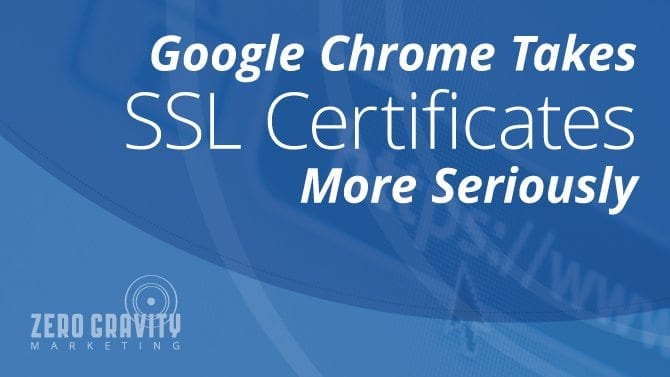 Google Chrome Steps Up Security
If you have never worried about making sure your site is secure, you might want to rethink your strategy. With Chrome's latest update—Chrome 56—if you collect passwords or credit card information on a non-secure website, the user will be well aware that your site is not protected before they enter their information, and as a result, there is a good chance they will cancel the transaction.
About the Change
Studies have shown that most people do not notice whether or not a site has an SSL certificate—meaning the domain begins with https instead of simply http. As a result, they often put their personal data at risk without realizing it. Google Chrome implemented updated labeling to make people more aware of unsecure sites. Until Chrome 56 rolled out in January, an unsecure site would simply have a circled lowercase I in the browser bar before the URL. Now, they will still keep the subtle symbol, but they will also display the words "Not secure".
It's Going to Get Even More Obvious
This new labeling is only the beginning of Google Chrome's long-term plan to keep their users protected. Eventually, they will change the symbol to a red triangle with an exclamation mark inside, with the words "Not secure" still there, but changing the color to red. And chances are, Google Chrome is not the only browser stepping up their security game. There are rumors that Firefox, Internet Explorer, and others will follow suit.
What You Need to Do
If you have a non-secure site—whether you have received a warning from Google Chrome or not—you should take immediate action. There is no doubt that users will become more aware of your lack of an SSL certificate and will be leery to do business with you. Plus, liability and lack of business aside, it is your duty to protect the private data of your customers.
While making the move to HTTPS is no longer optional, make sure you go about it correctly. Google treats the process as a complete site change, so taking the proper steps to implement 301 redirects and ensuring your site can be crawled are critical. For help making your site secure, contact us now. We will make sure everything is done the correct way so you can benefit from the improved rankings an SSL certificate can provide.