Facebook has become a central hub on the internet. This is where ideas are shared, brands are followed, and innovations are shown to the world. It goes without saying that companies are trying to get their messages out into the world beyond their groups of friends or followers, but not everybody knows how to do that. In this post, we'll talk about how to make a post shareable on Facebook so you can get the most attention to your brand.
By default, your posts are only viewable by people in your circle. This is so your privacy is protected, but it also means those great posts you want everyone to see can't automatically be shared. Fortunately, in just a few steps, you can make a post shareable on Facebook so people around the globe can view your messages.
How to Make Facebook Posts Shareable
There are two ways to make your Facebook posts shareable. You could either create a new post that's shareable by anyone or retroactively make an existing post shareable.
The first thing you need to do is open the Facebook app and choose the text box that says, "What's on your mind?" Beneath your name, you'll see two drop-down menus: "Friends" and "Album." Choose the first box and select "Public," then type a post you'd like to share with the world. Once you hit "Share," anyone will be able to see this post, whether they're friends, followers, or someone else. This should help you post gain visibility across the internet.
Now, if you have existing (older) posts that you want to make shareable, you'll need to head to those posts and select the ellipses icon (the three dots or …) located on the right side of the post. From there, choose "Edit Post" and select the first drop-down menu that appears beneath your name. This is where you can choose "Public" so everyone can see and share your post. Make sure you select "Save" in the upper-right corner to finalize your changes. 
Sharing Posts from Pages
If you're wondering how to make something shareable on Facebook, it's important to think about where the post is coming from. For instance, if you're working in Pages, your post will already be completely public and viewable by anyone, even if they haven't liked your Page. All posts on Pages are automatically public and can be shared by anyone.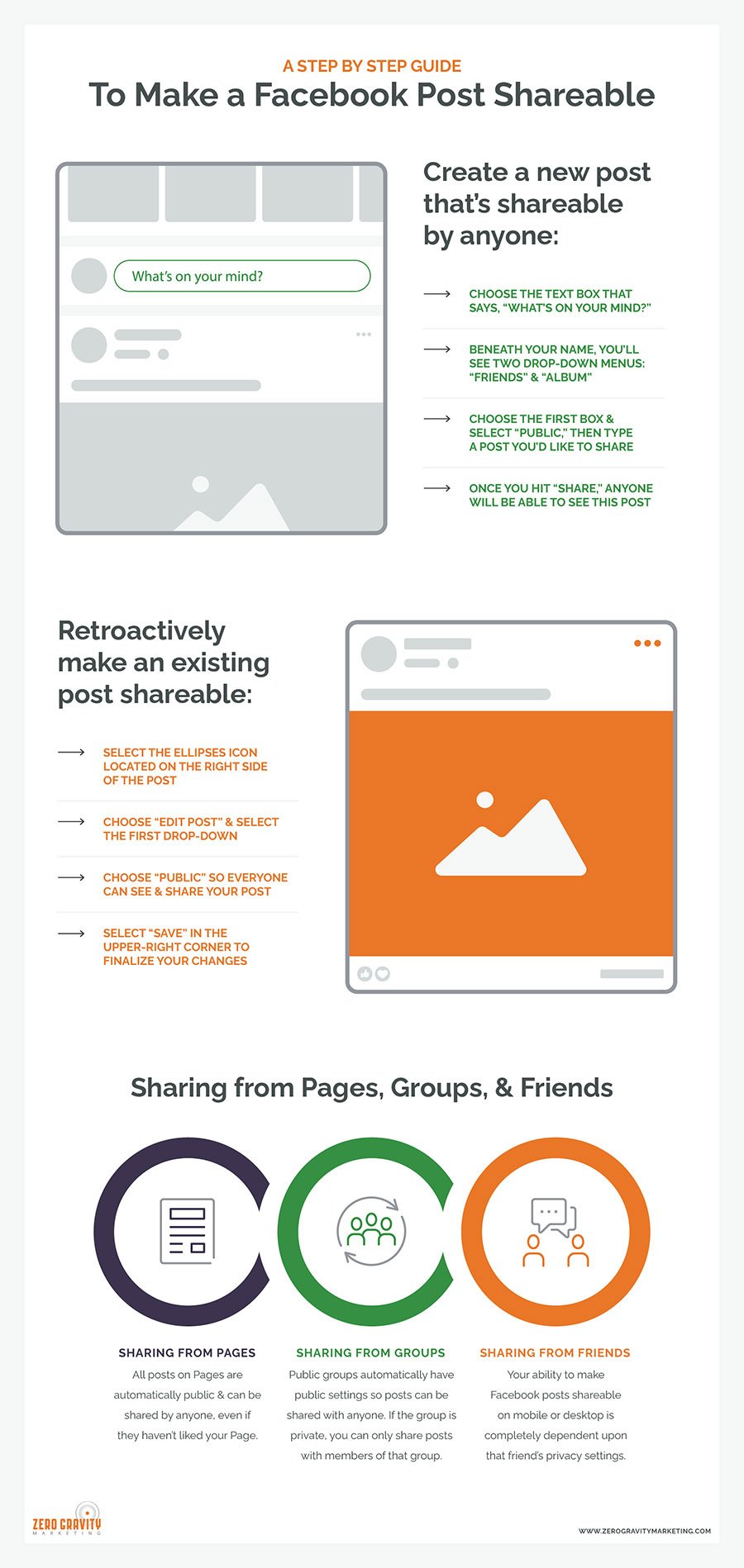 Sharing Posts from Groups
The initial share-ability of Group posts depends on the security settings of the group itself. Public Facebook Groups (or those which are open to everyone on Facebook) automatically have public settings so posts can be shared with anyone, as well. If the Facebook group is private, you can only share posts from the group with people who are also members of that same group.
Sharing Posts from Friends
Similar to Group settings, your ability to make Facebook posts shareable on mobile or desktop is completely dependent upon that friend's privacy settings. If you're unable to see the Share button on a friend's post, it's likely that he or she has their account locked down. Although you won't be able to share their posts in this situation, you can ask them to change their privacy settings to "Friends" on a particular post so you can share it with others.
When Sharing on Facebook, Keep in Mind:
There are certain items you share on Facebook that will always be public. For example, if you comment on a public thread, your post will be public, and anyone can view your statement.
When you select an audience for your posts, the audience selector will continue to utilize that same audience choice until you change it. For example, if you choose Public for your next post, all subsequent posts will remain Public until you alter the settings.
When you change the audience on one device, it will automatically update on all of your devices. For example, if you're trying to figure out how to make a Facebook post shareable on your phone, any changes you make will automatically update to your desktop or laptop, too. 
Your post will show up in your News Feed, on your profile, and in search results.
You cannot automatically post to another person's profile; he or she has the ability to control who can see that post.
If you tag someone, the tagged person's friends may also be able to see that post or photo. 
If you've opted to lock your profile, some of your sharing choices may be more restricted.
Do you need help learning how to make FB posts shareable? Our team at Zero Gravity Marketing can help you with this and so much more! Reach out to us to schedule a demo today!