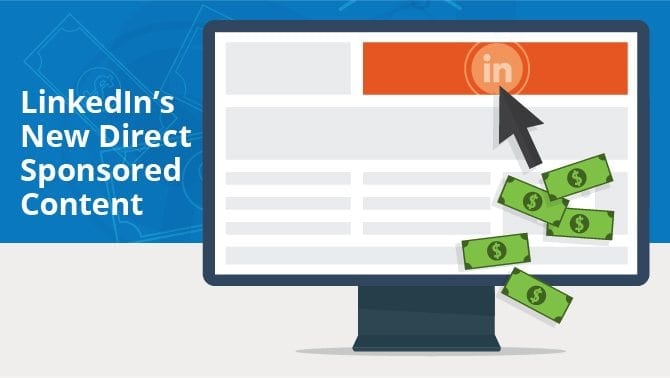 Transform Your Social Media PPC Campaign With LinkedIn's Direct Sponsored Content
Pay per click (PPC) advertising and social media make a great match. This tactic is a win-win for both advertisers and social network users. Marketers benefit from a huge uptick in consumer interest, while those with social networking accounts come across surprisingly relevant advertising.
Although PPC has made a huge impact on Facebook and Twitter, it has yet to reach its full potential on LinkedIn. Fortunately, that is about to change; LinkedIn recently launched a Direct Sponsored Content program, which is aimed at marketers seeking to increase advertising relevance by sending targeted messages to specific groups of users. You can target by geography, industry, position and even by company.
Sponsored Updates Versus Direct Sponsored Content
Direct Sponsored Content is actually a new version of Sponsored Updates, a LinkedIn program focused on advertisements targeted to specific LinkedIn demographic groups. (1) Although Sponsored Updates and Direct Sponsored Content may initially appear identical, there is one key difference between the two programs: marketers utilizing Sponsored Updates are required to create posts for their LinkedIn Community Pages before distributing them to users' NewsFeeds. This Community Page stipulation is no longer a requirement for the Direct Sponsored Content program. As a result, businesses pursuing marketing promotions on LinkedIn will enjoy a greater degree of flexibility in their PPC campaigns.
When To Use Sponsored Updates
Although businesses are encouraged to incorporate Direct Sponsored Content into their overarching social media strategies, it is not wise to ditch Sponsored Updates just yet. Although Direct Sponsored Content boasts plenty of advantages over Sponsored Updates, its media formats remain somewhat limited in scope. The program places a limit of 160 characters on posts, leaving them only slightly longer than standard tweets. What's more, images, documents and other forms of rich media are not yet supported. (2) Ideally, businesses utilizing LinkedIn will take on a combination of the two approaches, sticking with Direct Sponsored Content when rich content is not needed and when changes to the Company Page are to be avoided.
Developing A Targeted Direct Sponsored Content Strategy
When creating Direct Sponsored Content updates, it is important to keep the imposed character limit and lack of rich media in mind. Consider modeling Direct Sponsored Content messages off of Twitter updates, albeit with a slightly more professional tone. The message should be exciting enough to convince users to click through to the linked content, but also reflective of said linked content's tone, so that users are not surprised or dismayed upon reaching the promoted page.
Direct Sponsored Content can easily be targeted to a wide array of LinkedIn groups. Messages can be tweaked based on user age, profession, industry or region. Keep the tone of the update in mind, as well as the targeted group. Since updates need not be included on Company Pages, this is your opportunity to experiment. You will quickly learn what type of message makes the greatest impression on a given group of users.
LinkedIn campaigns can prove confusing even for the most vetted social media marketers. If you're struggling to make sense of LinkedIn PPC, look to Zero Gravity Marketing for excellent advice.