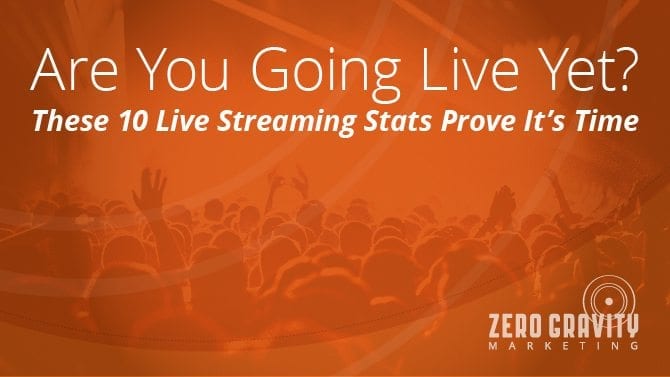 For a few years now, the world has been enamored by live streaming—and this obsession only continues to grow. Due to its insane amount of engagement, the long viewing times, and its ability to build trust with your followers, live streaming is now one of the best tactics to incorporate into your digital marketing strategy. Don't believe us? Just take a look at these live streaming statistics from Livestream.com:
Eighty percent of people would rather watch a live stream from a brand they follow than read their blog. They may not help with SEO, but live streams will get your audience engaged.
Eighty-two percent of people would rather watch a live stream from a brand they follow than read a social media post.
After viewing a live stream done at an event or concert, as much as sixty-seven percent of viewers would then purchase a ticket for a similar event. What a simple way to increase sales to your event!
Surprisingly, seventy-eight percent of Facebook users are already watching live streaming on the platform—are they watching you or your competitor?
Viewers spend way more time watching live streaming versus standard video content, with the length of time varying by device. On mobile devices, people spend an average of 2.8 minutes watching standard videos, yet they spend 5 minutes on live streams. On tablets, standard videos get about 4 minutes of viewing time, while live streams earn more than seven minutes. Top viewership goes to desktop users, with live streams earning an impressive 34.5 minutes of viewing time, with standard videos only getting 2.6 minutes.
The number one reason people watch live streams is because of the quality of the content, so don't live stream just to live stream—make sure you are still providing your viewers with value.
Seventy-three percent of B2B companies state that video marketing gives them a positive ROI.
On social media, video receives 1,200% more shares than both text and photo posts combined.
More than half (fifty-two percent) of Digital Marketing professionals report that video content offers the best ROI versus all other methods.
Seventy-percent of digital marketing professionals claim that video content leads to more conversions than all other types of content.
Clearly, the people have spoken, and they love live streaming. While we understand it can be daunting to go live, we promise once you get the first one out of the way, you will be sold on its impact to your digital marketing strategy. For help getting started in live streaming, contact us today. We would love to help you incorporate live streaming into your digital marketing strategy.