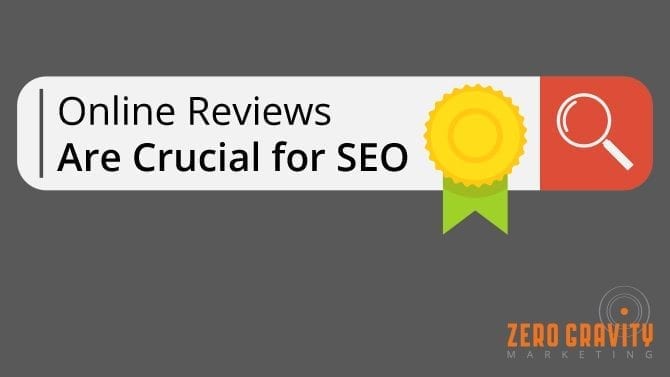 Online Reviews Are Crucial for SEO
Pay attention to your online reviews. When 88% of consumers admit to using reviews to make a purchase decision, you better believe they are important. Additionally, online reviews affect a lot more than just your potential customers' opinion about you—they also play a role in your spot on the SERPs.
How Online Reviews Affect SEO
Moz, recently said that online reviews are the fifth most important local search ranking signal. Both positive and negative online reviews impact your ranking. Google isn't going to want to prominently display a business with poor reviews, but they will definitely feel confident showing a well-reviewed one.
What Matters with Online Reviews
When Google is looking at your online reviews, they look at several different factors, including:
Quantity of Reviews – It usually takes about 10 reviews before people even consider them legitimate, so the more you have the better.
Quality of Reviews – Of course, quality matters too. Sites like Google Plus, Angie's List, and Yelp carry a lot more clout than reviews on blogs or your own website.
Diversity of Reviews – Google also wants to see that you have reviews on several different sites, not just one.
Velocity of Reviews – Believe it or not, too many reviews too fast is a red flag for Google, because it may mean you are paying for them. The natural pace of reviews is a slow and steady increase, and that should be your goal.
Handling Your Online Reputation
Now that you see how important online reviews are to both people's opinion of your business and your SEO, it's easy to understand why managing your online reputation is so crucial. You should regularly check on the different review websites to see if there are any new reviews needing your attention—and both positive and negative reviews warrant a response:
Positive Reviews
When you get a good review, take the time to acknowledge it and say thank you to the customer. It lets them know you care and leaves a good taste in their mouth and the mouths of everyone reading the review.
Negative Reviews
When you get a negative review, you need to respond promptly and courteously. Remember, you can't always delete your response once you post it, so allow yourself enough time to cool down first. The best approach is to offer a genuine apology and provide a solution, such as a refund or a coupon to try your service again. Do whatever it takes to keep that customer happy, because the results of a negative review can have a much larger impact on your bottom line than a one-time refund.
Ideally, you will be able to be proactive with your online reputation management to ensure you are seen in the best light possible, both to your customers and to Google. If your online reputation is already damaged, we create a plan to rectify the situation. Contact us today to find out how to gain control of your online reviews once and for all.