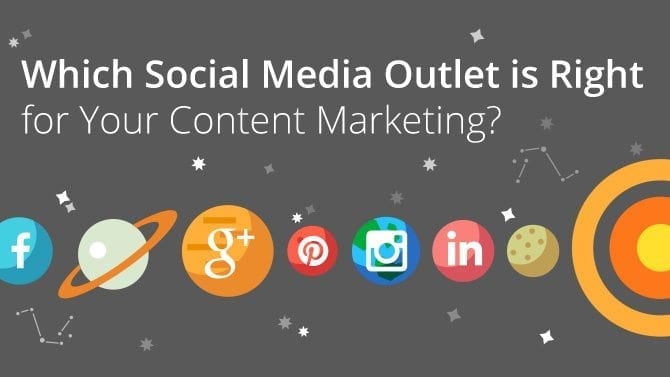 Content marketing isn't just for your blog. To increase your reach, improve engagement and build relationships, you should be marketing regularly on social media networks, as well. Which network is the best fit? It all depends on who your audience is and what you want to accomplish.
Use Pinterest When…
… you want to reach a visually-oriented largely female audience. Pinterest has a userbase that is 68% women. If you are trying to increase your clientele in this demographic, it's a great place to start. Choose inviting, sharable photos and connect them to how-tos, explainer videos and other interesting content.
Use Twitter When…
… your message is short and sweet. Twitter posts are limited to 140 characters. It's a better network for people who are willing to post many times a day and who are able to interact with their prospects through replies and DMs.
Use Facebook When…
… you are trying to reach a consumer audience. Facebook has greater reach than any other network, with one billion users worldwide. It's a great place to communicate with consumers in an unobtrusive way. But, getting attention there can be difficult. The site hides fan page activity from many users' feeds unless you have a great deal of interaction.
Use Instagram when…
… you are looking at a Millennial or younger audience. About half of all users are between 18 and 34. Instagram is a very pop culture oriented platform. MTV is the network's most-followed brand. This is a photo and video based platform, best for company's whose product has a strong visual element.
Use Google My Business when…
… you want to get found locally. Google has incorporated their business pages deeply into search, especially local and mobile search.
Use LinkedIn when…
… your marketing plan is B2B. LinkedIn is one of the internet's oldest social networking platforms. It has a more mature audience, with 79% of users over the age of 35. It's a great place to network with others in your industry. You can also engage in effective content marketing by using LinkedIn Publishing.
Ideally, you will be using multiple platforms for your social and content marketing. For best results, target each piece of content to the social media outlet you are publishing on. Over time, you will learn where to find your best prospects and what approaches they respond to best.