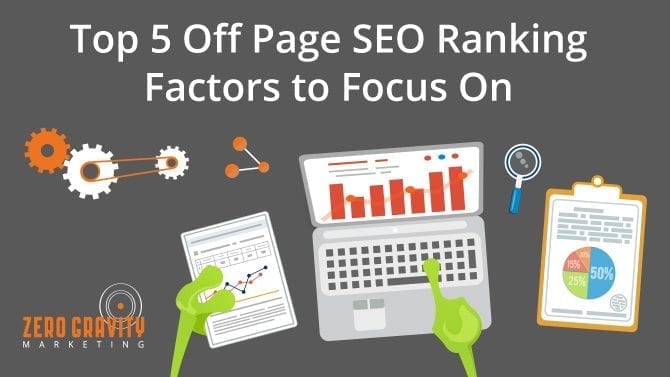 Top 5 Off Page SEO Ranking Factors to Focus On
We use the phrase search engine optimization, or SEO, around here a lot. As a whole, SEO is a combination of tactics that helps you rank highly with search engines. While there are a number of things you can do on-site (on your website) that will improve search rankings, there are also many things you can do externally, called off-page SEO.
Off page SEO is the way you spread the word about your website around the World Wide Web. Your off-page SEO work is what builds brand awareness while contributing to your rankings in a big way. As far as we are concerned, these are the off page SEO tactics your Digital Marketing strategy should focusing on:
Inbound Links
Perhaps the most important off page SEO factor is the number—and quality—of inbound links your site receives. Search engines need a way to determine your credibility, and if you have a lot of other sites linking out to you, that's a pretty good sign you know what you are talking about. Just make sure you stick to white hat SEO link building strategies to ensure you don't face a penalty from Google.
Social Shares
Another off page SEO tactic you never want to underestimate is the amount of attention you get on social media. Not only does your social media presence play a big role in how the public views you, but it is a great way to increase your website traffic (and therefore, your ranking with Google). As you know, there are a lot of social media sites out there, so use this guide to determine which ones are the best for your company, and focus your efforts there.
Domain Age
While there's not much you can do about your domain age, it's important to point it out as an off page SEO ranking factor. While Google admits that there is not much difference between a domain age of six months or twelve months, when you have a site that has been established for five or ten years, you will gain some clout in Google's eyes. So make sure you don't ditch your domain to start a new one if you can help it.
Citations
The next off page SEO factor you need to use is citations. Citations are essentially inbound links, but they come to you via online directories, such as Yelp, CitySearch, and Angie's List. You want to submit your website to as many high-quality directories as you can to improve your backlink profile—all while helping other people find your site a heck of a lot easier.
Reviews
Lastly, we need to talk about reviews. The amount and quality of reviews you have online has certainly become one of the more important off page SEO ranking factors recently. If you have positive reviews, it tells Google you can be recommended to their searchers, so try to get as many as you can (read our tips on how to do this here). But no matter what, never pay for reviews or put up fake ones.
By taking advantage of these off page SEO ranking factors, you can improve your online presence, increase brand awareness, and accelerate your climb on the SERPs. To find out more about off page SEO, and to develop an off page SEO strategy for your website, contact Zero Gravity Marketing now.