Search engine optimization (SEO) for a small business website is often overlooked. There are fears that it won't pay off, it's costly, or SEO was not meant for small businesses. However, small business SEO strategies can increase conversion, enhance brand image, and continuously increase return on investment (ROI) when done correctly.
Let's take a look at the ultimate small business's SEO checklist and what you can do to achieve your business goals.
Optimizing Website Pages for SEO
The first thing you want to do is ensure all your website pages are optimized for SEO. This includes your blogs, about us, homepage, and all the pages on your site. How can you do that?
These small business SEO tips are a great place to start.
Carry Out Keyword Research
Keyword research involves finding words and phrases that your target audience is feeding on Google. For the best outcome, ensure the keywords are not too competitive and that there is considerable monthly search volume. You can use some of our favorite keyword research tools such as, Google, Ahrefs, and Moz to see which keywords you can rank for.
Know the Search Intent
One of the most overlooked steps in keyword research is knowing the intent of the searcher. While Google autocompletes suggest what a searcher might be looking for when typing their query, it doesn't take into account the "why" behind it or what they're trying to do once they find your page. The intention behind a search can have a dramatic impact on how successful it is and what type of content will rank higher.
Long-Tail Keywords
While the primary keywords can take a long time to rank, longer variations will help you rank faster. Another trick? Try using 'related searches' from Google. This will give insights into what people are looking for.
Write High-Quality Copy
With the keywords you found in the above step, you can write good copy that readers enjoy reading. If you don't have an in-house content team, you can outsource and find freelancers to help you out. Good copy should:
Be easy to read and understand
Be short, precise paragraphs
Have visual elements
Be easy to scan – headings, bold, etc.
Resonate with your readers
Add Schema Mark-Up
Also known as structured data, this is a code you add to your content to provide Google with more information about your site or pages. With it, you will have a higher click-through rate.
Add Internal and External Links
When writing your webpages, it is important to link to other pages or posts on your site. This shows that your content is related. Likewise, when creating blog posts, you should link to credible external sources to enrich the facts you present and give them credibility.
Optimize Your Images for SEO
Use the primary keyword phrase on the image's alt text. This enhances your SEO goals and helps with ranking.
Local Business SEO Checklist
The second thing you want to consider is local business SEO. Unlike general SEO, SEO for local businesses means optimizing your website to target customers in a certain region, area, city, or town.
Build Relevant Business Listings and Citations
Business citations mean your business is mentioned by name, phone number, or address on another website. To search engines, this means that your business is legit, and they can show it on the search engine results pages (SERPs).
Ensure all your business listings and citations are accurate and consistent to avoid misleading potential clients.
Google Business Profile Optimization
This local SEO checklist is a powerful local platform that allows customers to find you. When people search for businesses near them on Google maps and find yours, they use Google Business Profile.
To benefit fully, ensure you select the right business categories and update your content regularly. Add your website link, phone number, and address.
Technical SEO Checklist
Another small business SEO checklist surrounds technical SEO. These are the important elements you need to check out:
Make Your Site Mobile Friendly
Did you know over 50% of searches on Google are done via mobile devices? That means if your small business website is not mobile-friendly, you'll miss great business opportunities.
Ensure the images and content can be read well on mobile devices, especially if you are a local business. Most will order a product in a store or make reservations in a restaurant using their smartphones.
Ensure Your Site Loads Fast
Work with your web developer to ensure your website has a fast loading speed. If this is not fixed, customers will be impatient, leave your site, and go to your competitor, whose site loads faster.
To incre
ase speed:
Avoid media and images that are too large
Reduce the number of redirects
Choose efficient website coding
Keep testing the speed so that you can identify the issues as soon as they arise.
Fix Broken Links and Pages
Neither Google nor searchers can find broken pages. That's why you need to find all broken pages or links and fix them. If you delete a page or post, redirect it to another working page.
Use HTTPs and Not HTTP
Security is a big concern for users. When you use HTTP, customers and visitors will receive a warning from Google that the site is not secure. Most people will keep off such sites, and Google will not rank them on the first few pages. This low ranking will hurt your business.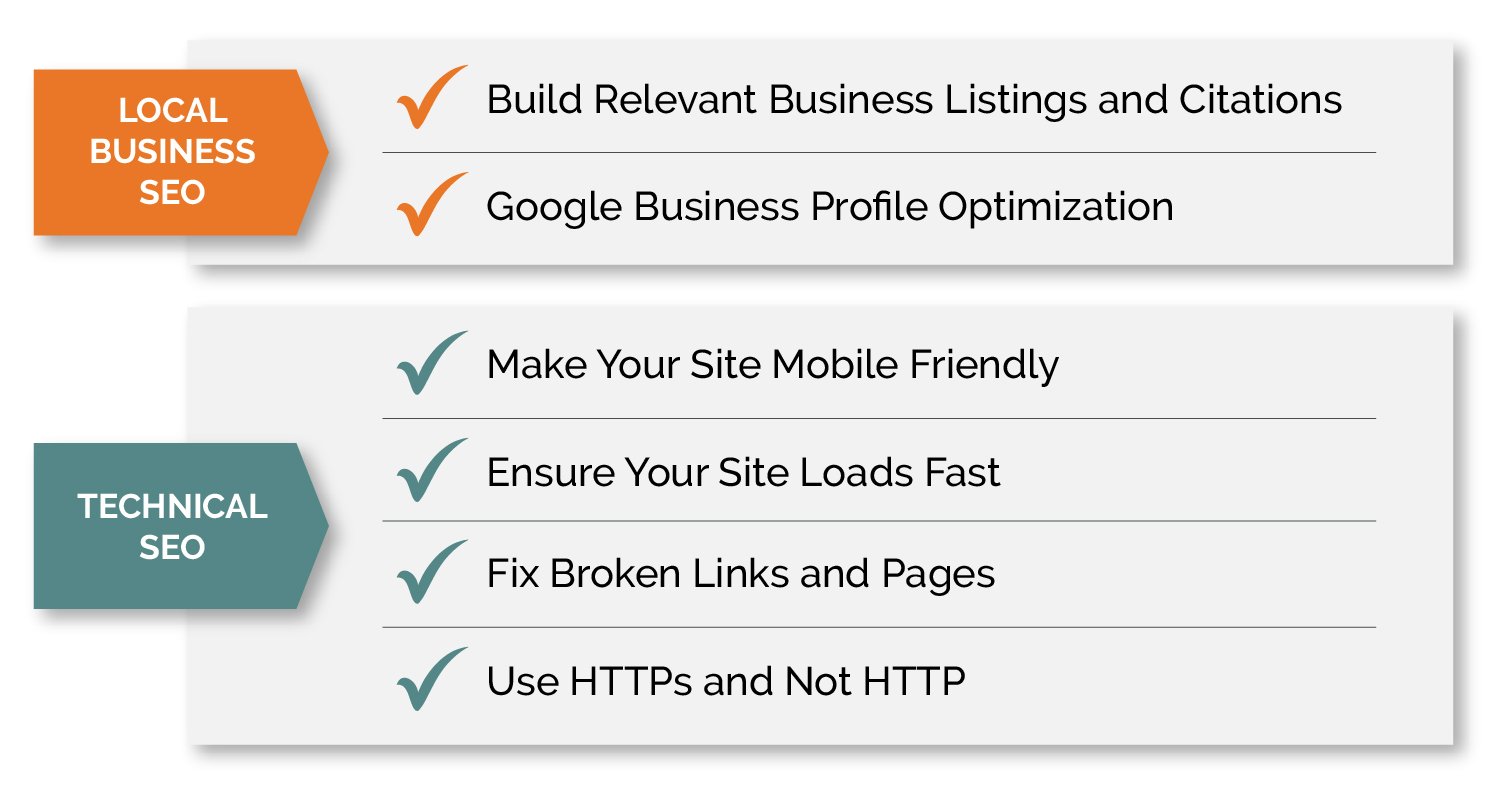 SEO for Small Businesses
Understanding SEO basics for business and using it to improve SEO best practices will enhance your brand image, increase conversions, and result in business growth. In addition, an SEO tutorial, continuous learning, and implementation of the above strategies will give your small business a competitive edge. Need assistance? Zero Gravity Marketing is here to help! Connect with us today to learn how we can get your SEO up and running right!