At Zero Gravity Marketing, we're big believers that an analytics dashboard can really elevate your online marketing efforts. As a full-service digital marketing agency, we can develop an analytics dashboard that encompasses a full report of performance data that we can then leverage to enhance your brand's marketing strategy. To experience all the benefits a custom analytics dashboard has to offer, consider working with the experts at Zero Gravity Marketing.
What is a Digital Marketing Analytics Dashboard?
Digital marketing dashboards are used across a variety of channels – from Search Engine Optimization (SEO) to Email Marketing, Pay-Per-Click (PPC), and Social Media – to measure performance data. A digital marketing report dashboard displays data visualizations to represent online key performance indicators (KPIs), metrics, and other critical data points. Analytics dashboards can report performance data from marketing campaigns, programs, and other activities like social media or email marketing efforts.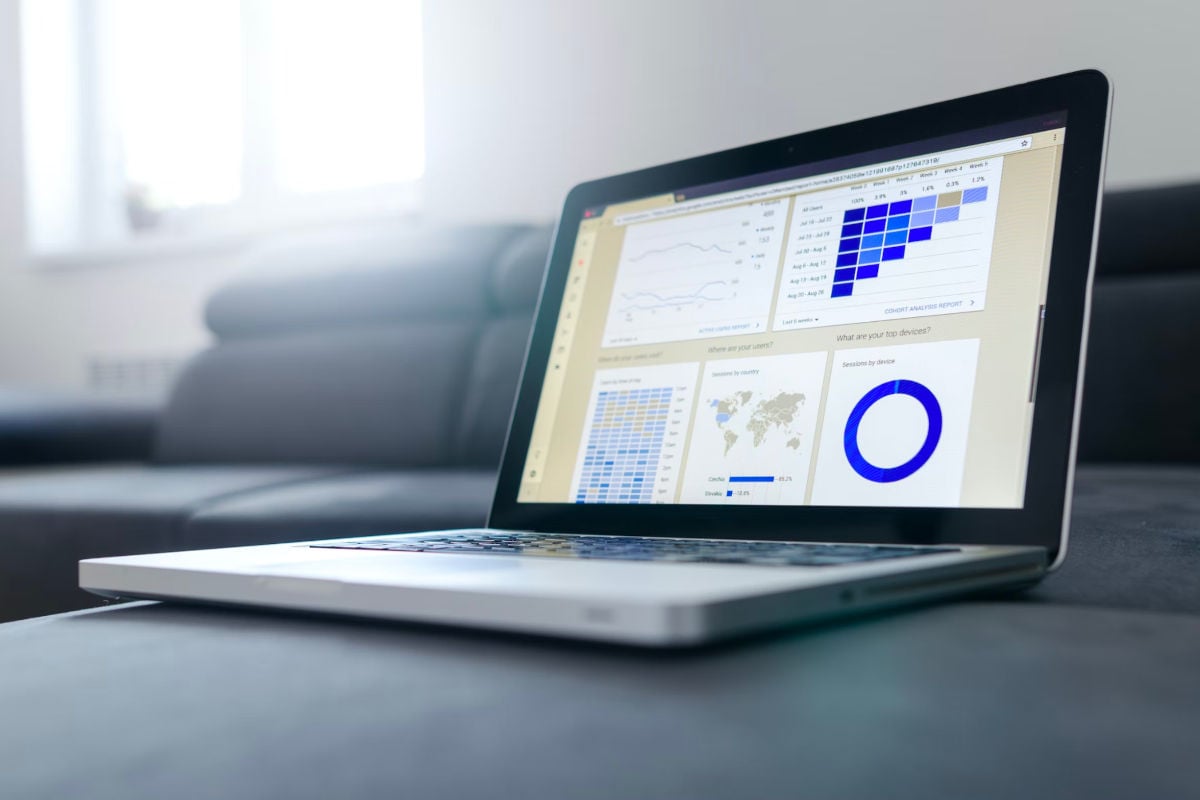 Essentially, they're a streamlined way to display aggregated data from diverse sources to paint a complete picture of your overall marketing performance across multiple channels. Plus, they take a much deeper look at each of your individual, channel-specific campaigns. By having a complete (and complex) understanding of all of your customer touchpoints, we can better visualize the effective areas of your customer journey and identify gaps or poor conversion points that need to be optimized at each stage of the funnel.
Why Your Business Needs an Analytics Dashboard Strategy
An analytics marketing dashboard is not only great for tracking and reporting performance, but the tracked data and metrics displayed here can then be leveraged to tweak your marketing strategy as needed. There are a few other key reasons we recommend implementing an analytics dashboard into your marketing mix, including:
They analyze your site's overall performance with key website metrics.
They collect data on marketing campaigns distributed across a variety of media channels.
They analyze the results and compile data from marketing campaigns into detailed reports.
They track the complete customer lifecycle.
They monitor marketing campaigns and targeted audiences to identify the results.
They integrate with sales, marketing, and other analytics software through which users can source marketing data.
They visualize marketing campaign performance via an analytics dashboard or similar visualization.
When it comes to email marketing – one of the most cost-efficient and effective forms of marketing and often one of the top direct revenue sources – knowing exactly how your email and SMS programs are performing is crucial. With live performance feeds provided by an analytics dashboard, brands can continually improve their strategy and create better-performing campaigns and automated flows that generate consistent revenue streams for their businesses.
Essential Components of Analytics Dashboard
There are a few things every analytics dashboard needs to successfully report performance data. From an SEO monthly reporting perspective, an analytics dashboard needs to include data relative to website traffic and lead sources. The dashboard will analyze which digital marketing strategies drive the most web traffic and leads for your business.
When it comes to bounce rate, an analytics dashboard will also evaluate the percentage of users who clicked the back button or left the site without visiting (or interacting with) any of the other pages. Conversion rate is another important consideration.
An analytics dashboard will present data relevant to the percentage of users who completed a desired action (like making a purchase) compared to the total number of users who could have converted. Lastly, your dashboard will calculate your return on investment (AKA how much money you earned in regards to how much you spent on your current digital marketing strategies).
From an email marketing perspective, an analytics dashboard will track data by campaign and automation so the performance of each program can be measured appropriately and acutely.
Really, your analytics dashboard can feature anything you want – that is the beauty of them! Whichever KPIs are important for your business, we can customize your dashboard to feature this data.
Our Approach to Analytics Dashboards
As experts in all things digital marketing, we build analytics dashboards for our clients with a multi-channel approach. To leverage SEO performance, a successful dashboard takes into account keyword rankings, organic traffic, bounce rate, click-through rate (CTR), internal and external links, landing pages, goals, revenue, and year-over-year data. Relative to PPC initiatives, the dashboard we develop for your business will highlight the full-funnel experience to provide a visual concept of the customer journey.
When it comes to measuring your email marketing efforts, we'll build a custom dashboard based on your email-specific program and KPIs we'll leverage to evaluate success. These will integrate with both your platform data and Google Analytics data to track what happens after a user leaves the email or SMS and visits your website. Both email and SMS reports include data relative to open rate, click rate, click-through rate, conversion rate, transactions, top email campaigns, top links clicked, email automation performance, new subscribers, unsubscribes, and bounce rate.
To analyze how your social media campaigns are performing, we can customize a Google Looker Studio dashboard (formerly known as Data Studio) to pull all of the KPIs for each platform within a chosen date range. We typically share month-over-month data, but the dashboard also allows us to look at year-over-year comparisons – some clients even opt for quarterly reports. The KPIs we typically measure include followers, engagement, impressions, and reach. We also share Google Analytics data to show the total traffic to your site and traffic sources (including social networks). By using UTM codes, we can also determine the links that drove the most traffic from social.
Due to some limitations on social media platform application program interfaces (APIs), our team supplements any data that cannot be pulled through Supermetrics into Looker Studio. We do this with screenshots from the native insights on the platforms or through Sprout Social analytic reporting. We also include a summary that shows what content buckets were the top and bottom performers and any trends that we feel can be incorporated into the future strategy. Our team works to take a deep dive into data and performance metrics to create callouts that help explain the results in a digestible way.
FAQs
You can customize your dashboard by adding blocks based on the KPIs that are most important to your business. If conversion rates and open rates are at the forefront of your priorities – and the metric you want to focus on – you can create modules that focus on how each campaign performed. You can also customize your dashboard to track revenue by month. Our team blends these metrics in our Looker Studio (formerly known as Data Studio) marketing dashboards for better insights. We can even integrate your specific email platform (such as Mailchimp, Klaviyo, and Hubspot) and align with data in Google Analytics.
Be sure you have the metrics you need to track the success of your email campaigns. Some important metrics to include are open rates, click rates, bounce rates, unsubscribe rates, and year-over-year performance. In the dashboard, you can include other relevant blocks like campaign and automation revenue and device usage through Google Analytics.
You should also include a summary of all the results on the first page of your marketing dashboard. The data range should be customizable. This summary shows you how your results are performing across all marketing channels.
On a separate page in the marketing dashboard, you should include data tables and graphs that show the long history of results over time with sessions and conversions by the medium. You can also track engagement metrics such as bounce rate, time on site, and more. Displaying this on a different page is helpful because the date range will need to be different, and the automatic date range controls affect every page's graph.
Make sure to include a section for each dashboard specific to individual marketing efforts. Metrics from the campaigns should also be listed. Ensure you're tagging your URLs using UTM parameters – you should have no problem getting this data with some simple filters set within Looker Studio.
An email marketing dashboard focuses on the performance of your email campaigns and how (or if) consumers found your content to be engaging and relevant to them. You can track data like unique opens, forwards, bounces, clicks, unopened emails, or unsubscribe rates. This dashboard can show demographics and how they respond to an email campaign, like reviewing the age, sex, location, and level of education of a consumer, for example.
Marketing dashboards help agencies work with their clients to efficiently align and collaborate on strategies. With transparency being our first priority, marketing dashboards provide exactly that by showing live results directly from the source.
Digital marketing dashboards also reduce time-consuming manual tasks. Integrating all your digital services into a single reporting dashboard saves you a significant amount of time, especially when it comes to reporting. Dashboards also increase productivity and cut costs, as you'll spend less time and resources pulling data and more time analyzing it. They also provide quick access to data to help you make productive decisions for your brand.
At Zero Gravity Marketing, we're big believers that an analytics dashboard can really elevate your online marketing efforts. As a full-service digital marketing agency, we can develop an analytics dashboard that encompasses a full report of performance data that we can then leverage to enhance your brand's marketing strategy. To experience all the benefits a…
Read More
ZGM Awards & Recognition