Light Metals Coloring Case Study
Light Metals Coloring (LMC) specializes in metal finishing services that both improve the performance and appearance of metal parts. Since 1945, customers have relied on LMC as a trustworthy provider of metal finishes for a variety of industries, from cosmetics to electronics and even aerospace. Located in Southington, Connecticut, they began their business-to-business (B2B) services to meet the growing demand for high-quality aluminum finishing and other finishing services.
A trusted, innovative, and world-class provider of finishings and coatings, LMC came to Zero Gravity Marketing to grow their online presence. With our industry experience, there was no better team equipped to take on this digital marketing project.
The Challenge
When LMC partnered with Zero Gravity Marketing, their immediate goals were to grow their overall online presence within a niche space and drive more qualified leads to their site. They also wanted to put a greater emphasis on the industries they serve (aerospace, automotive, medical, firearms, cosmetics, semiconductor, electronics, and industrial).
The challenge that faced our team was to develop a targeted marketing strategy that would drive the right users to LMC's site, as their customer pool is incredibly niche and industry-specific. Primarily, LMC wanted to attract more customers in the aerospace, medical, and firearm industries. Building a full-funnel strategy that would attract such a specific group of users would require a bit of elbow grease – but our team was up to the challenge!
Outcome
By leveraging selective keywords like "anodizing," in LMC's on-site content, our search engine optimization (SEO) team was able to attract users searching for these specific finishing services. We also brought in our team of expert designers to re-design LMC's site and create a more seamless and streamlined user experience. The sleek site design, optimized page speed, and multiple conversion points all increased leads. With a much more stable content management system and improved on-site features, LMC's new site design supported an improved conversion rate.
After the new site went live, we began SEO and email campaigns. As a result, LMC's organic presence grew drastically over the last year. When they first came to ZGM, LMC had less than 10 pages and just a handful of blog posts on their site. Not only this but LMC also did not rank for any industry-related keywords, as there was no relevant content on their site.
Our SEO team began by generating industry-specific landing pages with quality content optimized with industry-related keywords. Within just a few months, LMC began ranking #1 on Google for a variety of industry keywords. As a result, organic traffic skyrocketed. We then expanded on LMC's metal finishing services and created new landing pages for anodizing, phosphating, and more to provide users with relevant information that would drive conversions.
Through email marketing efforts, we established LMC as an industry expert and thought leader. LMC's email campaigns produced a cadence of monthly newsletters that educated subscribers on new services while simultaneously driving traffic to their site with case studies and new service pages. Featuring employee spotlights, company announcements, and trade show events, our email strategy proved to be successful for engagement, as well.
Email marketing saw a 20% increase in open rates and a 6.7% increase in click rate from 2021 to 2022

Organic sessions increased by 192.70% year over year (YoY)

Organic new users increased by 226.14% YoY

Total goal completions (phone calls and form fills) increased by 100% YoY

All industry pages now rank on page #1 of Google for a variety of industry-specific keywords
Total Organic Impressions Over Last 12 Months

Organic Traffic Over Time

Organic Keyword Ranking Positions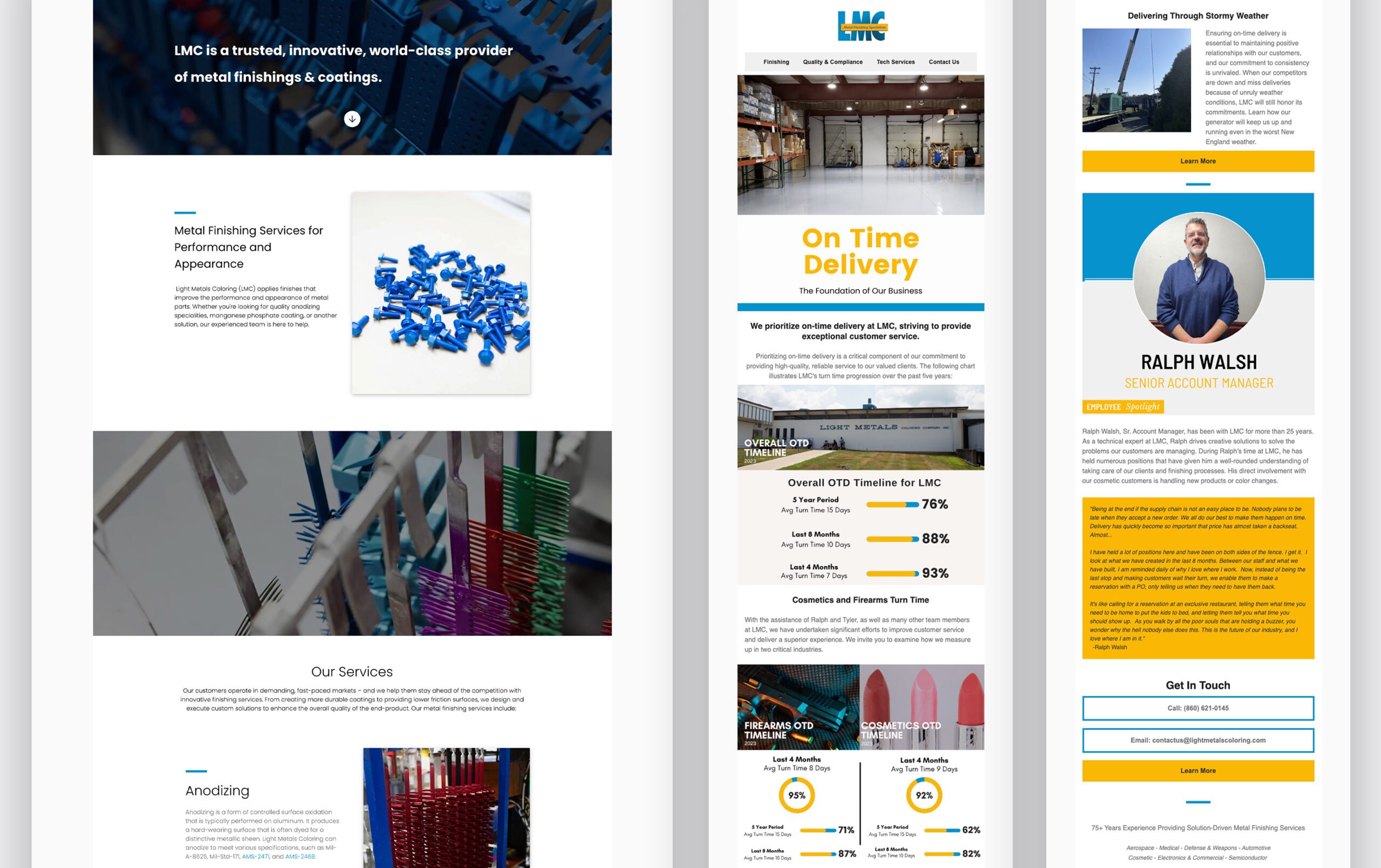 ZGM Awards & Recognition