Carrier Enterprise Digital Marketing Case Study
Carrier Enterprise (CE) is one of the largest HVAC suppliers in the industry. The company's digital tools make it a pioneer in helping companies increase their customer bases and ease-of-usability within the industry. CE strives to deliver a streamlined and profitable experience to its customers.
The Challenge
CE was interested in expanding its digital footprint by enhancing its search engine optimization (SEO), online advertising, and social media strategies. The project then expanded to include content marketing, blogging, print design, email marketing, and Pay-Per-Click (PPC) campaigns.
The most important focus of Zero Gravity Marketing's (ZGM's) endeavors with CE focused on ensuring the company had a strong, well-rounded digital presence.
Outcome
ZGM's marketing experts put their knowledge and expertise to work, employing multiple approaches that worked in tandem with other facets of the project. We connected all of CE's marketing avenues with our full suite of services and brought them together under one roof. When one team is working on SEO, PPC, content, social media, and design, it helps us communicate more clearly internally, so we're all on the same path and working towards the same goals as a team.
We're proud to say that we've achieved outstanding success through our efforts with CE, which began in 2015. We measured overall accomplishments by developing a close relationship with our client and individual services' goals, as noted below.
SEARCH ENGINE OPTIMIZATION:
+800
more keywords generated onto page 1 of Google
+150%
Increased Organic Traffic
+290%
Increased Organic Revenue
+$1 Billion
Organic Revenue Since 2015
+100%
Increased New Organic Traffic
SOCIAL MEDIA:
+5K
Increase On Facebook Followers
+1K
Increase On Twitter Followers
+6K
Increase On Linkedin Followers
+500
Increase On Instagram Followers
CONTENT MARKETING:
+345%
INCREASE In Sessions To The Blog
+444%
Increased In New Users To The Blog
PAID MEDIA:
+6000%
INCREASE In POSITIVE REVENUE FROM PAID SOCIAL ADS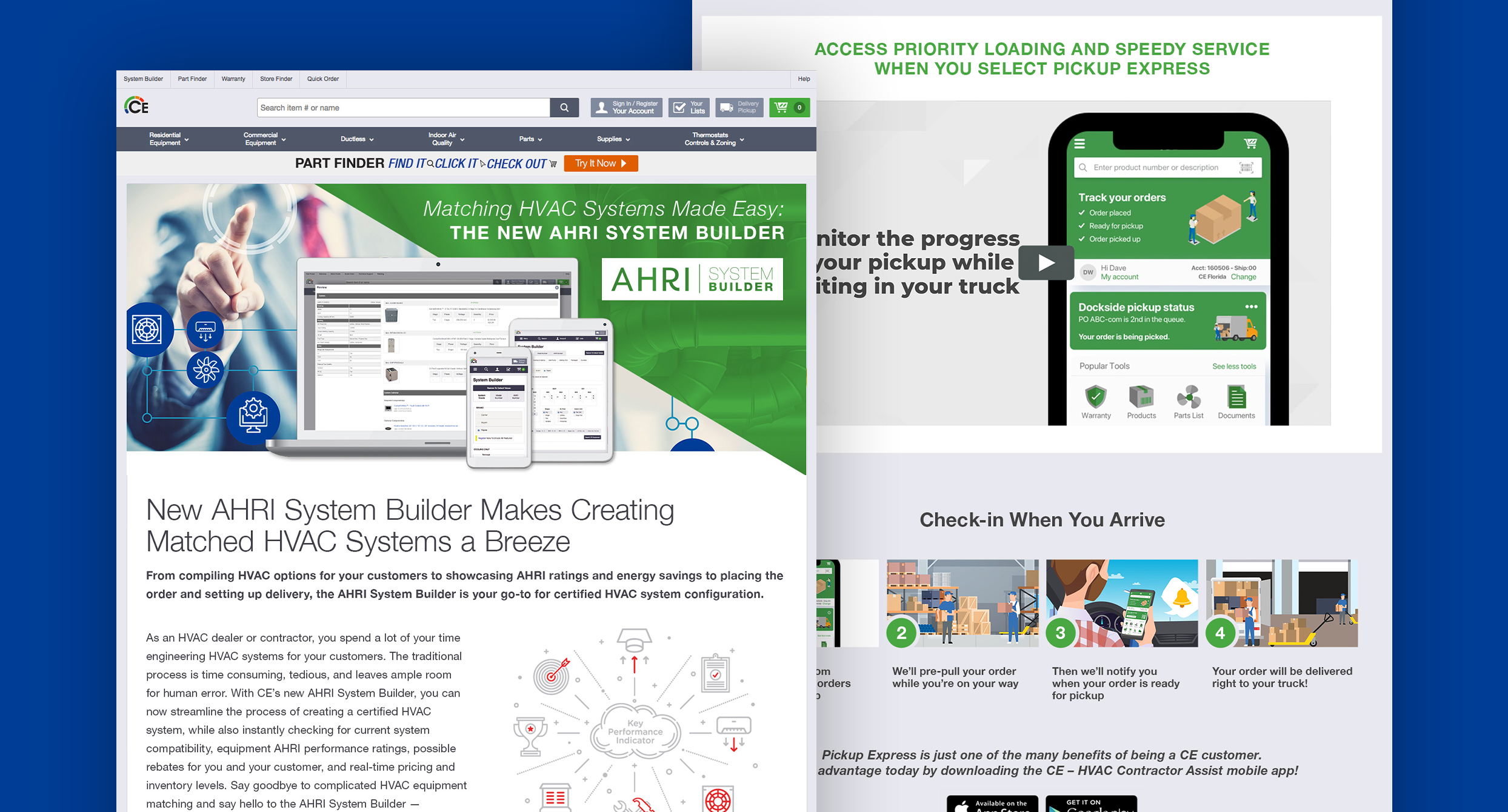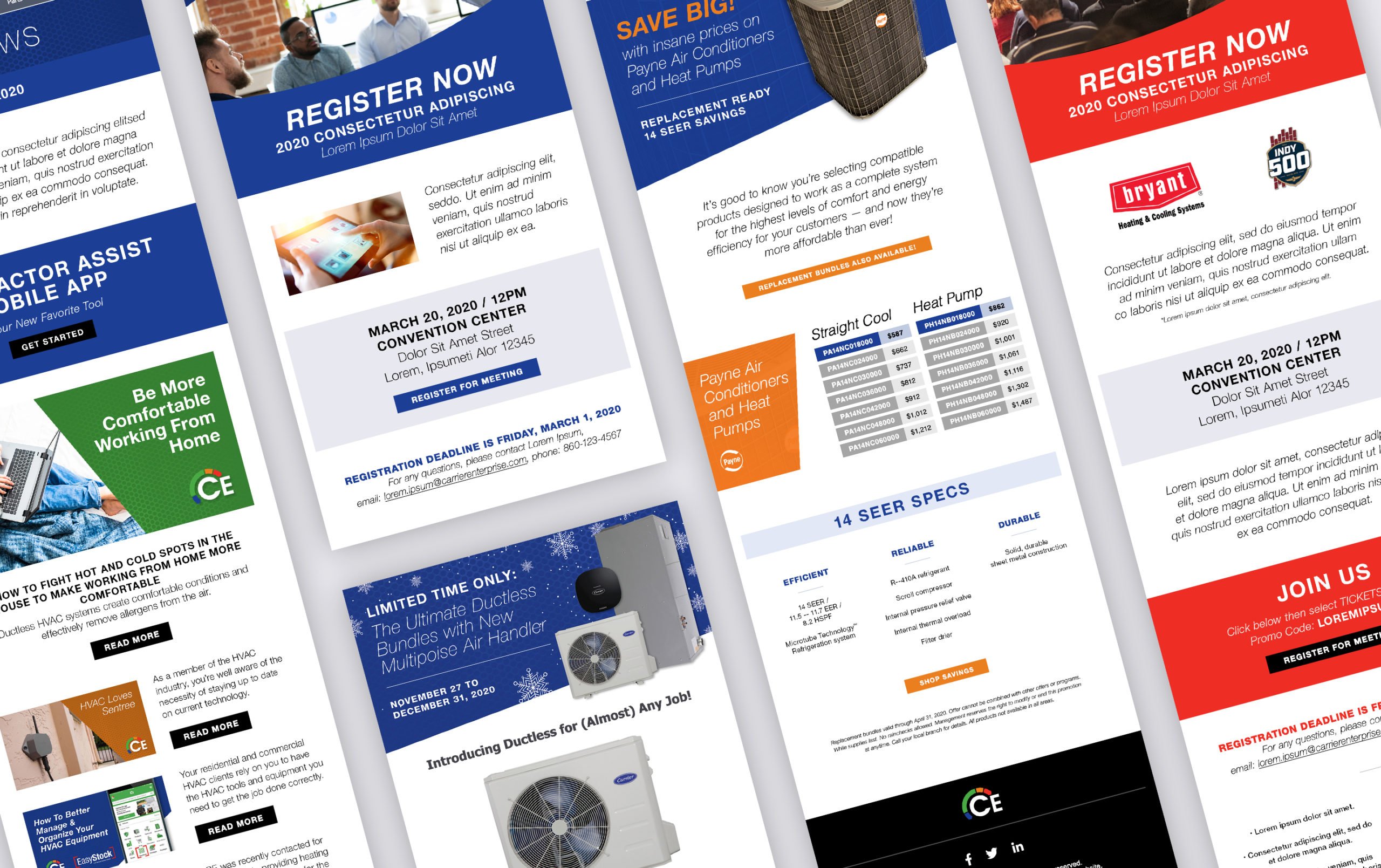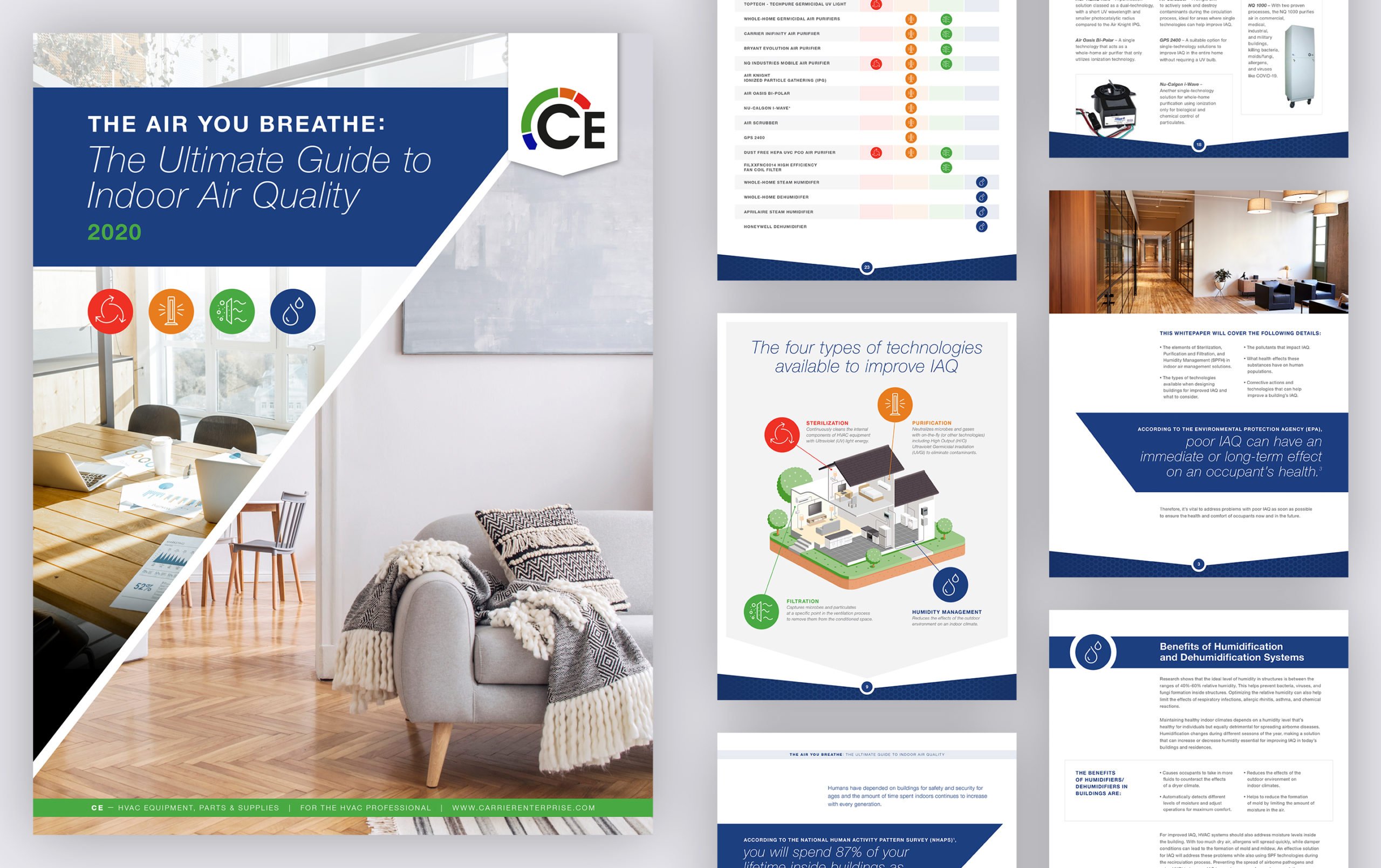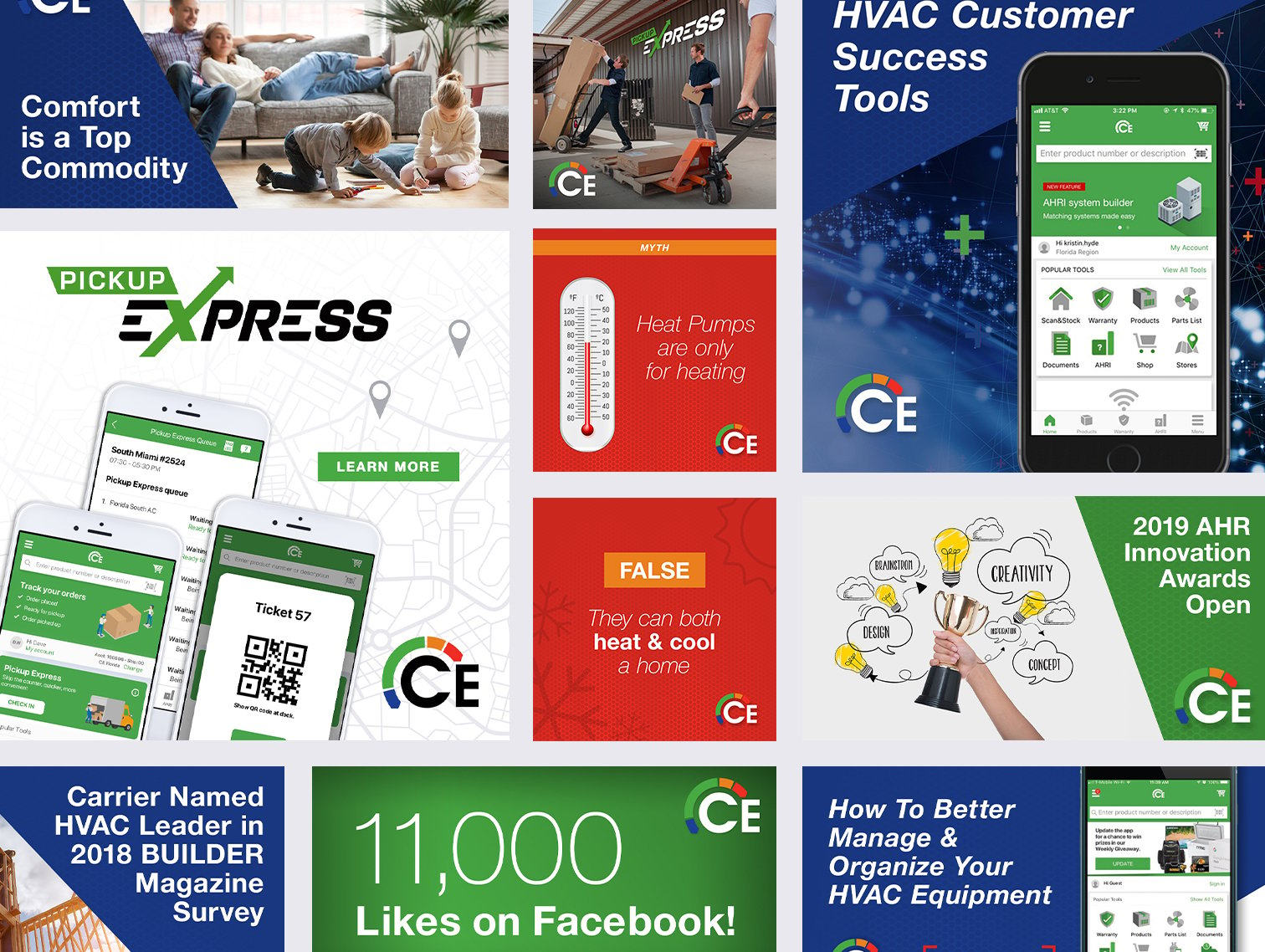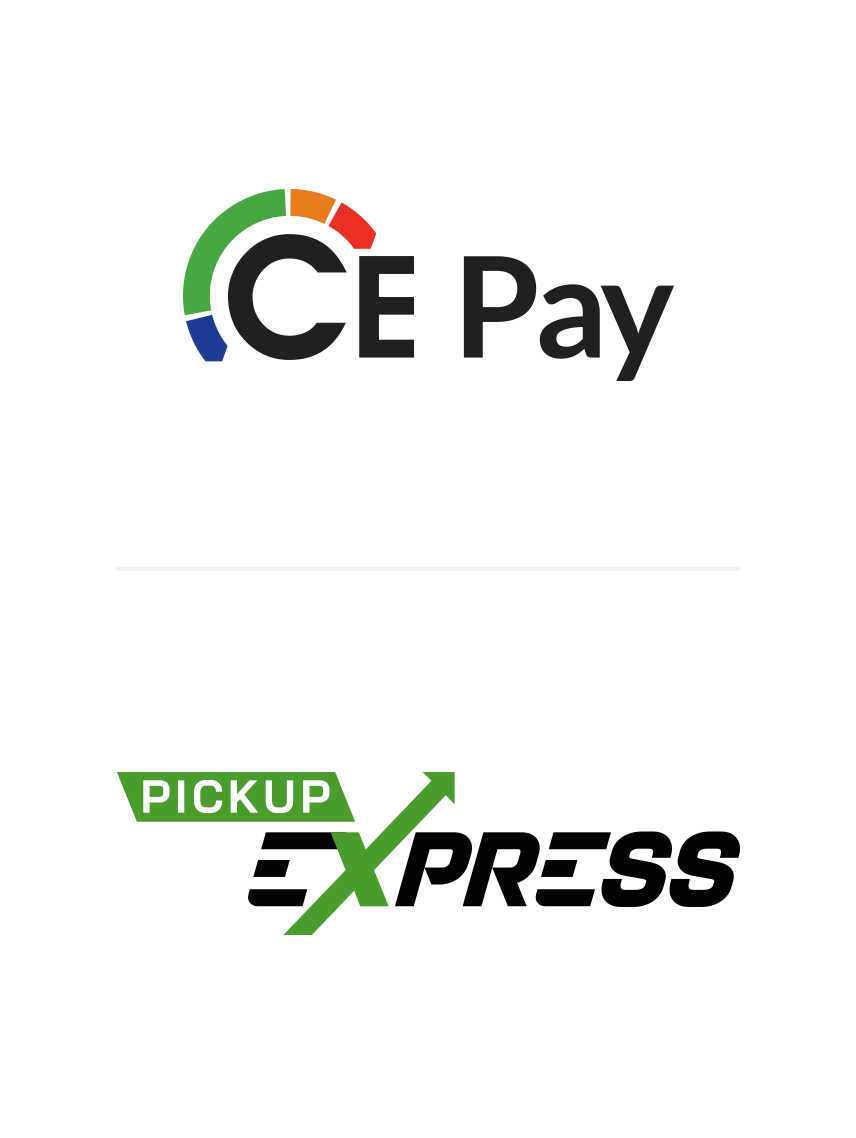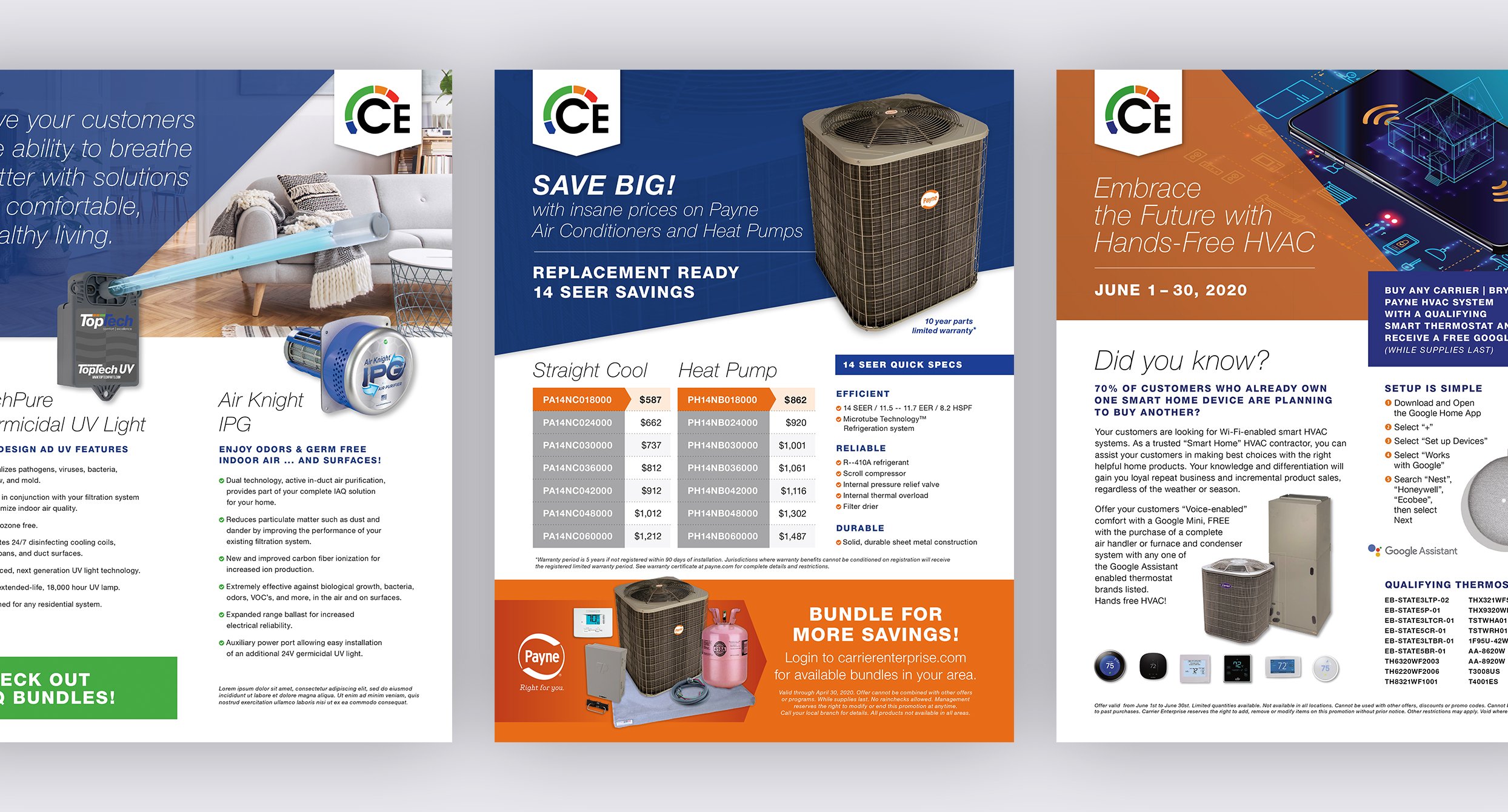 We covered all bases of CE's SEO needs. Our work included (and continues to include) SEO tag optimization, content optimization, link building, and SEO-driven blogging. For keyword optimization, we focused on strategic keyword targeting that's aligned with CE's audience (HVAC contractors). We also took time to make subtle yet effective adjustments to: Title tags, META descriptions, H1 tags, image ALT texts, and URLs to increase their rankings. We also pushed SEO-driven landing pages and eCommerce category-level content to support their target keywords. Our link-building strategy included unlinked brand mentions, guest posting, and content marketing.
Beyond this, our search engine optimization strategy has also been built around SEO-driven blogs, as well as Google My Business optimization for nearly 200 locations, and local SEO initiatives. As a result, we were able to increase rankings for incredibly competitive keywords with thousands of monthly searches. For example, we saw +500 more keywords generated into positions 1 – 3 of Google, +200 more keywords generated into positions 4 – 10 of Google, +60% increase in MOZ visibility, and consistent, monthly ranking improvements between 2015 and 2021 since work began.
We were dedicated to enhancing CE's social outreach using the main platforms where their audience members could be found. To begin, we created a recognizable brand look using their brand colors that we continue to incorporate on all social channels, including Instagram.
Our strategy involved posting five times a week across Facebook, LinkedIn, and Twitter. We also now post twice a week on Instagram. Our focus was on enhancing community management by having a real human respond to and interact with customers. We customized our messages and always responded in a timely manner. CE takes its customer service seriously, so every message was attended to with a response, and we take all matters in-house by having the proper person in their region reach out to them to resolve matters, for which we've seen great success.
Instagram, in particular, has helped us boost engagement. We've taken a very humorous approach on this channel, posting mostly memes that resonate with HVAC techs because they provide lighter content that's less promotional and more relatable.
Our content strategy consisted of writing five blogs a month for two different sectors of CE's business: Nationwide and Variable Refrigerant Flow (VRF). We spent a lot of time putting together a well-rounded content marketing calendar that makes sense for CE's brand. We considered various factors and really dove into what's driving revenue, what people are clicking on, and where people are going within the site after reading the blog.
By analyzing the visitors' behavior flow, what pages they're visiting after landing on the blog, and what products they're adding to their cart, we could create relevant topics that targeted their interests. We've also utilized a bucketed strategy approach that targets topics on tech tools, case studies, campaigns, products, SEO (keywords), and industry news. In addition, we added a gated content strategy and took advantage of longer content in the form of whitepapers to dive deep into important topics like indoor air quality (IAQ). These longer-form pieces of content were then used as the foundation for months worth of blog topics. Our content strategies carried over into social and provided content that could be pushed out onto their social platforms. All the elements above are the key factors that have made CE's blog an industry leader for HVAC content and a form of consistent revenue and organic traffic for the business.

ZGM took over CE's paid media management at the beginning of July 2020. The strategy for CE's paid media was multi-channel remarketing (display ads and paid social). The CE brand has a large following of loyal customers, so we were tasked with remarketing all past purchasers to build further loyalty and drive re-purchases. We started this by doing a full audit of remarketing audiences and resegmenting them into three distinct categories: purchased recently, cart abandonment, and non-purchasers.
This allowed us to optimize ads by the funnel stage to drive the most relevant messaging to each stage of the buying journey. ZGM also made sure to update creative on a rolling basis, changing ads and creative messaging once a month.
ZGM created a custom Marketing Cloud integration to provide templated blocks for regional communications based on predetermined designs. By utilizing Salesforce's Builder Block SDK and Mustache Logicless templating, we built a scalable, easy-to-deploy system. Through form and email templating, this provided users with a drag-and-drop interface and minimalistic inputs to create fully responsive email blocks.
The platform was designed from the ground up primarily using PHP, JS, HTML, and Mustache. It was designed so that creating new custom blocks happens in half the time it would if they were created from scratch. Each block is easy to use and can change the HTML output based on user-selected options. They were also built to be interchangeable, allowing users to fully customize their email while still maintaining CE's brand requirements. Block data is stored within Marketing Cloud to build their emails in multiple sessions without losing any work.
The CE brand has a strong primary color palette and brand fonts. They cover many products on their website, and with that, different scenarios were needed that combine their brand and featured products. We worked to find different ways to show brand consistency over multiple platforms while also highlighting different information and product spotlights.
Over the years, ZGM took over the design of social graphics, blog graphics, PPC ads, web and social graphics for brand promotions, whitepapers, logos (CE Pay, Pickup Express, CE Rewards, CE Cares), and custom email template builds. We've also designed multiple sets of elements for different promotional series like flyers and landing pages. These promos feature different products and brands being highlighted to stand out on their own and also work within the larger CE brand.
Search Engine Optimization
Social Media Marketing
Content Marketing
Paid Media
ZGM Awards & Recognition