The Leukemia & Lymphoma Society (LLS) was founded in 1949 with one clear mission—to cure leukemia, lymphoma, Hodgkin's disease, and myeloma, and improve the quality of life of the patients and families. LLS funds lifesaving blood cancer research around the world, provides free information and support services, and is the voice for all blood cancer patients seeking access to quality, affordable, coordinated care.
In 2019, LLS set out to generate high-level awareness of its cause by working with strategists that could revamp their social media channels. While LLS previously had a heavy social media presence, the organization's new goal was to take it to a higher level with outstanding content. LLS wanted to bring on an agency who were just as passionate about their mission as they were. This is where Zero Gravity Marketing (ZGM) entered the picture. We offered them a hands-on approach to create and execute a social media strategy that spoke true to the uniqueness of LLS. Not only did we utilize Facebook, Twitter, and Instagram, but we were proactive and took advantage of the latest social trends, recognizing the impact that TikTok could have. The ZGM team used trending dances and fresh visual content to relate to users and to get LLS's important message across to a large audience. September provided us with the perfect opportunity to heighten LLS's social media presence. For Blood Cancer Awareness Month (BCAM) we created a social media campaign that stood out all over the world. The LLS Kiss Blood Cancer Goodbye Challenge went viral and it was the perfect opportunity to amplify their social reach.
The Challenge
LLS already had a substantial online media presence, so we needed to figure out a way to go above and beyond the measures they already had in place. ZGM needed to come in with a strong strategy that would take hold of specific social media channels in a way that was shareable enough to go viral. We had a four-pronged approach:
Educate audience members about blood cancer and position LLS as the leader in the blood cancer field.
Disrupt social threads with content that couldn't be overlooked or ignored while providing the audience with a personal connection to the cause.
Generate donations for LLS through an inspiring BCAM Facebook fundraiser.
Promote a viral social media challenge among social media users and influencers.
The goal of their social media strategy and the Kiss Blood Cancer Goodbye Campaign was to use impact statistics that would resonate with the audience in a "Did you know?" type of way. ZGM paired LLS's feed posts with interactive Instagram and Facebook stories that supported the main content themes.
Outcome
ZGM produced weekly content to create a stronger presence for LLS on Instagram, Facebook, and Twitter. We relied on remarkable visuals to showcase the impact of donations, motivate the audience, and deliver inspiring statistics to encourage engagement. To inform and educate social media users about blood cancer, we:
Used impact statistics and "Did you know?" content to explain the different types of blood cancers and the resources that LLS offers to patients, families, and caregivers.
Paired social feed posts with interactive Instagram and Facebook stories that supported the main content themes.
Used a variety of content types (such as links, carousels, and videos) across Facebook, Instagram, and Twitter.
For the Kiss Blood Cancer Goodbye Campaign, we introduced a two-month trial run of an influencer activation to determine future applications. We targeted influential Instagram users of Nano (<10k) and Micro (10-50k) levels through manual discovery and approved celebrity influencers. We also manually vetted 100+ users through organized spreadsheets with contact information and key identifiers such as "survivors and advocates," "leukemia," and "lymphoma."
FACEBOOK:
122%
YOY ENGAGEMENT INCREASE
INSTAGRAM:
215%
YOY ENGAGEMENT INCREASE
TWITTER:
465%
YOY ENGAGEMENT INCREASE
TIKTOK:

Fastest growing social platform in 2021
YOY ENGAGEMENT INCREASE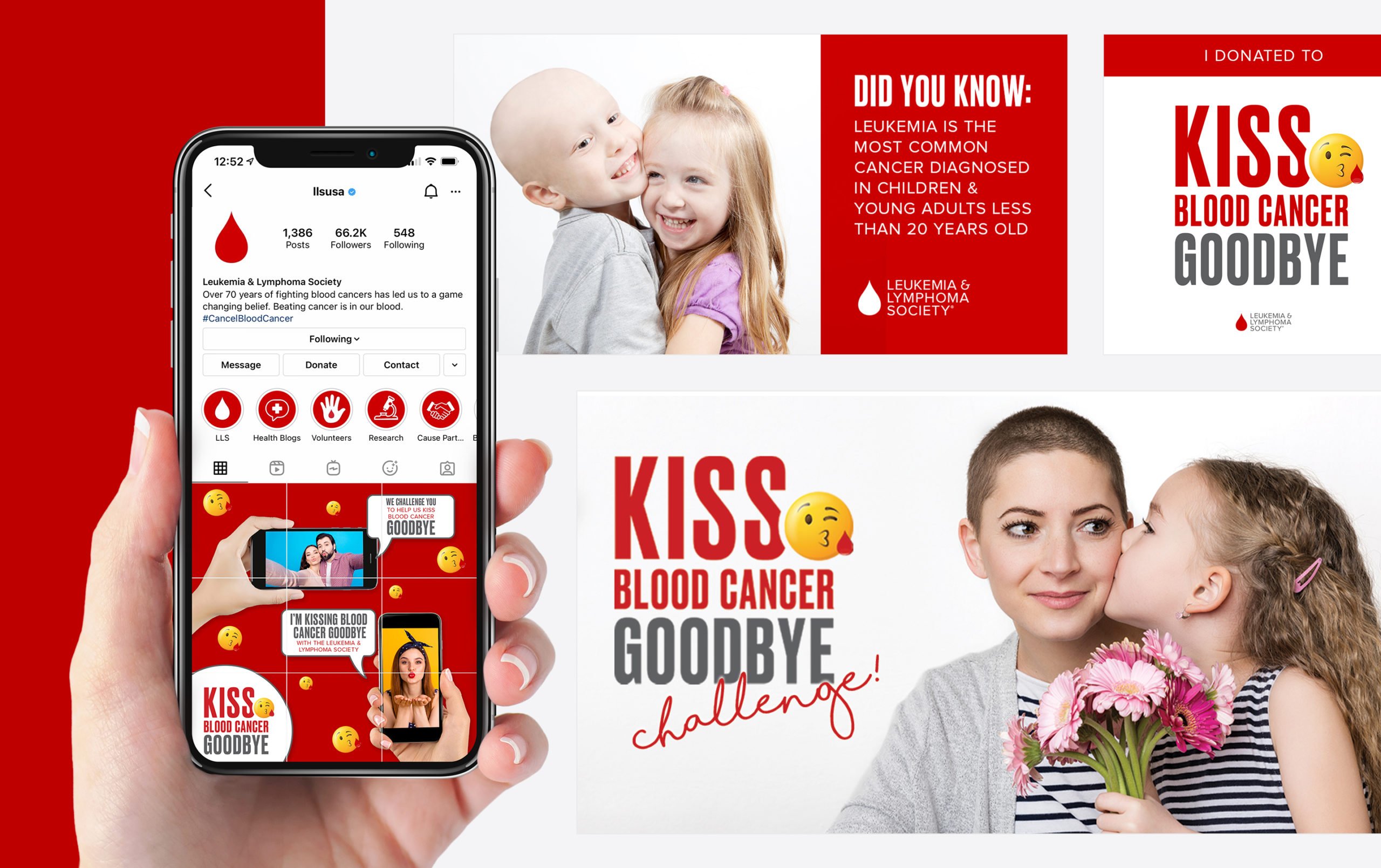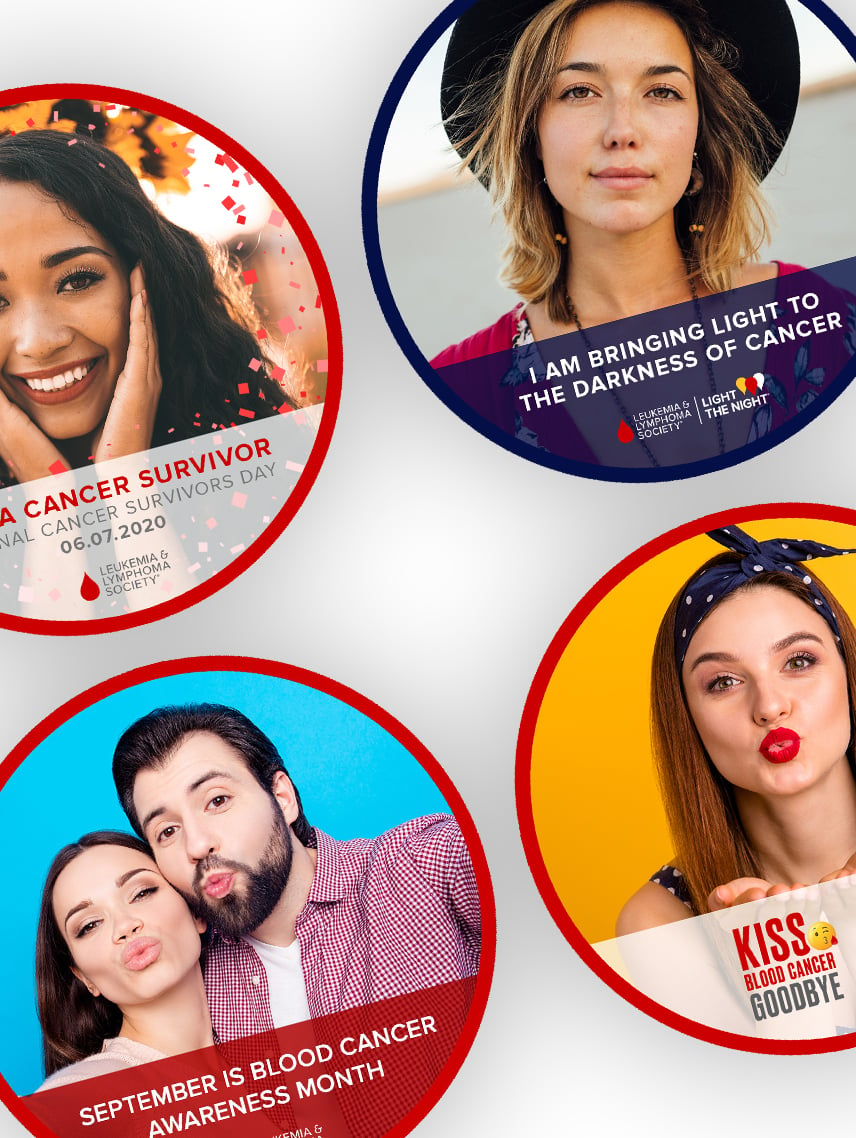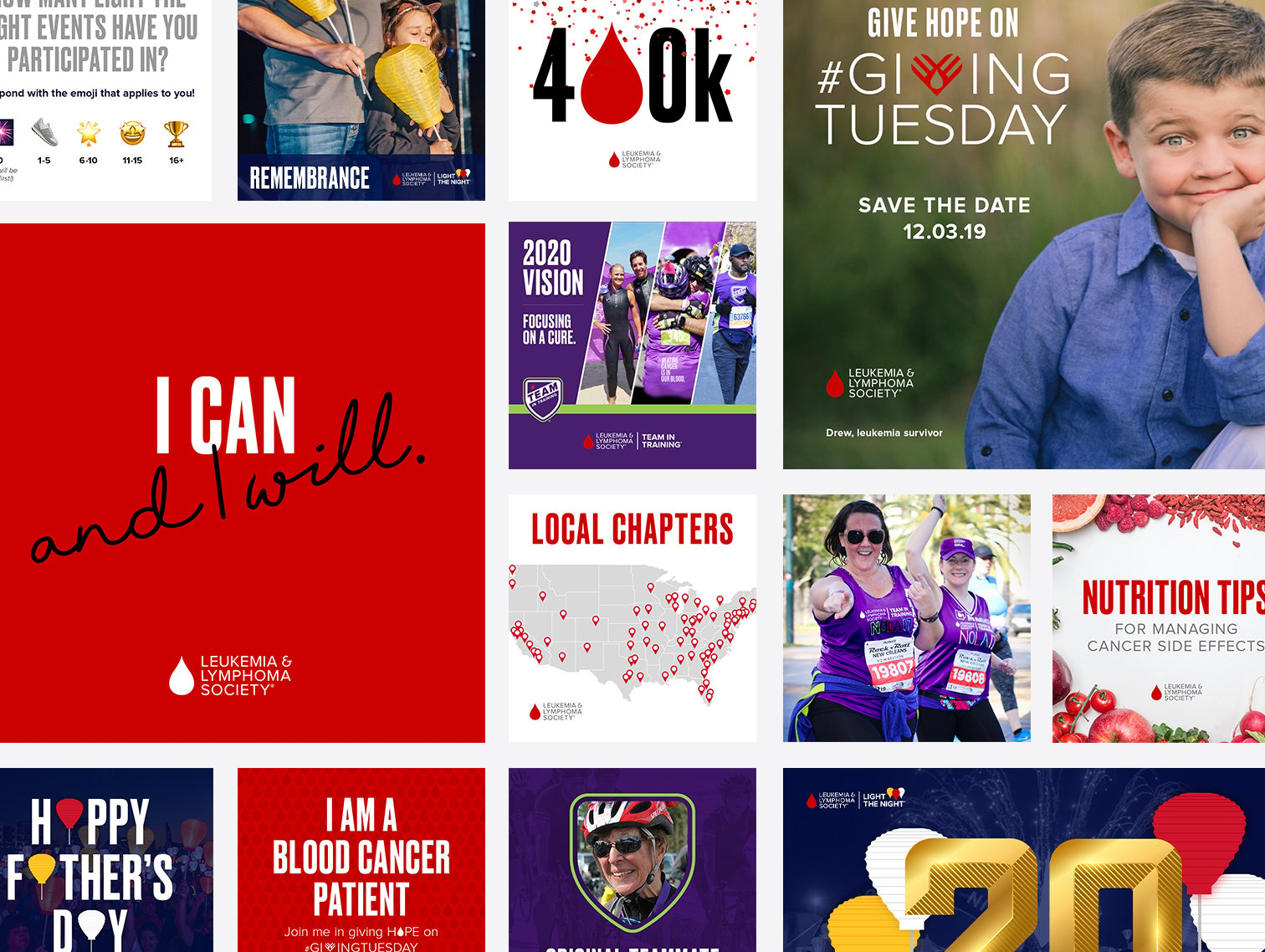 Created powerful, impactful, and disruptive visuals that highlighted users' personal connection to blood cancer and the impact of donations to motivate engagement.
Targeted influential Instagram users and approved celebrity influencers through customized messages and social postings.
LLS was an early adopter of the TikTok journey among nonprofits and began its campaign on the platform in early 2020. They welcomed TikTok into their marketing efforts in order to connect with users in an authentic way and showcase their brand's personality. The platform has allowed them to reach thousands of users while simultaneously bringing awareness to blood cancer in a lighthearted and positive way. Originally, ZGM stepped in to assist with creating a TikTok campaign for LLS's Student Visionaries of the Year, but this quickly changed after we gained access to the platform. Since then, LLS has been hopping on the latest TikTik trends, creating challenges, sharing blood cancer patient and survivor stories, and more. Here's a closer look at what we've done to date...
LLS worked with ZGM to develop a TikTok marketing strategy with the goals of promoting educational resources, growing followers, and increasing user engagement while taking the heavy topic of blood cancer and bringing awareness to it in a more positive light. It was also important to take TikTok's algorithm into consideration, so we suggested using hashtags, trending sounds, and promoting relatable topics to increase organic reach and audience engagement.
Another important consideration for ZGM and LLS was the brand's voice. According to recent data, Snapchat, TikTok, and Instagram are the most popular platforms for Gen Zers. By @LLSusa joining TikTok, we were successfully able to reach younger audiences and further the online blood cancer community.
In their first month of using TikTok, LLS gained 126 followers. With the support of content marketing strategies from ZGM, in two years, LLS experienced a 93% increase in its following, reaching 9,178. LLS has also seen a combined increase in organic views and followers of 1000%. Plus, their work with paid influencers also gained LLS 1,000 followers in just one month. In addition, their campaign hashtag #BigVirtualClimb got 3.3 million views and the Big Climb 2020 campaign video – featuring paid influencer Ashley Tisdale – saw 2.5 million views. Other contributing factors include their popular branded hashtag #CancelBloodCancer.
With close to 10K followers and over 140K video likes on TikTok, LLS and ZGM made the decision to expand this success by cross-promoting videos on Instagram Reels. According to Instagram, "91% of active Instagram users watch IG videos every week." That said, LLS has earned over 536K views on Reels since August 2, 2022. TikTok and Reels are an unstoppable force for spreading brand awareness and gaining engagement.
LLS has also introduced many other initiatives through this social media platform, including:
2020 Blood Cancer Awareness Month Campaign: "Cancel Blood Cancer" – Launched a "Put Your Finger Down" challenge inviting those affected by blood cancer to duet the video. The campaign saw 91 duets and stitches, followed by an increase in over 400 followers that month.
Giving Tuesday 2020 – Featured three-time Leukemia survivor William Yank in a five-part TikTok series that gained, collectively, 297,234 views.
2021 Blood Cancer Awareness Month Campaign: "180 Seconds – Every 3 Min Someone is Diagnosed with Blood Cancer" – Launched the "LLS 3 Minute Challenge," encouraging users to spread love and blood cancer awareness. The video saw a 156% increase in views, and the branded hashtag #CancelBloodCancer experienced a 1,722% increase in usage.
TikTok #GivingSzn 2020 & 2021: For two years in a row, @LLSusa has participated in TikTok's annual #GivingSzn campaign, which helps organizations for Giving Tuesday and the month that follows. Through #GivingSzn, TikTok donated $7M to various mission-driven organizations around the world, which luckily included LLS. By participating in this campaign and partnering with TikTok, LLS gained visibility, donations, and new followers.
Holidays and Observances 2020-2022: From World Cancer Day to International Childhood Cancer Day, Pride Month, and more, we've continuously worked with LLS to feature patient and survivor stories that resonate with their audiences. Currently, LLS's TikTok channel has gained 146.3K total likes on all the published videos. These observances are major drivers of this success since we're staying relevant and joining the conversation.
Big Climb 2020-2022: With a combination of paid Influencer efforts, we were able to have popular TikTokers such as The McFarlands (3.6M followers), Scientist Dominic Andre (7.3M followers), and Ashley Tisdale (7.8M followers) create videos encouraging people to sign up for Big Climb – an annual event that challenges individuals to climb 1,500 steps with a team or by themselves – to raise funds to help cancel blood cancer.
Strategic Planning
Campaign Ideation
Brand Positioning
Social Media Management
ZGM Awards & Recognition