Project Overview
Located in Ellington, Connecticut, Kloter Farms is a local leader in creating custom sheds, gazebos, garages, and furniture for kitchens, dining rooms, and living rooms. They differentiate themselves from competitors by focusing on offering the highest quality of products and exceptional customer service. The company began selling sheds in 1980 and has since expanded to include garages, barns, pool houses, pavilions, gazebos, and swing sets. Kloter Farms also offers custom furniture for your kitchen, dining room, home office, living room, or bedroom. Today, Kloter Farms remains family-owned and operated and strives to bring family values to the forefront of everything they do.
The Challenge
The primary challenge Kloter Farms has faced is the change in how their products are marketed and sold. Back in the 1980s and 1990s, their sheds were marketed at fairs and other events. However, over the years, that aspect of the business decreased, and Kloter Farms recognized the need to improve their digital presence.
After working with several other agencies in the past, Kloter Farms was looking for a local partner that they could trust and work with long-term to propel digital growth. Zero Gravity Marketing (ZGM) was a great fit due to our commitment to maintaining 100% transparency in all of our marketing efforts and our belief in the same family values.
Kloter Farms' challenge was unique, as most of their sales are completed in-person at their location. The main issue with pursuing digital marketing for local businesses like this is attribution, which refers to giving credit to the specific marketing channel, campaign, creative asset, keyword, or another element that led to a sale. When sales are made on-location instead of online, there is very little ability to attribute efforts back to them, making it challenging to optimize campaigns.
Beyond attribution, Kloter Farms also expressed concerns over their website that another agency was redesigning. They felt the design was confusing, difficult for users to understand, and not as streamlined as their original layout before the project had started. Knowing they could trust us, we executed a user interface/user experience (UI/UX) and customer journey audit to review the in-progress design and make recommendations.
ZGM's goal was to provide Kloter Farms with the support they needed to successfully market their business through various digital marketing channels, including Search Engine Optimization (SEO), Pay-Per-Click (PPC) advertising, radio ads on Pandora and Spotify, and Email Marketing.
Because Kloter Farms has internal marketing resources, we first collaborated with their team to understand where they needed help. After working with ZGM to create email templates, the in-house Kloter Farms team now handles all Email Marketing internally, while ZGM helps with all SEO, PPC, and other marketing and strategy efforts.
Outcome
Our primary focus since beginning work with Kloter Farms has been on digital strategy and marketing. Specifically, we've worked to improve attribution through event tracking of signals on their website, within Google My Business (GMB), and on Facebook. This allowed us to identify the most successful campaigns and optimize our strategy accordingly. For example, ZGM measures which efforts lead to calls and clicks for directions to the Kloter Farms showroom.
Together, we've worked to apply a holistic approach throughout all marketing channels, each playing an important role in our strategy. From creating awareness at the top of the funnel to nurturing and educating in the consideration phase, working to convert users at the bottom of the funnel, and retaining them as long-term customers, our goal is to build and grow a loyal, engaged audience.
In our first year, we saw quick success and improved in all of our key performance indicators (KPIs) rapidly. The partnership between Kloter Farms and Zero Gravity Marketing has helped the business navigate changes and pivot quickly. Regular meetings, open communication, and collaboration with the Kloter Farms marketing team and senior management have helped us achieve such success.
ORGANIC SEARCH:
240%
IMPRESSIONS INCREASED Q3 2019  Vs. Q3 2020
IMPRESSIONS:
38%
WEBSITE VISITS INCREASED Q3 2019 VS. Q3 2020
GOOGLE ADS:
48%
IMPRESSIONS INCREASED Q3 2019  Vs. Q3 2020
WEBSITE TRANSACTIONS:
39%
CALLS AND CLICKS FOR DIRECTIONS INCREASED Q3 2019 VS. Q3 2020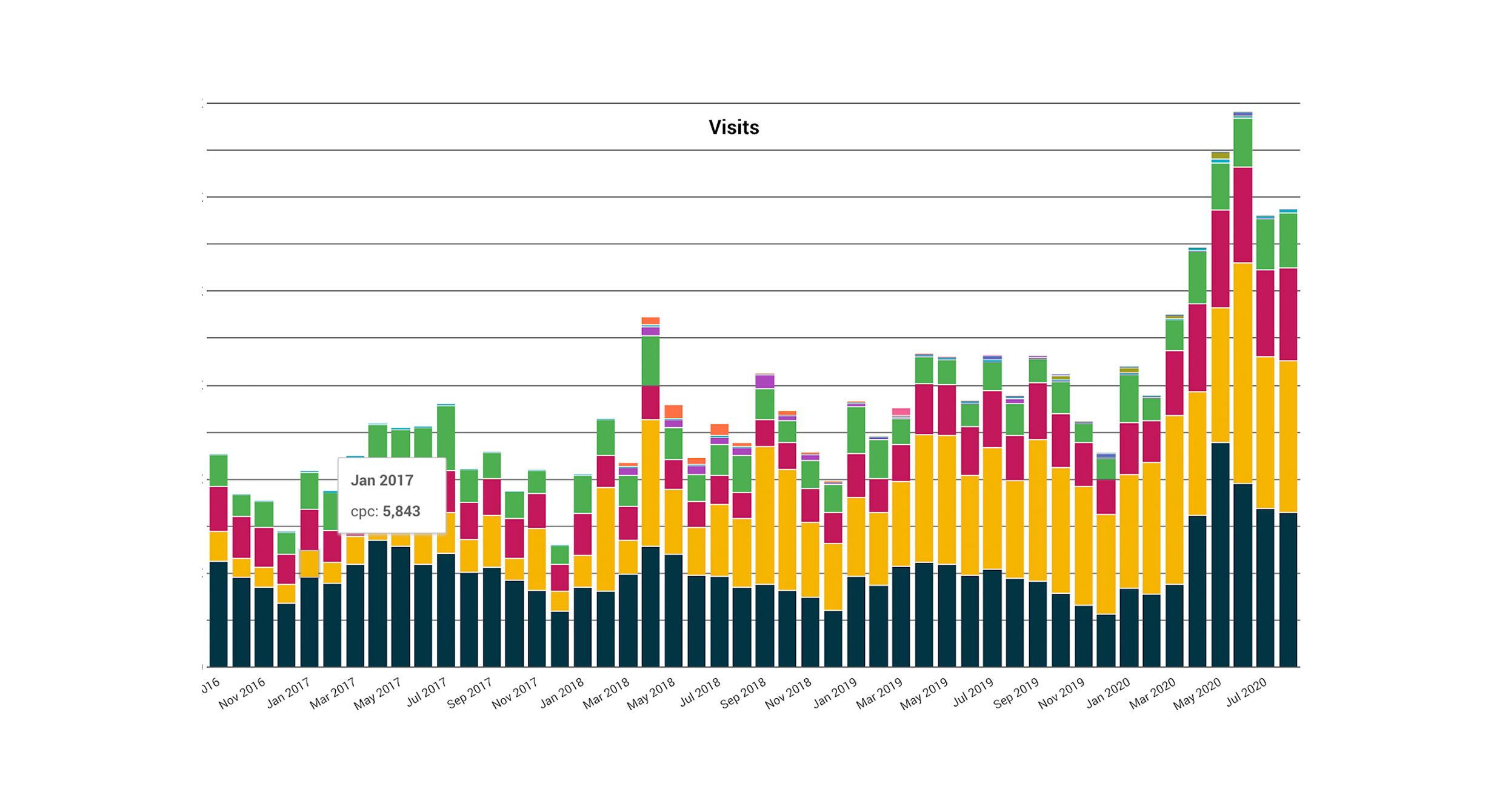 To improve brand awareness, grow Kloter Farms' audience, and drive more purchases, Zero Gravity Marketing employed a variety of Search Engine Optimization efforts. The team focused heavily on writing and optimizing keyword-rich content for both the homepage and the Kloter Farms blog. Since 2018, our SEO efforts have dramatically increased organic search rankings — Kloter Farms now has over 200 keywords ranking on page one on Google. Here are just a few of our most successful keyword movements:
"Barns" (6,500 to 9,300 searches per month) ranks sixth nationally and first in the Northeast (CT, MA, RI) area.
"Sheds near me" (9,300 to 11,500 searches per month) ranks 12th nationally and first in the Northeast (CT, MA, RI) area.
"Pool house" (1,700 to 2,900 searches per month) ranks third nationally and first in the Northeast (CT, MA, RI) area.
"Custom kitchen islands" (500 to 800 searches per month) went from not ranking at all to ranking first nationally.
To support our SEO efforts, Zero Gravity Marketing created high-quality, optimized content, including blogs, category page copy, and more. We implemented strategic keywords and links within our content to help boost our rankings on search engine results pages (SERPs). Our content team also worked to refresh existing blogs and pages on the site by including new keywords, updating links, and adding more copy.
In addition to SEO, we created and executed strategic Paid Advertising campaigns on Google Ads, Facebook, and Instagram. We also supported store promotions and sales through targeted advertisements on both search and social media. By utilizing strategic targeting and aligning our creative and copy with each audience, we were able to run a variety of successful ad campaigns. Our Google Ads efforts were especially effective, with impressions increasing by 48% between 2019 and 2020.
During the redesign of the Kloter Farms website, their team asked ZGM to evaluate the layout and make recommendations. Our strategy and design teams collaborated in a tag-team effort to execute a UI/UX audit and review for both desktop and mobile experiences. We led with strategy first, which allowed us to dive into the customer journey flow and put our customer hats on to experience the purchase process. During this analysis, we reviewed for documented opportunities for stronger conversion points, content modules, and overall layout and design to strengthen the experience.
We also mapped out the user flow from a homepage level through product page levels to outline opportunities for streamlining. From there, our strategy and design teams worked together to produce wireframes for an optimized homepage, as well as category pages and product description pages for both their indoor and outdoor collections.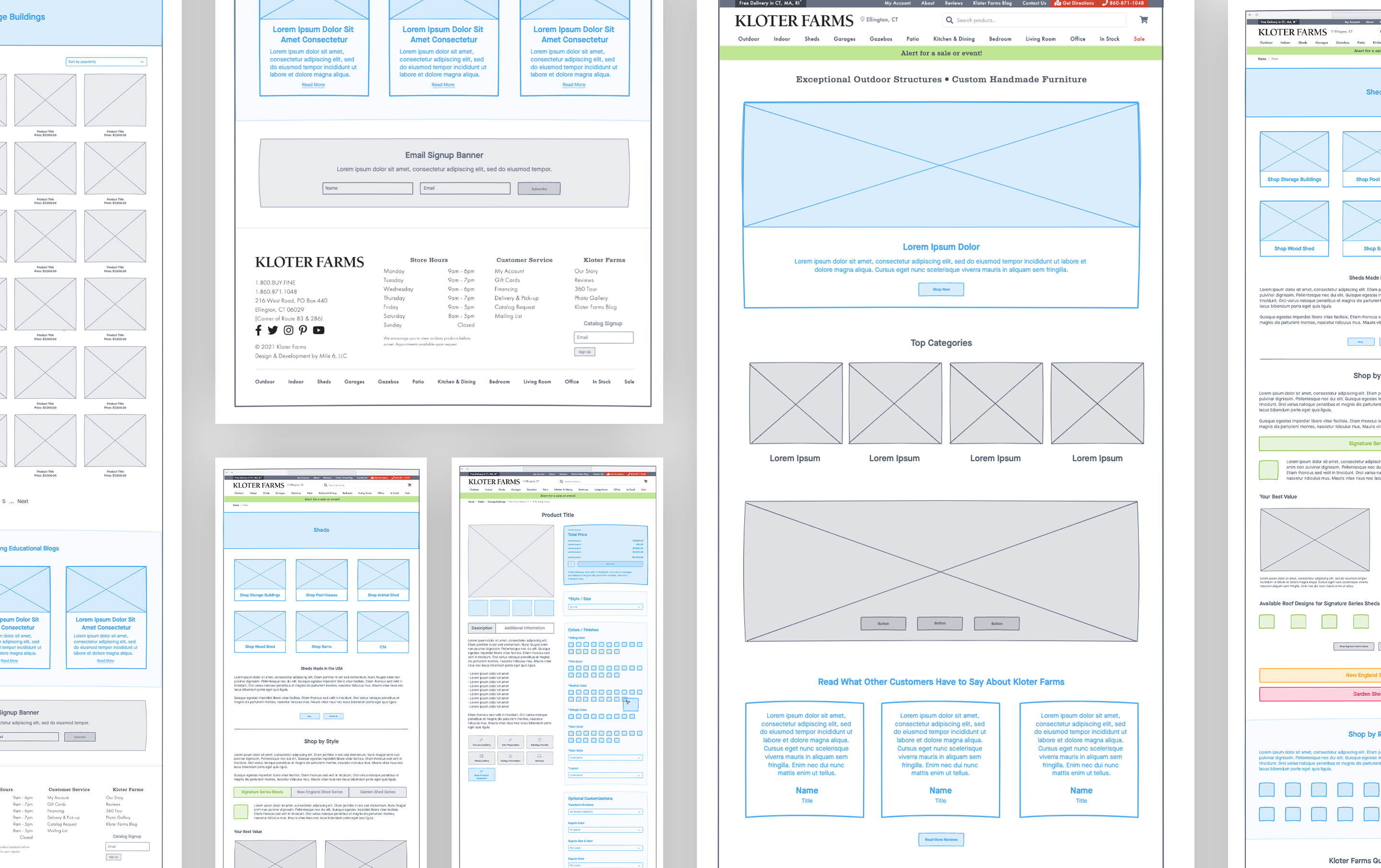 DESIGN
UI/UX AND CUSTOMER JOURNEY AUDIT
ZGM Awards & Recognition