Introducing an agency where exceptional customer service meets today's digital marketing needs. It's no secret that things change quickly online today, but when you partner with us, you will feel like we are an extension of your team, and together we will collaborate to exceed your goals. We are Zero Gravity Marketing.
We're a five-star rated digital marketing agency headquartered in Connecticut with team members and clients all over the United States and beyond. We offer the best digital marketing services because of our data-driven approach, and our commitment to recruit the best team members and to provide them ongoing training. Rarely do we outsource, and if we do, it's done with 100% transparency.
How is Zero Gravity Marketing different from other agencies? Well, it's pretty simple: We have created a better way to approach digital marketing by being transparent, proactive, and strategic – with a focus on driving results for our clients. With 70+ full-time team members, we are backed by the largest team of strategists and experts, providing best-in-class service to our clients.
What is our approach exactly? We utilize real-time data provided by our platforms, proven strategies and processes, and decades of digital marketing experience to deliver great results.  We are NOT a "set it and forget it" agency.  Zero Gravity Marketing is shifting the paradigm by proactively reviewing data, developing meaningful insights, providing recommendations, making changes, and working to continually improve results.
At Zero Gravity Marketing, our values ideate thought leadership, accountability, culture, transparency, strategy, proactivity, and family values – with a result-focused and goal-oriented approach. We believe that remaining true to our values creates authenticity and guarantees positivity and integrity that will radiate not only to our team members but also to our clients.
Effective Planning & Execution
Strategy
Execute
Measure/Analyze
Repeat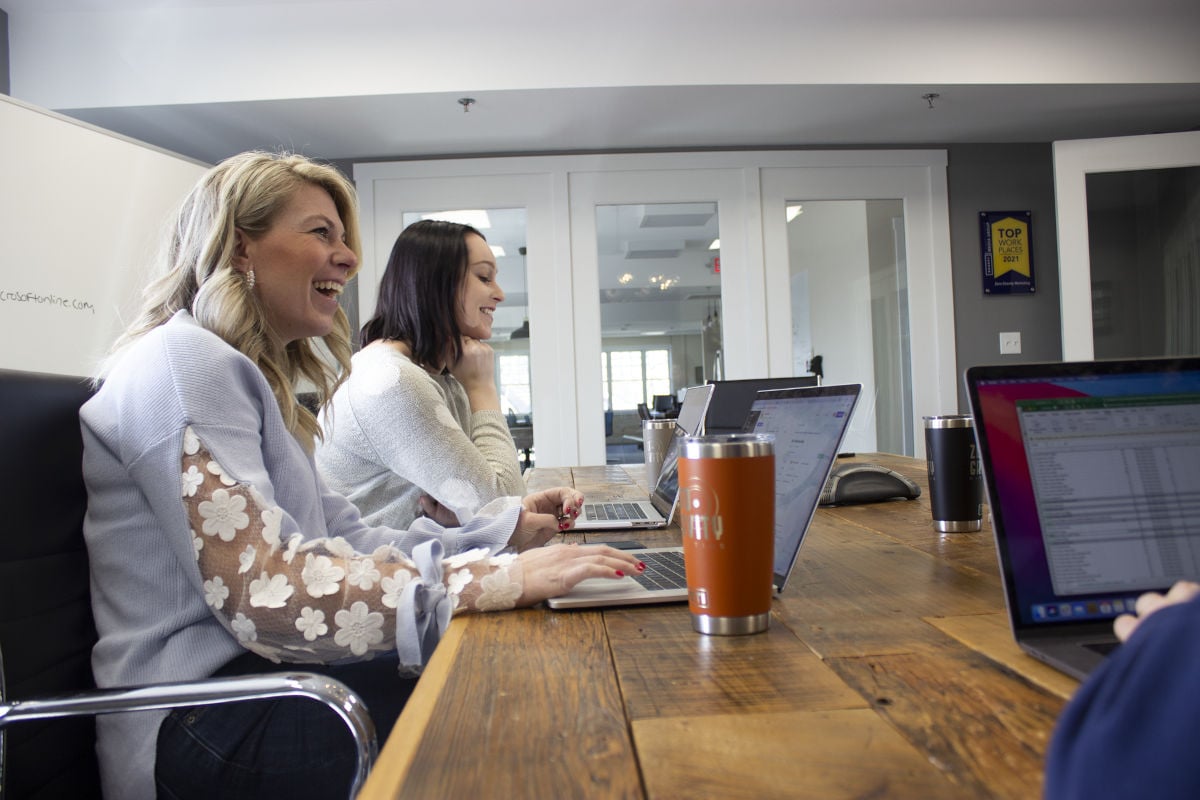 What Services Does Zero Gravity Marketing Offer?
Our specialties in digital marketing include Marketing Strategy, Search Engine Optimization (SEO), Pay-Per-Click (PPC) Campaign Management, Paid Social Media, eCommerce Strategy, UX Strategy, Email Marketing, Social Media, Content Marketing, Conversion Rate Optimization (CRO), Website Design, Creative Services, Video Production & Animation, and much more.
Search Marketing (PPC)
Inbound Marketing
Analytics Analysis
Organic Social Media Marketing
Paid Social Media Marketing
Lead Management
Influencer Marketing Campaigns
Employee Advocacy Program Strategy
Internal & Employee Communications
Customer Engagement Programs
Marketing Dashboards & Data Modeling
Performance Creative Strategy
A/B Testing & UI/UX Strategy
Lead Development Prospecting & Nurturing
Lead Development Support
Digital
Banner Ads
Corporate Intranets
Email Templates
Landing Pages
Motion Graphics
Social Media Graphics
UX Wireframing
Brand Identity
Business Cards
Stationery
Print & Offline Media
Brochures
Direct Mailers
On-Location Signage
Packaging
Print Ads
Trade Show Displays
Vehicle Wraps
Whitepapers
Content Development For Websites
Blog Post Content Development
Email Marketing Content
Social Media Content
Article, Case Study & Whitepaper Writing
PowerPoint Presentations
Brand Campaign Messaging
Hubspot Setup/Integration
Salesforce Customization & Integration
Database Integration
Gamification
Custom Website Applications
3D and 4D Animated Video
Social Media Brand Ambassador Program
Mobile App Strategy
Our 360° Integrated Marketing Strategies Include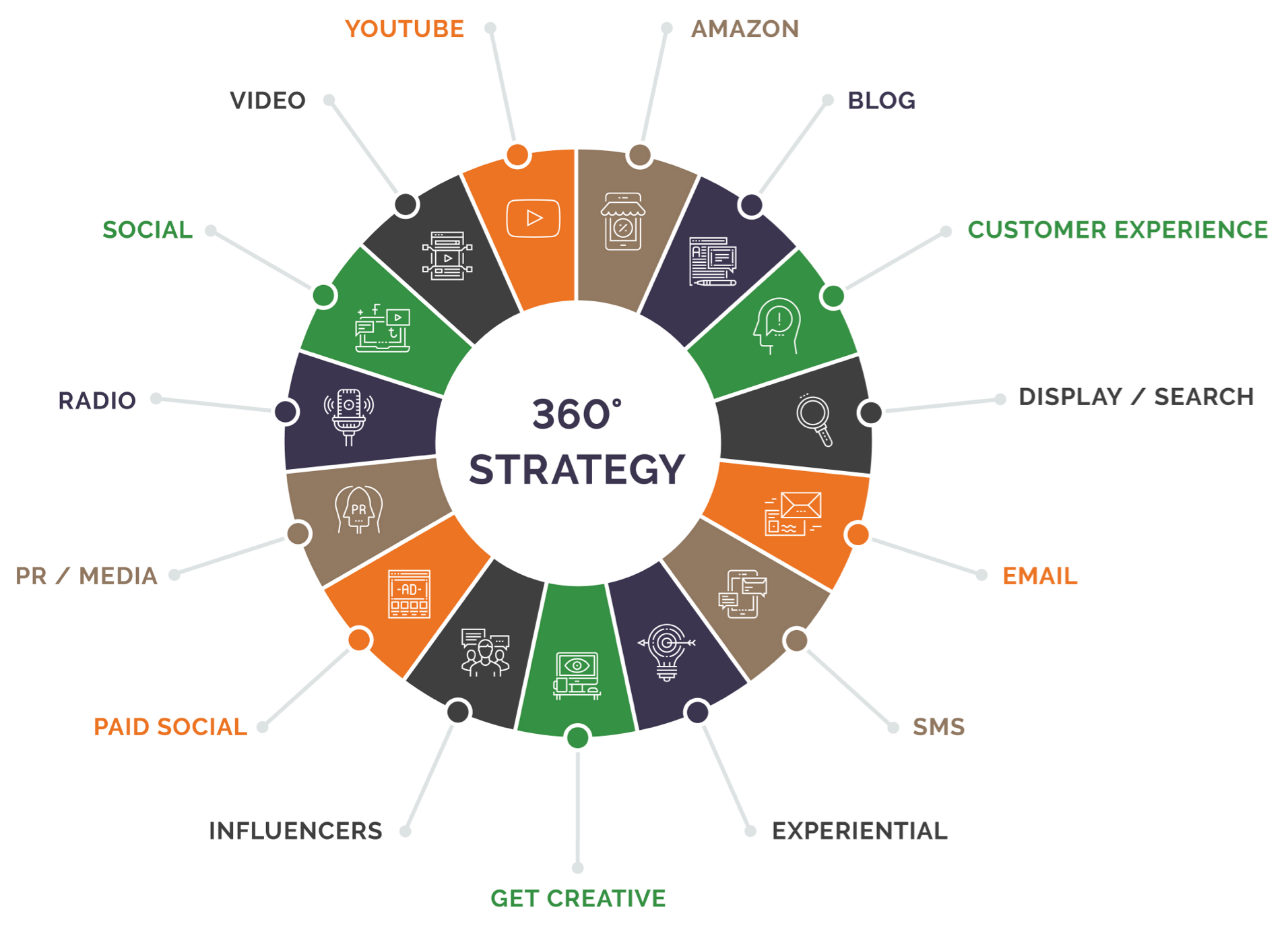 What Zero Gravity Marketing Brings to the Table
Whether you're looking for a social media marketing agency, researching web design companies, or hoping to find the right SEO company for your brand, we're here to help you achieve your goals. Through analysis and collaboration we will:
STRATEGIZE
Design a strategy that makes sense for your company's mission and initiatives.
CREATE
Create designs that make your customers say "wow" with our talented graphic design team.
PROMOTE
Promote your brand using the most fruitful digital marketing efforts that target the right audience and utilize multiple customer touchpoints in just the right ways.
LAUNCH
Employ multiple channels of communication, including PPC campaigns, SEO plans, targeted social media calendars, marketing automation, content marketing, and in-depth analysis of user behaviors.

Our team of strategists did their due diligence to scale some of the top beauty, apparel, and accessories brands. We became addicted to the sound of Shopify transaction notifications, knowing our efforts were paying off (literally).
It was at this point that we decided to launch our sister brand of ZGM: CakeCommerce. CAKE has allowed us to specialize in the eCommerce niche and perfect our recipe to success.
Think of it like baking a cake. Add too much flour, your cake will over-inflate. Too little, and it will collapse on itself. And like you can't support a brand with just SEO, you can't whip up a top-tier cake with just flour. You need a balanced mix of ingredients, all working together to create that chef's kiss recipe.
Want to learn more about our super sweet sister brand?
The Marketing Funnel Is Like Cake
The marketing funnel is a visual guide for understanding the process of turning leads into customers and customers into lifetime fans. Without going through all four layers, things get a little messy – puns intended.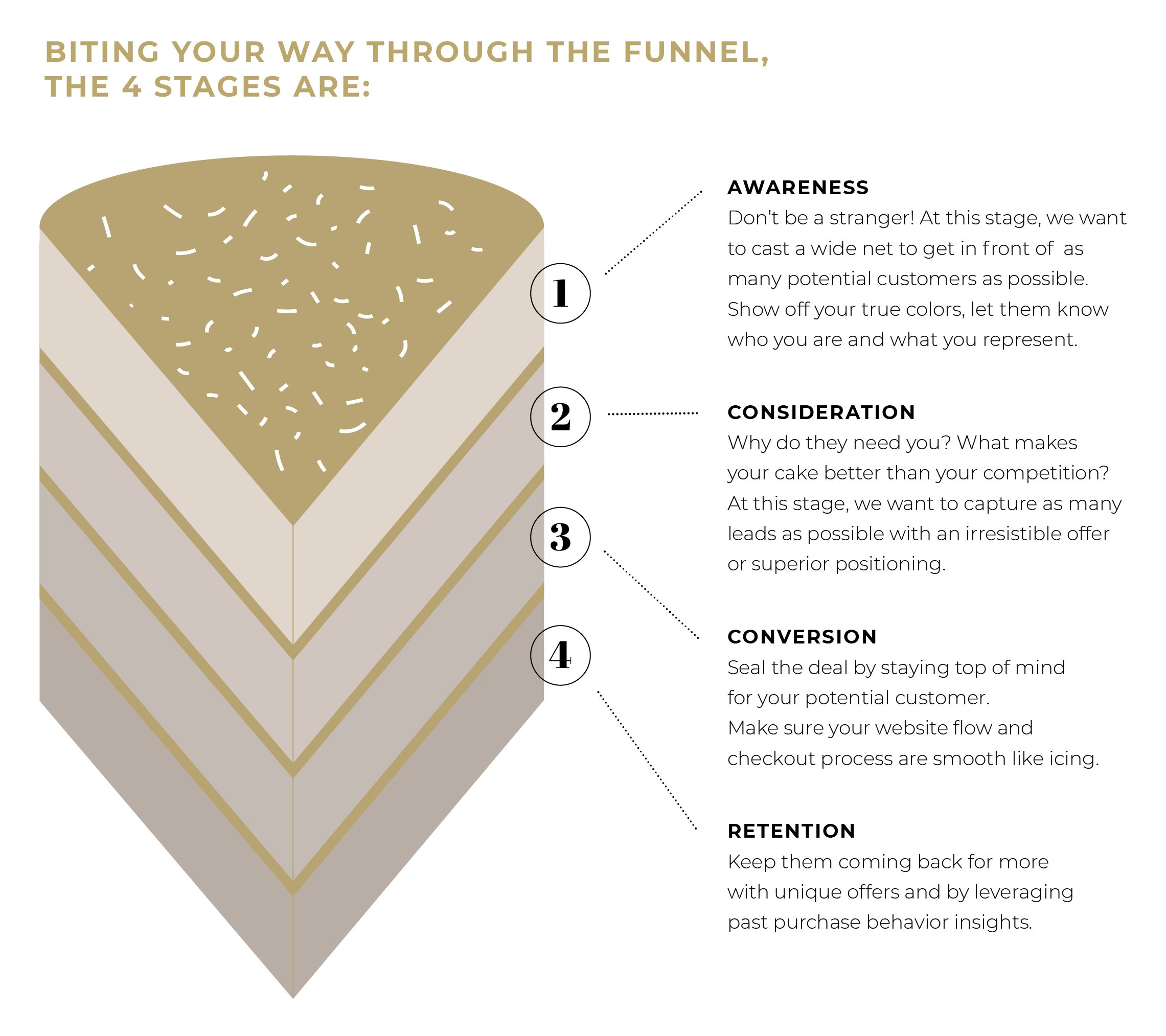 Best Team, Best Software, Best Approach – Zero Gravity Marketing
Our process puts strategy and analysis before implementation, ensuring we attract the right audience, with the right message at the right time. We invest heavily in best-in-class digital marketing software leveraged by the team to give us a competitive edge over your competitors.
Armed with a team of experts in all things digital marketing, we can help you see results so you can achieve growth, boost your ROI, and keep customers returning. Reach out to us today to learn more!
ZGM Awards & Recognition