Alternative Heating & Supplies Case Study
Alternative Heating & Supplies is a family-owned business that has proudly been serving customers since 2002. With a strong focus on good customer service and technical know-how, Alternative Heating & Supplies strives to meet their customer's needs. Their mission is to educate and assist customers with wood furnaces. The employees at Alternative Heating & Supplies are committed to customer satisfaction and always get the job done. Alternative Heating & Supplies specializes in both the maintenance, replacement, and treatment of outdoor boilers and indoor furnacing, and they carry all the parts you need for your outdoor wood boiler and indoor wood furnaces.
Alternative Heating & Supplies came to Zero Gravity Marketing (ZGM) with the hopes of elevating their rankings and optimizing their site. The ZGM team worked swiftly to develop an SEO-driven marketing plan that would target the weak spots of the Alternative Heating & Supplies website, and drive up revenue growth and customer traffic.
The Challenge
There were a few critical challenges Alternative Heating & Supplies were facing that directly correlated to the issues they were seeing regarding revenue and traffic to their site. First and foremost, they lacked visibility in their search engines, which was disruptive to customer traffic. Alternative Heating & Supplies also needed to overcome their competitors to attract new customers, as well as drive business and consumption. The third and final challenge was the environmental laws that worked against their services. As a result, they needed to adapt to and circumnavigate these laws in order to become a more competitive business.
Outcome
Zero Gravity Marketing's primary focus for Alternative Heating & Supplies was SEO development. Our team began by analyzing the Alternative Heating & Supplies website to identify current rankings, determine whether the website was search-friendly, and identify potential opportunities for optimizations.
After sorting through their website and identifying the weak points, ZGM recommended implementing an SEO campaign to further enhance their rankings. Our team began addressing the "low hanging fruit" by implementing data tracking software such as Google Analytics, Google Tag Manager, and Google Search Console. Once these tools were installed, we began the process of optimization.
Some of the optimization services, strategies, and processes that ZGM introduced included GMB shoppable products and optimizations, tag, content, and youtube optimizations. ZGM also developed content writing for category pages and link building. The development of an overarching strategy, as well as the and monitoring of seasonal trends, also supported fluctuations in business throughout the year. As a result of the introduction and implementation of these key optimization strategies, ZGM was also able to rank Alternative Heating & Supplies website for 283 keywords in the 1-3 SERP position and 210 keywords in the 4-10 SERP position.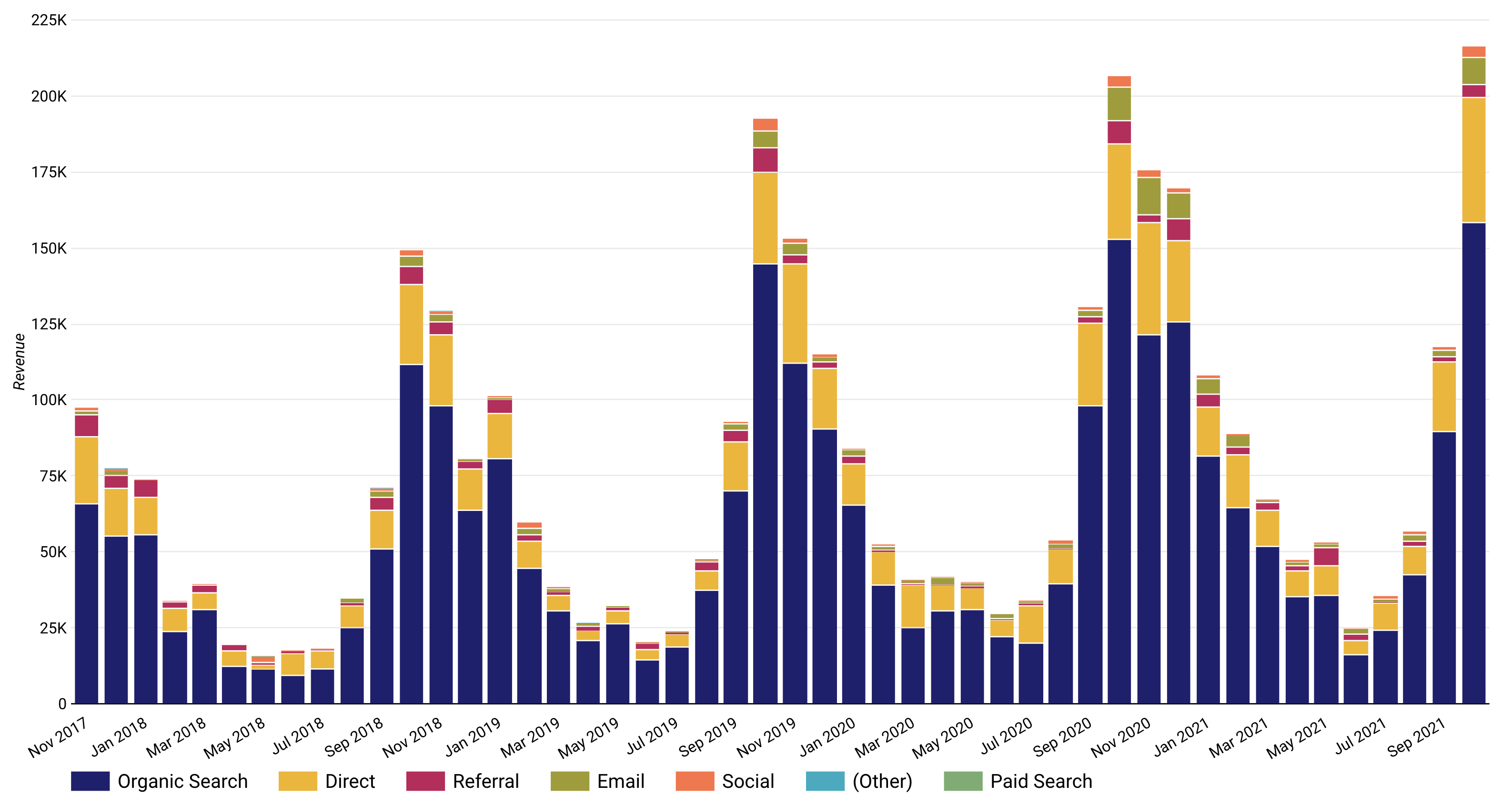 An SEO strategy was developed to address various aspects of the Alternative Heating & Supplies website. ZGM began with keyword research to further refine the verbiage that spoke the client's language but was also congruent with SEO KPIs and objectives (search volume, keyword difficulty, CTR, and more). From there, ZGM created SEO tags including title tags, H1's, and meta descriptions. This allowed ZGM to map specific keywords with high intent to various pages on their website. ZGM additionally optimized image alternative text to help them rank in the second largest search engine.
Once the SEO tags were implemented, ZGM turned to content optimization to weave relevant keywords into the copy to help further map them to specified content pages. Included in these content optimizations was internal linking. ZGM further enhanced keyword ranking by appropriately utilizing anchor text for internal linking throughout the site. Over time ZGM added additional category collection page copy to help further elevate ranking factors (navigation level pages). This presented a unique opportunity for ZGM to bring in additional keywords, internal links, and answer commonly asked questions on these pages.
As a part of the off-site SEO strategy, ZGM used unlinked brand mentions and broken link reclamation, which allowed for proper backlink management and enhanced overall SEO performance.
Additionally, ZGM optimized the YouTube content, intending to drive YouTube traffic to Alternative Heating & Supplies's website. This process was executed by adding strong links from their website into YouTube videos so that consumers who found the video useful would be encouraged to visit their site and learn more about the services and/or products they offer.
46%
Organic Revenue is up 46.75% comparing Jan 1, 2021 to April 29, 2021 YoY
36%
the 2nd year of Organic SEO Channel drove +36.5% increase in revenue YoY