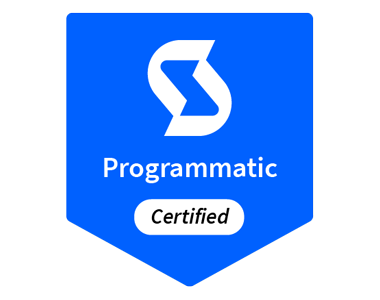 Advertising can bring your business to the next level; however, to see success, you'll need to target the right people in the right places. This involves employing a strategic approach when creating and placing your ads. One of the best ways to ensure you're reaching your target audience is through Programmatic Advertising. This high-tech advertising approach offers a large scale and strategic ad buying process while still maintaining control over your campaigns.
What Is Programmatic Advertising?
While your ad's content is certainly important, without strategic placement, it could go unseen by users who are most likely to purchase your products or services. Therefore, it's crucial to secure the best ad space and target the right audience.
Programmatic Advertising streamlines this process by offering a smart approach to buying and selling ad space. Specifically, it utilizes artificial intelligence and real-time bidding to manage ad sales and placements through ad exchange platforms. This allows advertisers to use data to serve more relevant ads to their target audiences.
Benefits of a Programmatic Advertising Agency
Hiring a Programmatic Advertising Agency allows businesses to simplify the ad buying process and make data-driven decisions. This method also offers several other benefits, including:
Transparency & Control
To get the most value out of your advertising dollars, it's crucial to place your ads in front of the right audience. With Programmatic Advertising, you'll be able to see which websites are displaying your advertisements. Additionally, you can target a specific list of people that you upload, including prospects, current customers, and more. That way, you can ensure you're reaching users who are most likely to be interested in your products or services.
Real-Time Programmatic Reporting
It's not just about crafting a compelling campaign – once your ads are launched, you'll need to measure their performance and optimize to maximize success. This is where a programmatic approach is beneficial, as it allows you to measure how your creatives are performing in real-time.
Enhanced Targeting
Targeting is one of the most critical aspects of a paid advertising campaign. Programmatic Advertising offers a variety of different options, including IP, geolocation, geofencing, and contextual keyword targeting. This allows you to serve your ads to hyper-specific audiences, which can improve the overall effectiveness of your campaigns.
Audience Reach
Because Programmatic Advertising supports a variety of ad exchanges, it gives advertisers access to ad space on thousands of different websites. This means that you have the potential to reach 3.5 billion online users!
Our Programmatic Advertising Agency Services
Our Programmatic Advertising Services At Zero Gravity Marketing, our expert paid advertising team can develop strategic campaigns that help you boost your business and expand your audience. We provide comprehensive Programmatic Advertising services that include:
Programmatic Campaign Planning
Before we begin your Programmatic Advertising campaign, we'll sit down with you to discuss your company, goals, target audience, and more. This provides us with the foundation we need to create an effective programmatic advertising strategy. Then, our Pay-Per-Click team will get to work devising a plan that's completely tailored to your business, from ad messaging and creative to audience targeting.
Messaging and Programmatic Creative
When it comes to digital advertising, messaging matters. That's why we employ a team of expert copywriters to craft messages that speak to your target audiences and align with your business goals. Then, we'll pair your ad copy with high-quality, programmatic creative from our
talented graphic designers to create ads that grab users' attention and motivate them to learn more.
Targeting Capabilities
Through Programmatic Advertising, we can target users on a variety of mediums, including digital, social media, streaming, and traditional platforms. We utilize 1st party data, such as information from your CRM database, and 3rd party data from the programmatic platform to enhance audience targeting.
Native Advertising
Native advertising refers to advertisements that are designed to integrate seamlessly into a digital environment, matching the appearance and function of the media format they appear on. This blurs the lines between advertising and content, creating a better experience for the user. Our team can create strategic native ads that match your audience's interests with curated content, which helps to generate higher brand engagement.
Geofencing Advertising
If you run a business that operates within a specific service area, we can serve geofence ads in real-time. This allows you to target audiences that are within a certain proximity of your business.
Over-the-Top Ad Buying
Over-the-Top (OTT) ad buying expands your target audience from Google search and responsive display to television. With OTT advertising, we can serve advertisements on media streaming services, such as Apple TV, YouTube TV, Roku, and more.
Reporting
Transparency is at the foundation of everything we do, and we strive to ensure that our customers know what we're doing, why we're doing it, and how it's performing at all times. Once we launch your ads, we'll schedule ongoing reporting calls to discuss their performance based on real data. Not only does this allow you to stay in-the-know, but it helps us find areas to optimize for even better results.
Programmatic Advertising Frequently Asked Questions
"Programmatic" refers to using an automated process to buy, sell, and place digital advertisements.
Programmatic Advertising relies on two main technologies: A supply-side platform (SSP) and a demand-side platform (DSP). Publishers utilize SSPs to manage, sell, and optimize ad space, while advertisers use DSPs to purchase ad inventory. Here's an overview of the process:
A user visits a website.
The website communicates with the SSP, which connects to digital publishers.
The SSP offers user information to the DSP.
Advertisers place bids through the DSP.
The highest bid at auction wins an ad spot on the website.
Ad exchanges are platforms that bring advertisers and publishers together to make a transaction. There are three types of programmatic ad exchanges available:
Open Exchanges/Real-Time Bidding (RTB) – This ad exchange offers a low-priced inventory but a large number of competitors, as all buying platforms have access to this auction type. The pricing of ad spots is based on an auction format.
Private Marketplace Exchange (PMP) – Buyers can only gain access to this exchange through invitation. This means that there are limited buyers within the auction place. Due to the exclusivity of the exchange, the inventory is higher priced; however, the quality of inventory is better than RTB. The pricing of ad spots is based on a pre-agreement between the buyer and seller.
Programmatic Direct Exchange – With this type of ad exchange, inventory is sold directly from the publisher to the advertiser with guaranteed inventory and pricing. This method is ideal for brand safety. Due to a guaranteed inventory, the pricing of ad spots is typically higher than RTP and PMP exchanges.
If you are looking for a streamlined approach to paid advertising, but still want to have control over your campaigns, Programmatic Advertising is an ideal option. This advertising method is especially effective for businesses that are interested in increasing brand awareness among high-volume audiences.
Programmatic Advertising offers a number of advertising mediums, including:
Text and image ads
Native ads
Video ads
Rich media ads
Audio ads
Web advertising
Mobile in-app advertising
Social media advertising
TV advertising (including OTT)
Digital Out-of-Home (DOOH) advertising
Search advertising
Gaming advertising
Programmatic Advertising utilizes a cost per mille (CPM) approach, which means that you pay a specific price for every 1000 ad impressions. In general, programmatic ads cost between $0.10 and $2 per click; however, the exact amount depends on the ad exchange you choose and several other factors.
Ready to Dive into Programmatic Advertising? Zero Gravity Marketing Can Help
If you're interested in running a Programmatic Advertising campaign but aren't sure where to begin, look to Zero Gravity Marketing for assistance. Our programmatic advertising agency can develop strategic campaigns that capture your audience's attention and help you reach your business goals. For more information about our Programmatic Advertising services, contact us today!
ZGM Awards & Recognition