4AllPromos & ForAllGifts Case Study
4AllPromos and ForAllGifts are partner companies that offer a wide selection of products with personalization options. ForAllGifts focuses on direct-to-consumer gifts, while 4AllPromos caters to businesses and other organizations that need large quantities of promotional items. Both companies boast an extensive catalog of products at various price points, and the many customization options allow customers to create something truly unique.
The Challenge
4AllPromos was looking for a digital marketing agency in Connecticut with experience managing search engine optimization (SEO) for large eCommerce sites to help them improve their on-site SEO and boost search rankings. Specifically, this included writing SEO title tags for approximately 14,000 product pages. To accomplish this task, Zero Gravity Marketing (ZGM) developed a strategic template to swiftly write tags for the website while remaining competitive for multiple product search results.
Meanwhile, ForAllGifts did not have any SEO efforts completed on their website and was missing out on many opportunities to showcase their products. This presented a unique challenge, as the ZGM team had to start from the beginning. Additionally, ForAllGifts had several very reputable competitors to optimize against and outperform. We had to ensure that we used our keywords effectively throughout the website to achieve the best possible rankings.
Outcome
Overall, our efforts contributed to significant growth for both 4AllPromos and ForAllGifts. When we implemented our tag work in 2018, we were able to increase organic visits by 74% and organic revenue by 173%. This continued into 2019, with a 30% increase in revenue. In 2020, we recognized a new opportunity to continue to improve growth through content creation. This involved writing and optimizing content for category pages and strategic blog posts, which contributed to an 18% increase in visits.
Despite the challenges of the Coronavirus (COVID-19) pandemic and its negative impact on the promotional industry, we were able to pivot our strategy to focus on relevant items offered by 4AllPromos, such as personal protection equipment (PPE) and social distancing signage. In fact, our keyword rankings continued to grow throughout the entirety of the pandemic! One of the best parts of working with 4AllPromos was the opportunity to collaborate with their internal marketing resources and really become part of their team – a dynamic that only furthered our success.
ZGM's digital marketing services also yielded increases in revenue and traffic for ForAllGifts. We are proud to have been a part of the effort to make ForAllGifts an industry leader through competitive rankings for highly searched terms. Specifically, 2020 brought tremendous growth due to the implementation of our extensive tag work as well as the creation of high-quality content. Working as an extension of the ForAllGifts team, as we did for 4AllPromos, we were able to grow their traffic by over 155% and increase their revenue by 146%.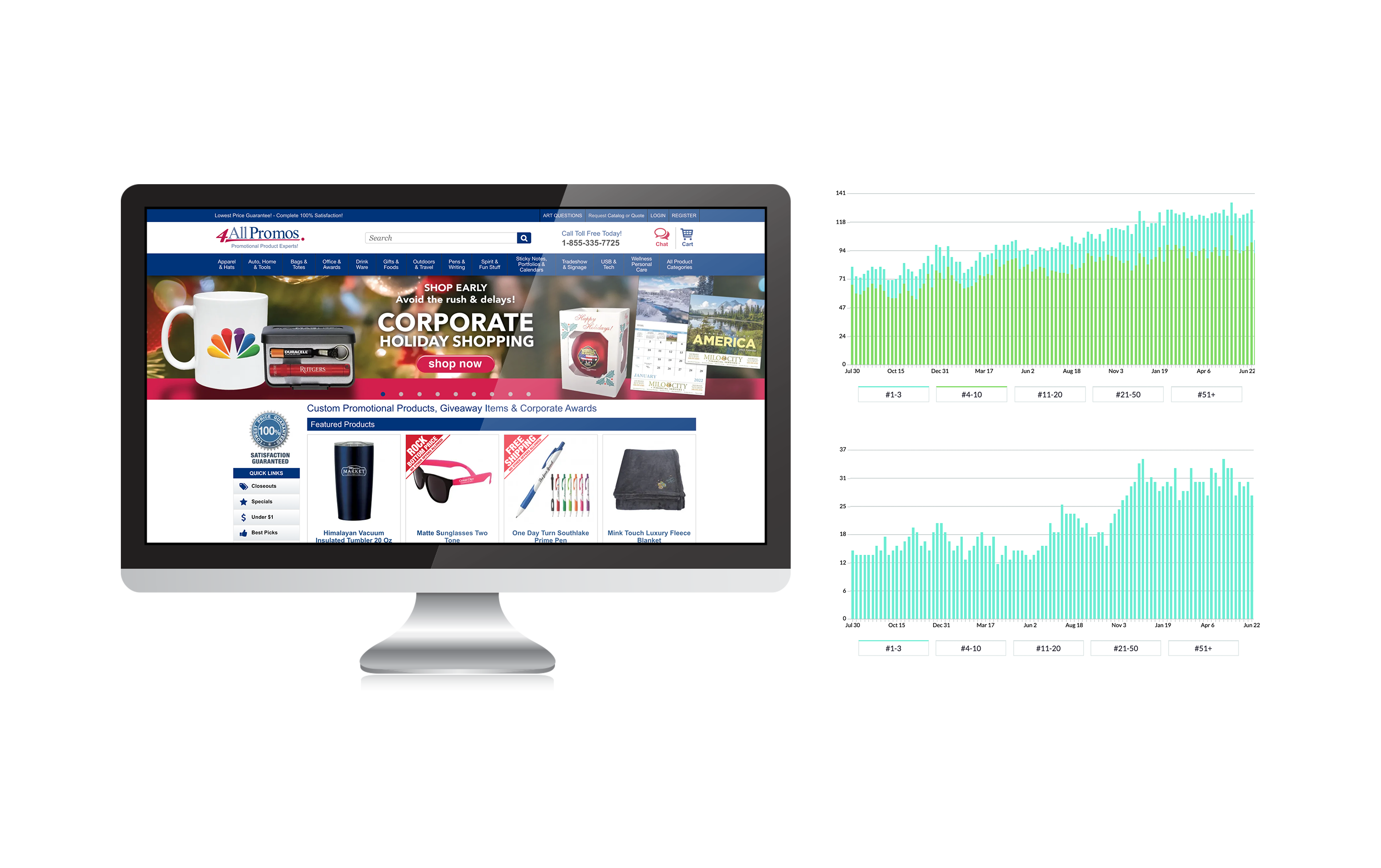 On the 4AllPromos side, we knew we wanted to focus on writing title tags first because we felt they would provide the largest uptick in rankings and web visits due to the number of pages. The question was how to properly execute the optimizations to maximize our efforts. Writing this many tags would take a significant amount of time, meaning we would have to work strategically to maximize our resources. To accomplish this, our SEO team identified keyword modifiers that would be applicable to the promotional industry. From past experience, we were able to create a template that would combine these keyword modifiers with general product item names.
Because we were starting ForAllGifts' SEO efforts from scratch, we wanted to ensure we had a good foundation by optimizing the website's tags. We spent the majority of our first eight to 10 months writing title tags and, as a result, saw a significant improvement in our keyword rankings, organic traffic, and revenue.
We collaborated with the 4AllPromos team to identify the best pages to add content to, then our team wrote and optimized additional copy, incorporating relevant keywords and internal links. Our content team also developed a strategic blog calendar that included relevant topics based on seasonality, trends, and more. This was especially important during the COVID-19 pandemic, as we had to act quickly to pivot and create more relevant content. We also created blogs and category page copy for 4AllPromos to assist in ranking for specific keywords. Our strategy prioritized pages with top-performing products as well as seasonal or trending items.
Following the implementation of our tag work on the ForAllGifts website, we began to develop an SEO-driven content strategy. This included creating and optimizing blogs based on seasonality, with a specific emphasis on popular gifting holidays, such as Valentine's Day and Christmas. Our content team also developed keyword-rich category and product page content to support our initiatives, focusing on products with strong performance.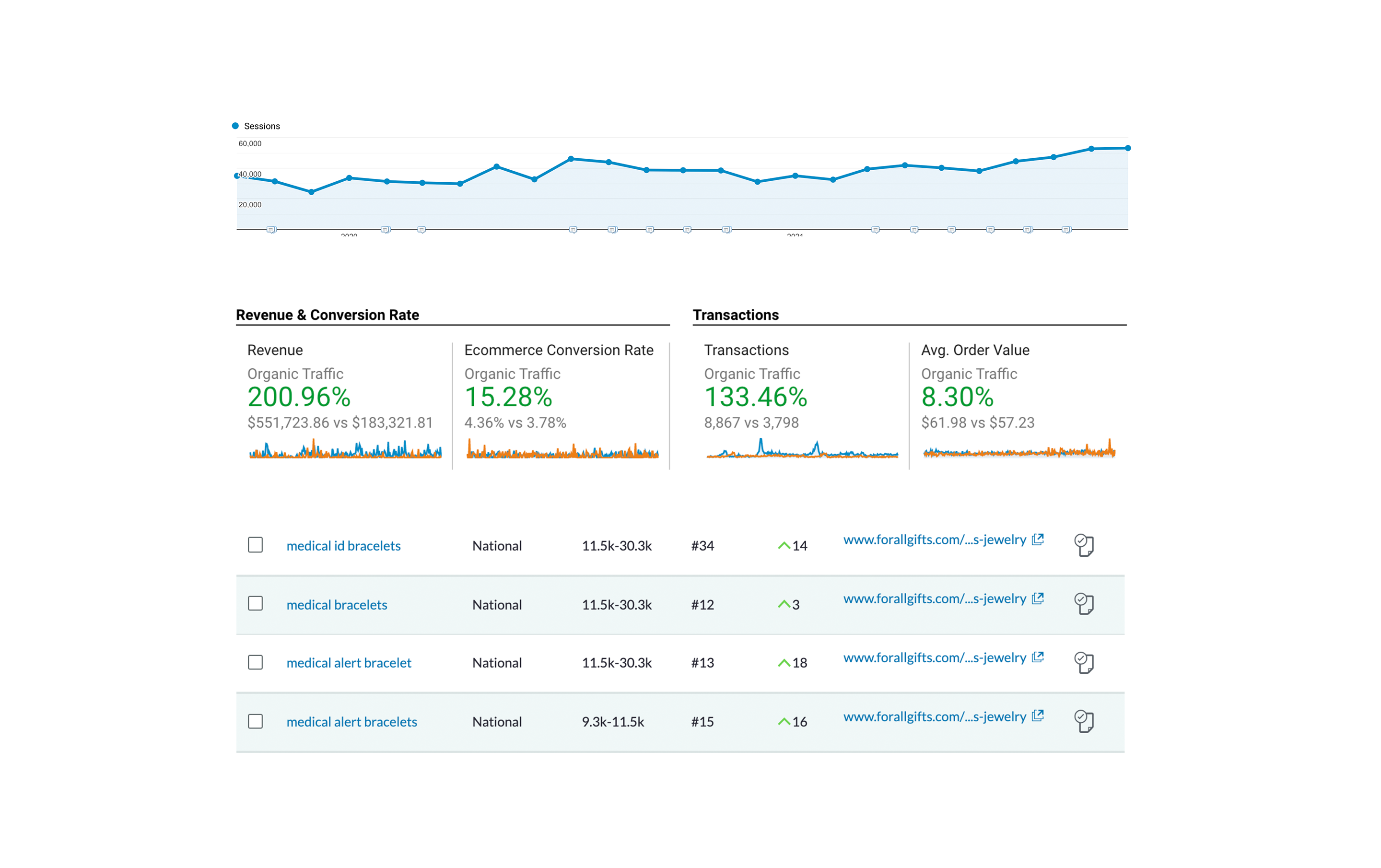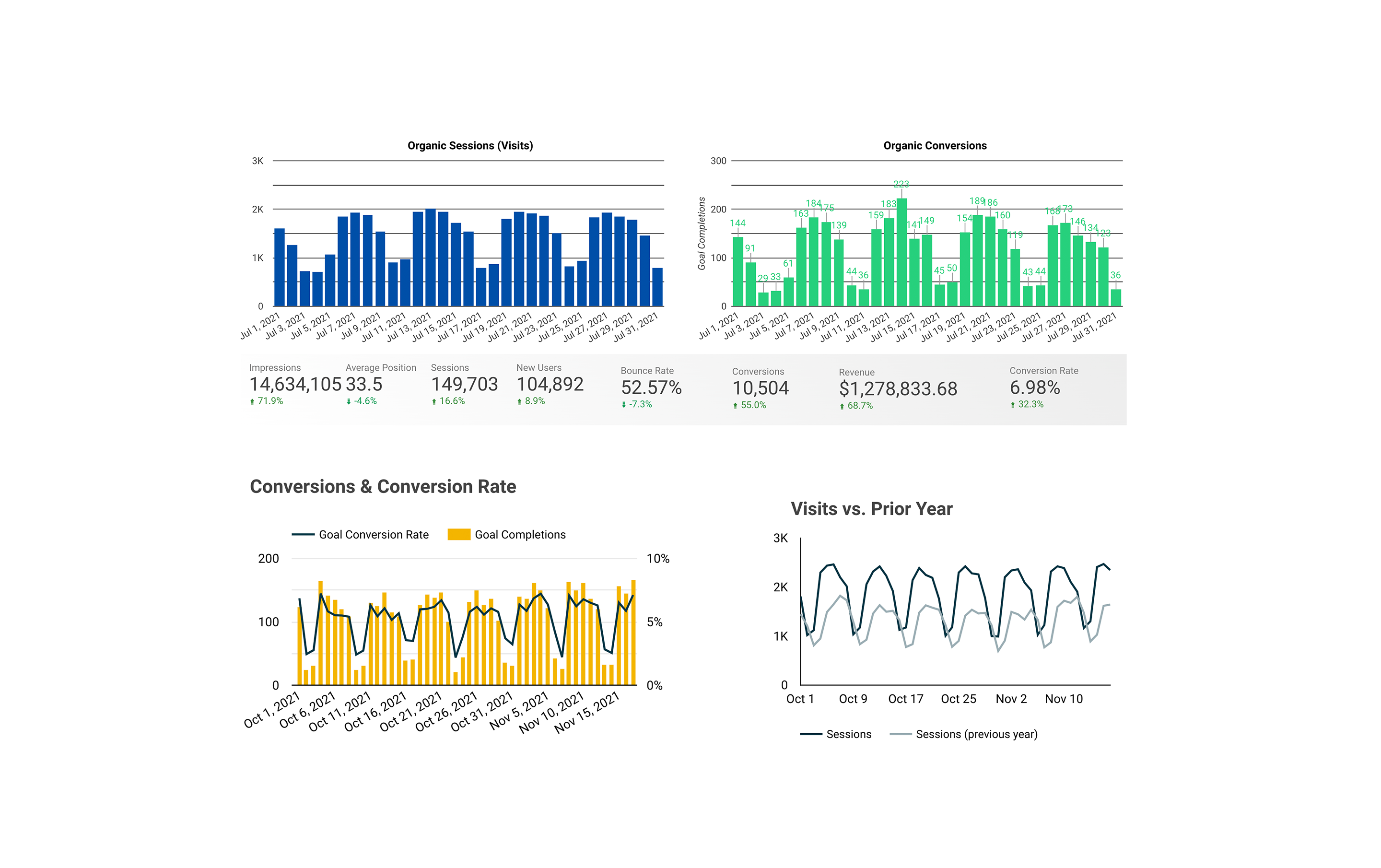 215%
increase in Impressions in 2020 (4AllPromos)
155%
increase in organic traffic in 2020 (ForAllGifts)
268
keywords ranking in the top three positions in 2020 (4AllPromos)
171%
increase in organic New Users in 2020 (ForAllGifts)