Ahead of the Digital Marketing Curve
Technology, media, and search engine algorithms change frequently. What was considered effective Search Engine Optimization (SEO) last month might be detrimental to your rankings today. At Zero Gravity Marketing, our digital marketers stay up to date with best practices in each of our service areas. So, while digital marketing is constantly changing, no one adapts faster than we do.
100% Transparent
Our approach is different than other digital marketing services: we are dedicated to remaining 100% transparent about our work. We strongly believe that ethical actions reign supreme, meaning that we share all of the results with you – not just the data that looks good. Our team is also happy to explain the details of our strategies to our clients. We seek to have alignment in terms of our approach with our clients on all of the services we provide. So, when you work with Zero Gravity Marketing, you will always know what we are doing for you, when we are doing it, and why.
Real Communication
Not only do we explain, clarify, and communicate your digital marketing strategy, but we are also personable and easy to work with (if we do say so ourselves). Our team of professional and personable digital marketing experts is here to discuss our services when you need to, and we are willing to work around your schedule.
Results Driven
Unlike other digital marketing agencies, we focus on results first. We are constantly tracking the outcomes of our efforts and making changes to ensure you are getting the best return on investment possible. Plus, we can customize our services to fit your business and meet your changing needs.
Our Digital Marketing Services
When you work with Zero Gravity Marketing, you will have access to a team of professionals with specialized knowledge and experience in each of their respective fields. From graphic design gurus to paid media mavens and everything in between, you can feel confident knowing that all aspects of your marketing strategy will be handled by an expert.
Our extensive range of service offerings allows you to customize a unique digital marketing approach based on your specific desires. Select just one service or let us handle your entire marketing strategy—the choice is yours!
SEO
To earn a coveted top spot on search engine results pages (SERPs), you need to have a consistent, comprehensive SEO strategy. Our SEO team knows what it takes to improve your rankings using advanced tactics that give you clout with Google and with your readers. We remain a step ahead of the current trends and adjust our strategies as needed to keep up with Google's latest algorithm. Plus, we are proud to be a HubSpot partner agency, which allows us to provide exclusive inbound marketing services through the HubSpot suite of tools.
Learn More
PPC
We eat, sleep, and breathe data—our cross-functional Pay-Per-Click (PPC) team will analyze your metrics and report them back to you with 100% transparency. That way, you always know how your ads are performing. We work hard to ensure you make the most of your digital marketing investment as we maximize the ROI of your PPC campaigns. Plus, as a Premier Google Partner, we have access to exclusive programs and support that further enhance our capabilities.
Learn More
Conversion Rate Optimization
When it comes to optimizing conversion rates, our goal is two-fold: to diagnose conversion rate problems and to prescribe the right fixes. ZGM's conversion rate optimization is comprised of a four-part structure, which enables us to redesign your website in accordance with consumers' expectations in today's market.
Learn More
Content Marketing
What you say and how you say it really does matter, and at Zero Gravity Marketing we make content creation a central part of our strategy, gearing all other details around it. Not only can content marketing help increase your chances of appearing in potential customers' searches, but it can establish your company as an industry expert, add value to your readers, and enhance your reputation.
Learn More
Paid Social
When it comes to spreading the word about your products or services, it's all about putting your name in front of your target audience. This involves selecting the right platforms, creating enticing copy, and advertising yourself at the right time. Our paid media specialists know exactly what it takes to market your business on a variety of social media platforms, including Facebook, Instagram, LinkedIn, and more. We can develop an effective media plan bolstered by thorough research, strategic ad copy, continuous testing, and advanced bidding strategies.
Learn More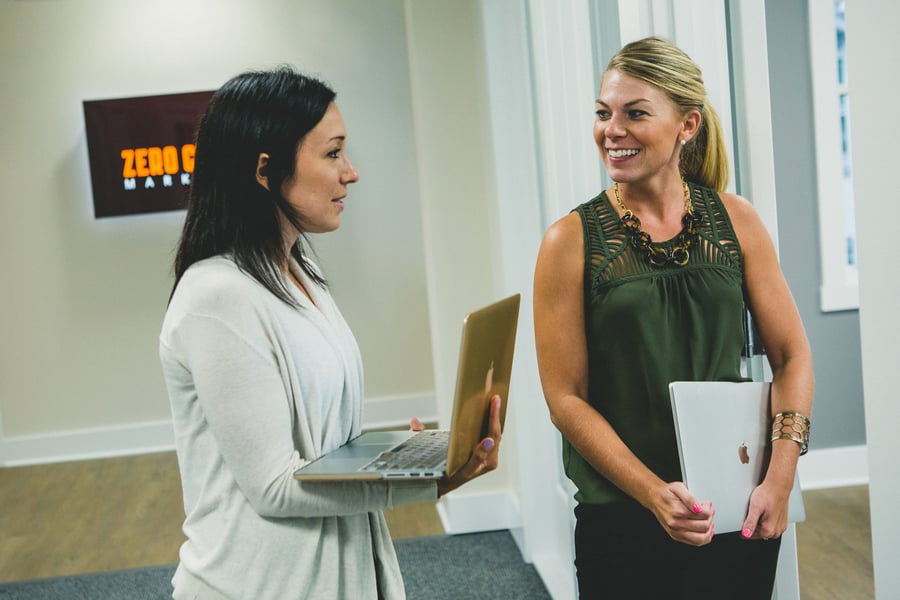 Social Media
In today's digital marketing landscape, a strategic social media marketing campaign is vital to your success. At Zero Gravity Marketing, our approach to Social Media Marketing is unique: we lead with strategy and let the data dictate the future. As your brand ambassadors, we flawlessly match your preferred tone and represent your company just as you would.
Learn More
Email Marketing
There's a reason that 85% of retailers in the U.S. believe Email Marketing is their most effective tactic for obtaining new customers. It doesn't matter if you are selling online to the entire country or interacting with your local customers in person, studies show that Email Marketing works, and works well.
Learn More
Marketing Automation
Effective customer relationship management (CRM) strategy and marketing automation software help businesses and sales professionals make the most of every lead, nurturing each through the sales funnel to increase conversions automatically.
Learn More
Frequently Asked Digital Marketing Questions
Digital marketing includes Content Marketing, Search Engine Optimization (SEO), Social Media Marketing, Pay-Per-Click advertising (PPC), Email Marketing, Paid Media Advertising, Conversion Rate Optimization, and Marketing Automation.
For more information about the types of digital marketing services we offer, click here.
When choosing the best services for your company, you must consider the following:
• Your goals
• Your budget
• The products or services you offer
• Your target audience
While anyone can benefit from a comprehensive marketing strategy, we understand that certain factors can limit or influence your options. If you're unsure of where to begin, our expert team can recommend the most beneficial services for your business.
For more information about choosing the best digital marketing services for your company, click here.
A full-funnel marketing strategy involves tailoring your messages to consumers based on their location in the buyer's journey. This approach uses a funnel as a visual representation of the stages consumers go through when making a purchase or selecting a provider for a service. The funnel begins with awareness at the top, followed by consideration, decision, and retention. Each of these phases requires a different marketing strategy to ensure the best results.
For more information about full-funnel digital marketing, click here.
A staggering 82% of consumers conduct research online, while 79% make online purchases. To reach these potential customers, you need to have a strategic digital presence, and the best way to perfect your online persona is through digital marketing. When you invest in digital marketing services, you'll enjoy a powerful, cost-effective, and measurable form of marketing that allows you to target your ideal buyers and increase your online exposure.
For more information about the benefits of digital marketing, click here.
Results are the foundation of everything we do; however, we believe that the best outcomes are produced by careful consideration and strategic planning. Therefore, when it comes to digital marketing, nothing is "immediate." The length of time it takes to see positive results depends on the specific services you choose as well as your unique goals.
By hiring a digital marketing agency, you can focus on running your business while an experienced and knowledgeable team handles your marketing strategies. You will also have access to a group of professionals with specialized training in various areas of digital marketing. Plus, working with an agency is more affordable than hiring an in-house team, as you won't have to pay for full-time salaries, health care costs, and other employee-related expenses.
For more information about selecting a digital marketing agency, click here.
Enhance Your Digital Presence with Help from Zero Gravity Marketing
At ZGM, we're dedicated to helping clients across all industries maximize their online presence and see greater success. Our comprehensive services offer everything you need to expand your reach and achieve your business goals.
Interested in working with us? Contact Zero Gravity Marketing today to get started!
Consumers these days have a ton of information available at their fingertips. Before they make purchases, they're using these resources to make educated decisions about the products and services they're searching for. While people may not realize that what they're doing is actually a known process, they're actively participating in their own buyers' journeys. During…
Read More