Connecticut Stone Digital Marketing Strategy
Connecticut Stone (CT Stone) is a leading stone supplier for the New England region and beyond. In addition to supplying quality stone directly to the customer, they also provide stone and supplies to designers, builders, architects, and masons. They also supply natural stone on a wholesale level. Whether a builder, designer, architect, or mason, their vision can be brought to life and manufactured on-premise at CT Stone using the vast array of machinery and expert staff. CT Stone is also the originator of ThinStone™, an innovative stone veneer that can be used for interior and exterior applications such as walls, fireplace surrounds, and more and is known for manufacturing their products on-site at their Milford, CT facility.
Zero Gravity Marketing began working with CT Stone in early 2018 when the stone supplier needed assistance with a total website redesign. As part of the redesign project, we also assisted with Search Engine Optimization (SEO) and preparing more than 300 redirects to ensure that rankings and traffic from organic search didn't decrease when the new site was launched. One of our other goals was to help CT Stone focus more on marketing to trade workers (such as architects, designers, and masons) and add in wholesale elements, as much of their existing content was geared towards homeowners.
The Challenge
There were two main challenges with the CT Stone redesign. The first was that their website had been hacked once previously, which had an impact on search rankings. As a result, we knew additional efforts would need to be made to increase page rankings. Another major challenge was putting together a more comprehensive digital marketing strategy that shifted the focus from B2C to the trade and selling wholesale. Ultimately, the redesign of the website was a top priority—but a significant amount of work also went into building a new, trade-focused marketing strategy.
Outcome
We got started by completing a full SEO benchmark analysis and looked at what website CMS would be best suited for CT Stone. We ended up building the website using WordPress and WooCommerce, which gave us the ability to easily add ecommerce capabilities in the future without the need for another website redevelopment. To help with SEO, we also developed 301 redirects for all of CT Stone's old URLs. This ensured that they would be appropriately redirected when the new site went live and that their SEO would not suffer from the re-launch as a result. This was especially important given CT Stone's previous SEO struggles after their site was hacked. Our strategy to change the focus and target more trade-oriented clients included list-building, leveraging customer lists, and providing a strategy for targeting custom audiences using platforms like Google Ads, LinkedIn, Facebook, YouTube, Email, and Print Advertising for magazine publications. As we developed new marketing strategies, we also began to recognize the need for additional content assets, including copy, videos, and photos. We've done a few different photo and video shoots, and the videos we've produced have been posted on CT Stone's social media pages, YouTube, LinkedIn, the website, and used for advertising as well. We also added an ecommerce portion to the redesigned CT Stone website so that customers can easily purchase supplies such as cleaners and sealers online.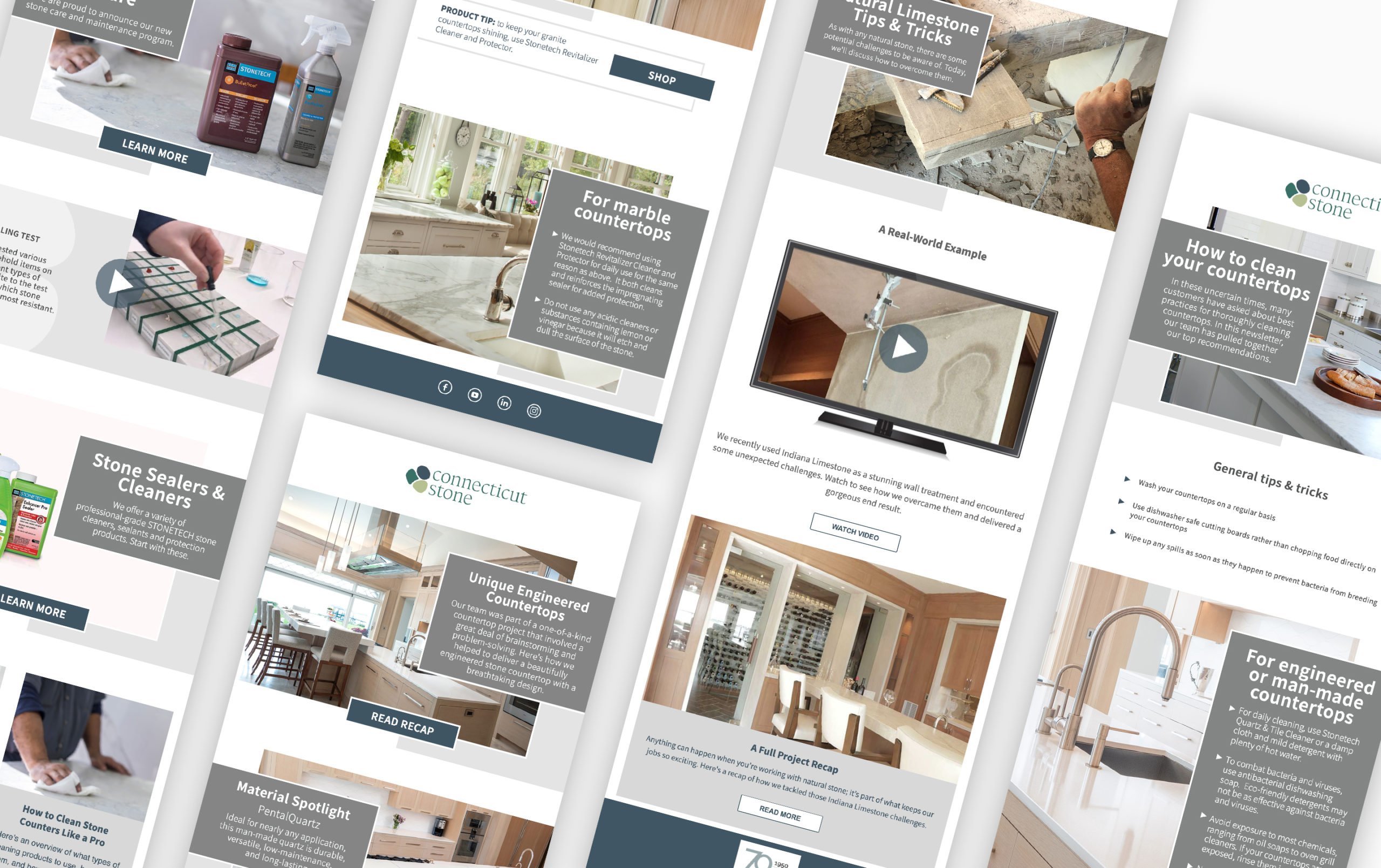 Since working with Zero Gravity, CT Stone is seeing an improvement in sales and reaching customers in all different business areas (for example: trade, retail, homeowners, wholesale, and more). They are now using less print marketing and have focused their funds on proven areas of online marketing, including PPC, social, content, and video. They also have the highest ranking for industry-related keywords—and both organic and PPC traffic has increased. Because of the success of the CT Stone website redesign, Zero Gravity Marketing has also been approached by CT Stone to assist with a build-out of a whole other web entity and digital marketing for their trademarked product, ThinStone™.
Any time a new site is launched, there is a concern over losing search engine rankings. Our SEO team was able to avoid this by developing hundreds of redirects from CT Stone's old URLs that directed visitors to the new site once it went live. We also strategically built out the website on a platform that gave us the functionality to add in ecommerce elements once the time was right.
To maximize conversions, we worked with CT Stone to develop geo-targeted landing pages with clear calls-to-action, monthly newsletters, email blasts, and more. We've also created several different design elements including a box truck wrap, t-shirts, business cards, brochures, magazine ads, and more—all of which stay within the same branding of the company. All of these services, combined with focusing on user-friendliness as part of the CT Stone site redesign, helped to improve conversions, increase sales, and improve communication with customers.
357
page-one rankings (264 of those tank in positions 1-3)
↑
Organic and PPC traffic is up YoY