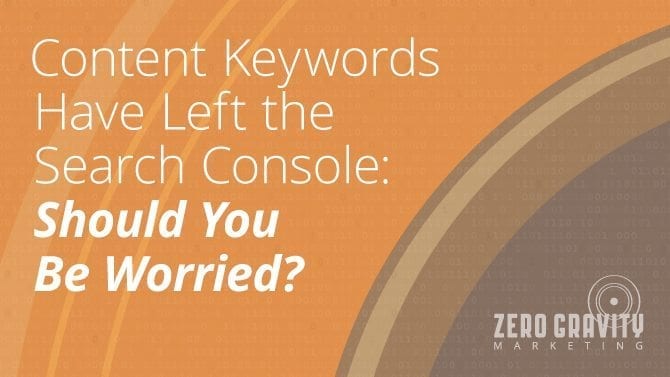 It is official: Google has bid farewell to the content keywords feature in the Search Console. Let us explain.
Content Keywords Used to Matter
Back in the day, when the Search Console went by the name of Webmaster Tools, content keywords were all the rage. It was actually the only data you could review that told you which keywords Google was ranking you for. The content keywords feature would let you know that Google did, in fact, pick up on your intended keywords. It would break down what the Google bots found on your site so you could be reassured that your work was paying off, and it would also let you know if your site had been hacked.
Now There Are Several Options to Use
As Google has evolved, there are now several ways to analyze your keywords and see what Google sees when it crawls your site. In fact, there are so many options that Google felt that the content keywords feature was no longer needed. Not only was it outdated, it was proving to be confusing for many of their users. So, alas, the content keywords feature has been retired. To evaluate keyword data, you can now turn to Search Analytics, and if you are worried about hacks, Google now has several systems in place that will automatically notify you of suspicious activity. There are also several outside sources for you to perform effective keyword research.
Yes, Keywords Still Matter
Just because Google has eliminated the content keywords feature that does not in any way mean that they don't care about keywords. They were clear to point out that the Google bots cannot read your mind and your keywords need to clearly identify what your site is about and what search queries you are targeting. Remember to focus on short-tail and long-tail keywords in your campaign to diversify the queries you rank for.
In summary, while Google has eliminated the content keywords feature, there are still plenty of ways for you to perform keyword research and ensure your site is ranking for the terms you are targeting. Even though this familiar feature may be gone, there is nothing to fear. At Zero Gravity Marketing, we are experts in keyword research and we would love to help you discover the best keywords for your industry and audience. Contact us today to learn more.