It can be tempting to think of social media as a free platform for advertising, but it requires a lot of strategy and thought to make the most of it. While it's true that you can create a free profile on social media platforms like Instagram, TikTok, and Facebook to connect with your customers, it's also true that you can use paid advertising on social platforms to extend your reach. Paid social lets you reconnect with existing customers and build relationships with new ones.
To see how your paid social campaigns are doing, you need to know what to track. The paid social metrics you pay the most attention to depend on your brand's goals for your social accounts. Not sure what this means for your brand or what these metrics are? Take a look at what you can do to determine your paid social metrics.
What's Your Goal?
When determining the paid social metrics that matter, the first thing to do is to ask yourself what matters most to your brand. What do you hope to accomplish through your social campaign?
You can do a lot with social media. Many brands find it a fantastic tool for raising brand awareness or getting on the map. And many companies have seen their revenue climb or a boost in lead generation thanks to their social efforts.
Once you know what goal or goals you're trying to achieve, you can figure out which key performance indicators (KPIs) are the most relevant to track.
Goal: Awareness
Your brand is relatively new or doesn't have the buzz you think it should. When people hear your company's name, they think, "what?" or "who?" rather than instantly recognizing it. You want to change that.
Building brand awareness is a common goal for paid social. It's also a goal you can easily track. One of the first KPIs to pay attention to is your reach. Reach is the number of people seeing what you post on social media. You can further divide reach into two categories: follower and non-follower reach. Tracking your non-follower reach lets you see how many new-to-your-brand individuals see your posts.
Another KPI to focus on if you want to build awareness is impressions. Impressions show you how many times people saw your post. It's usually a bigger number than reach, as the same user may see your ad multiple times.
Reach and impressions are valuable KPIs, but they only show part of the picture. To get a better sense of how your brand is doing, you need to measure engagement. What are people doing when they see your posts or ads? Your engagement rate measures the number of times people saved, shared, or commented on a social post. It lets you see if people are actually clicking on what you're posting, rather than just passing it by.
Goal: Boost Revenue
Paid social is a great tool for raising revenue or converting customers. To truly see what impact your social media ads are having on your brand's revenue or conversions, you'll want to track the following:
Click-through rate: The click-through rate (CTR) measures the number of times people click on your social ads to find additional content. It gives you a good idea of how people respond to your ads and which ads encourage people to take action.
Return on ad spend: Return on ad spend (RoAS) lets you see how much your brand earns compared to what it's spending on social ads. The bigger your RoAS, the better. For example, if you spend $50 on social ads and earn $500 in revenue, your RoAS is $10, meaning you earn $10 for every $1 you spent.
Revenue: Revenue tracks how much your brand earns in a month, quarter, or other defined period. You can compare revenue from period to period to see if your paid social efforts are having an impact.
Total transactions: Total transactions measure the number of orders in a certain period. You can compare the number of transactions from period to period to determine if your social ads are making a mark.
Bounce rate: The bounce rate lets you see what people do next after clicking on an ad. If they leave quickly – aka bounce – you know that you need to do something to your site to make them stay longer and ultimately make a purchase.
Goal: Generate Leads
Social media is a great place to be. It allows you to introduce your brand to new visitors and win customers. If your goal is to generate leads through social media, you'll want to focus on measuring the cost per lead.
Cost per lead gives you an idea of how much you're spending on getting a user to share personal details, such as their email address. Once you've got their email and consent to contact them, you can work on getting them to make a purchase.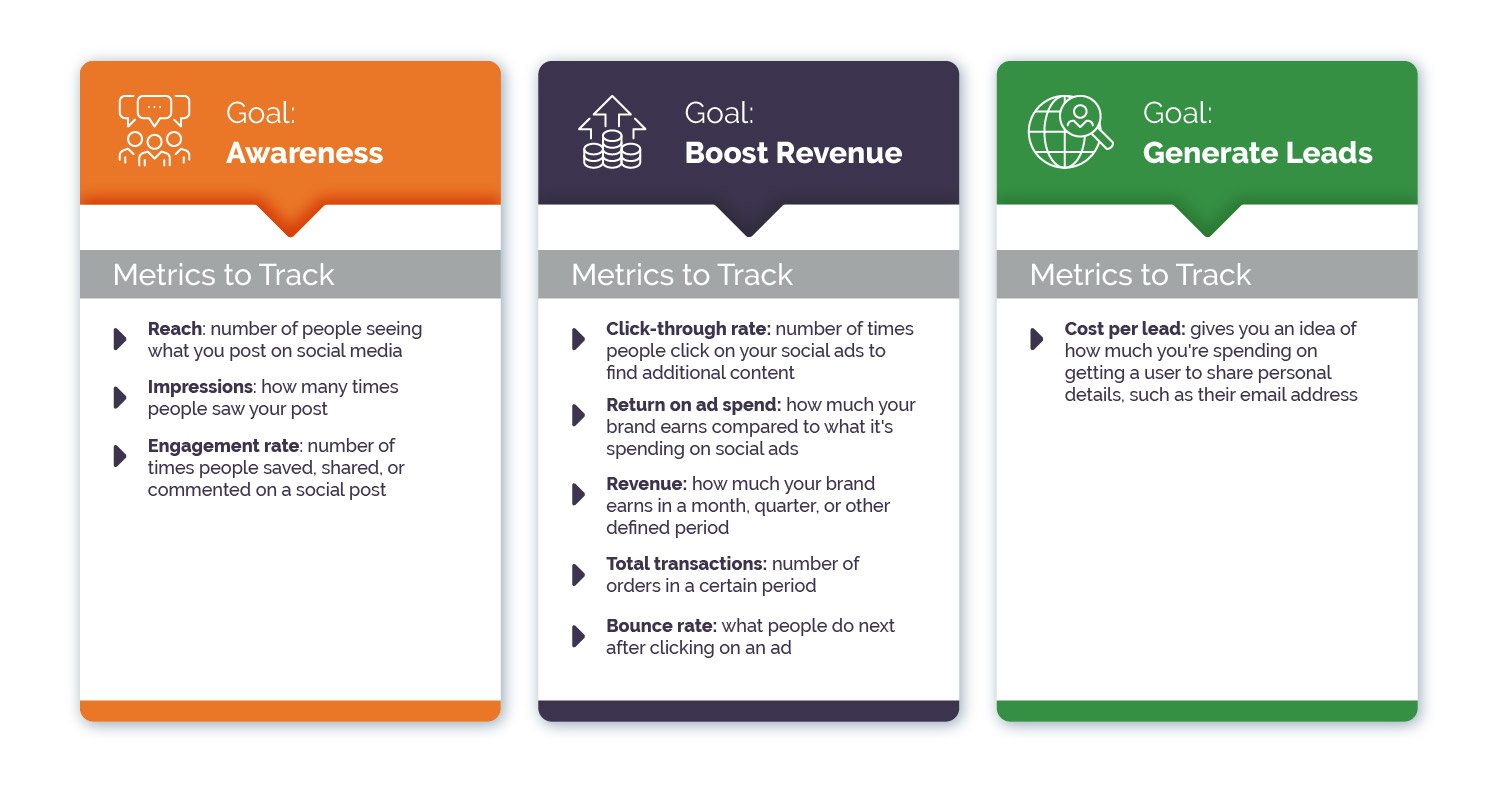 Mix and Match Goals
You don't have to choose a single goal for your paid social campaigns. Choosing multiple is all part of a healthy, full-funnel marketing approach. Knowing the goals you want to focus on allows you to choose the most relevant metrics to track.
Get in Touch With the PPC Experts at ZGM
Still not sure where to start with paid social? Zero Gravity Marketing has your back. Contact us today to learn more about our Pay-Per-Click, Social Media, and other digital marketing services.