When it comes to owning a business, it's all about competition. With so many companies offering similar – if not, the same – products and services, the rivalry between industry competitors is at an all-time high. So, how do you ensure users will choose your brand over the dozens of others that offer the same service? 
While you can highlight your unique value propositions (UVPs) and ping your target audience with campaigns, these efforts are often not enough on their own. The first step is to get your business in front of users and direct them to your site. That's where search engine optimization (SEO) comes in. 
If you're already familiar with the inner workings of SEO practices that can boost site rankings and increase user traffic, then you've probably heard of featured snippets. For businesses looking to increase their relevancy on Google search results, featured snippets offer a promising opportunity. If you're looking for the ultimate SEO secret to increase user traffic, top Google rankings, and boost customer conversions, here's the expert's guide to featured snippets. 
What Are Featured Snippets? 
Featured snippets are short excerpts from webpages that appear in Google results. Rather than generate the content, Google pulls these snippets from sites that exist within its index. These snippets function as a sort of "quick response" to a users' Googled question. They appear before the first query result in what is known as "position zero." Featured snippets are displayed in a box at the top of the search results page. 
Featured snippets are an easy and convenient way for users to find answers to commonly searched questions. They take away the hassle of sifting through multiple relevant webpages and buckets of related content to find their answer. 
The benefit of featured snippets is that they can boost your site's rankings and user traffic. When an excerpt is selected for a featured snippet, the site's organic link is still featured in the search engine results pages (SERPs), which offers your business two opportunities to reach users within Google's search results. 
They function to give your business an advantage. How, exactly? Featured snippets highlight the linked page as a relevant response to a user's search. As a result, your site appears to users before any other in the search results. 
Types of Featured Snippets
There are currently four types of feature snippets:
Paragraph

– This is the most popular type of featured snippet. They are either featured as a short-form text-based response or answer, or they can appear as a paragraph of text with a relevant image. 

Tables

– This type of snippet provides a visual to help users analyze data for comparisons.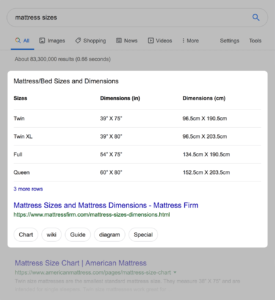 Lists

– Sometimes, Google will feature a list snippet. Lists make content much more digestible and readable for users. Allowing users to skim through the information to quickly obtain an answer increases the value of their user experience (UX) in Google search results. Lists are often used to display rankings, demonstrate the steps of a process, or pinpoint different products. Bulleted lists can show as ordered or unordered and ranked or unranked.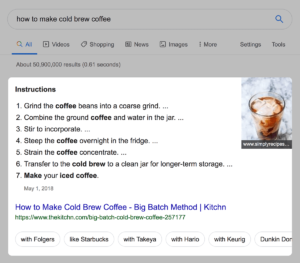 Videos

– With YouTube as a leading global search engine, ranking as a

video snippet

is another great way to drive traffic. Videos that usually rank as snippets are "how-tos" or product demos.

If you're aiming to have your content featured within Google search results as a snippet, you'll first need to determine which type of snippet best fits your topic. Then, you can organize and optimize your content accordingly to increase its chances of appearing as a featured snippet. 
Featured Snippets vs. Direct Answer
The main difference between featured snippets and direct answers is that snippets have a content link, while direct answers do not. What we mean by this is that when Google highlights featured snippets, they do so with the intention that a user may want to further investigate the source to gain more information regarding their query. However, with a direct answer, Google is providing solely the answer to a question. These are usually very short and simple responses to queries, like the weather, translations, calculations, or sports scores. 
Pros and Cons of Featured Snippets
Like anything, there are benefits and drawbacks to featured snippets. With every organic SEO effort, the goal is to rank higher within the SERPs. Featured snippets are a digital marketer's dream because your site and content are appearing above these top-ranking spots. One obvious benefit to featured snippets is the exposure and increased website traffic since your content is the first thing searchers see. 
In fact, featured snippets can increase click-through rates (CTR) by up to 8% and boost your organic SEO revenue by almost 700%. Some businesses have even reported an increase in traffic of up to 30%. Featured snippets are also a great way to boost conversions, crush competitors, and increase brand awareness by getting your content and webpage in front of new users. 
In terms of setbacks, if you ask our team, featured snippets have only positive effects for a brand. However, there are those who believe that most people don't actually click on a featured snippet. In the event that this is the case, they could end up hurting your click-through rate . But this is a worst-case scenario event, and we maintain that the benefits outweigh a potential dip in CTR.
However, when you are selected to appear as a featured snippet, you're still showing up in the SERPs, as well. This puts your brand's site in front of users twice, doubling your chance of being clicked on. Even if a user dodges your page as a featured snippet, they will recognize your site again as they scroll through the results. Because this double appearance in the SERPs increases your site authority with users, they will be much more likely to click through to a "trusted" source. 
Can a Small Business's Site or Content Become a Featured Snippet?
The great thing about featured snippets is they don't discriminate based on business size. So, small businesses have an equally fair shot of being chosen as a featured snippet. However, small businesses need to put in a little extra work to rank on that first page of Google's search results. 
Because the featured snippet will be chosen from the top 10 ranking sites on any query almost 100% of the time, small businesses have to generate relevant content. This is what Google will be looking for (as opposed to domain authority) when selecting a featured snippet. So, focus some of your efforts on producing relevant content and boosting your SEO efforts to rank. 
How to Rank as a Featured Snippet
The answer is simple: Your content needs to provide the "best" answer to a user's searched question. Sounds easy, right? Not exactly. Nothing worthwhile is so effortlessly achieved. With a little help from our team, we will get you set up for featured snippet success!
One thing to remember: Google's algorithms are always changing. What may rank as a featured snippet one day can be replaced by another bit of more relevant content the next (according to algorithmic changes and the SERPs). Your best bet is to create quality, niche, and targeted content. So, while we can't guarantee that Google will use your content for a featured snippet, here are a few methods you can test to prove your content is the best choice. 
Keywords
When it comes to being selected for featured snippets, keyword research is a must. Keywords can actually help you determine and structure the kind of content you need to create to rank for position zero. They can also be used to identify queries that are already ranking as featured snippets. You can do this research manually – by searching queries and assessing the results – or by using a keyword research tool. Once you have identified your focus keywords for featured snippets, make sure to track your performance. 
Embed the Question in Your Content
Let's make things easy for Google's algorithm. If you want it to understand which question(s) your content provides a relevant answer to, start by first asking the question. When you embed the question in your content as a subhead, for example, you are inadvertently pinging Google that your content contains the answer. This is also a smart strategy to use when trying to rank in voice search, as well.
Respond with Concise Answers, Then Expand!
While there are several different types of featured snippets, they are all concise and fact-based. When it comes to featured snippets, Google is looking for content that is evenhanded and unbiased – so stick to the facts if you want to be featured and save your opinions for more audience-targeted and branded content. The basic rule of thumb: Keep it short and sweet, and get right to the point. 
A featured snippet should be readable and easy to understand quickly – that's the whole point! With this in mind, you'll want to consider word count. Google's sweet spot for featured snippets is 97 words (or less). Aim to keep your initial, succinct response within this range.
After you've generated your "quick response," to the question, you can then expand on your answer. This shows Google you know your stuff and can provide users with extensive useful information.  
Visuals – Lists, Charts, and Images
If relevant and useful, complement your response with a visual – a brief list, table, chart, or image. Google values structured content because it gives users an abundance of information (with visual variety) that is formatted for quick scans. Pro tip: You can't go wrong with a bulleted list. 
When it comes to click-through rates, featured snippets that incorporate a high-quality image are even more effective. However, Google doesn't allow you to choose and tag the image you want featured, so if your site is selected by the algorithm, Google will choose the best-suited image from your site for you. To prepare for this random selection, make sure all the images within your site are high-quality, branded, and include annotations. 
Address and Answer More Than One Question 
If your content is chosen to be featured as a snippet for one query, this increases your chances of being shown in another. So, you'll want to address and respond to more than one question – that is relevant to the same topic – within that same piece of content. 
Data
Structured data is essential to ranking as a featured snippet because it helps search engines identify your content and create rich snippets around it. Structured data within your content can actually improve SERP rankings and increase your chances of being selected for a featured snippet. 
Your Headings and Subheadings Matter
Organization and consistency are key. To structure your content in a way that makes sense, make sure all your headings and subheadings relate and are relevant to one another, and flow seamlessly. They should contribute to the readability of your content. 
Keyword Phrases 
The whole point of a featured snippet is to quickly and concisely answer a searched question. With this in mind, the best way to get chosen as a featured snippet is through long-tail keywords. While the strategies listed above are a great place to start, we want to finish our efforts strong with sufficient and relevant content to effectively answer the questions.
When it comes to keyword phrases for featured snippets, our team recommends first assessing your current site rankings and identifying the phrases that rank well. These will be your go-to keywords for featured snippets. Then, be sure to include these long-tail keywords in your content. To reach an even wider target audience, you could also use the questions Google features in the SERPs under "People also ask."
Schema Markup and Featured Snippets
While schema markup isn't a must, it's a good idea to have if you want to be the featured snippet. Schema markup actually makes it easier for Google to assess your site's content and determine if it's worthy of this elite spot in the SERPs. Here are some schema markup tags to use to increase your chances of being chosen as the featured snippet:
Use target queries as headers and mark them with these heading tags : < H1 > < H2 > or < H3 >.

Mark your 97-word (or less) response to the targeted question in the paragraph tag, < p >, to show Google this is their perfect option for a featured snippet.

Use schema markup to determine bulleted lists < li >, numerical lists < ol >, and tables < table > to make it easy for Google to find these additions.
Can Sites Be Featured Snippets if They Aren't Optimized for Mobile?
To be selected as a featured snippet, optimizing your site for mobile is a MUST. Google's algorithm accounts for the majority of users who are searching on the go from their mobile phones. To provide these searchers with a seamless user experience, Google will select a featured snippet from a site that is mobile-friendly. If your site isn't optimized for mobile, this also significantly decreases your chances of ranking within the top 10 SERPs, anyway. 
Want to Boost Your Rankings and Chances of Becoming a Featured Snippet? Partner with ZGM's Expert SEO Team! 
One thing is for sure: Ranking as a featured snippet takes a bit of elbow grease. The good news? Through your efforts to secure that sought-after position zero, you are also growing and improving all your natural SEO efforts. It's a win, win! 
To perfect your SEO efforts, boost rankings, and secure a spot as a featured snippet, consult Zero Gravity Marketing. Our team has what it takes to take your business higher. Contact our team of digital marketing specialists to learn more about our services.