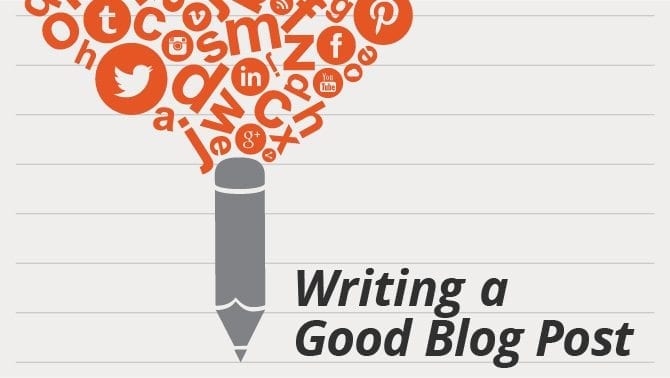 How To Write a Good Blog Post Explained (Finally!)

Ah, business blogging. Nobody really wants to do it, but it is something that must be done. It boosts your rankings and encourages your social media followers to visit your site. Not only that, but your blogs are a way for you to show off just how knowledgeable you are about your industry, which may prompt your visitors to hire you instead of a competitor.
But then the question arises: "How to write a good blog post?" And the answer is anything but simple. There is a lot that goes into crafting the perfect blog post, and it is absolutely an art worth perfecting. Here is what you need to know about business blogging successfully:
Keep It Light
First and foremost, it's important to keep the tone of your blogs casual. While they should still contain new information and provide your readers with value, it should be done so in a way that is fun to read. Nobody wants to read a college essay in their spare time, so don't make your blogs sound like one.
Write Enough
The next step of business blogging is making sure your post is long enough. Medium believes that the ideal blog post should take seven minutes to read—otherwise known as about 1,600 words. Why this length? For one, it keeps the reader on your page longer, but it's also proven that longer articles rank higher with the search engines. Apparently, if it has more words, it provides more information to the user, making it a better source to represent the skills of Google's advanced algorithm. Imagine that.
Format for Readability
It's not enough to write a meaty post, you need to make it look easy to read. If all you do is stick 1,600 words in a block on your website, nobody will read it. It will look too daunting and the back button will be the next thing pushed. However, if you break it up into small paragraphs topped with subheads, and you throw in a few bullet points, your readers will stay engaged enough to get through the whole thing.
Make It Pretty
Business blogging is not just about the words: Pictures matter too. Infographics are one of the most shared types of blog posts because they are extremely informative while being fun to look at. Even if you are sticking to the basic text format, an alluring photo is a must. It makes your blog more appealing and allows you to easily share it across all social media sites, including Pinterest and Instagram.
Give Direction
When wrapping up your blog post, it's always a good idea to include a call to action. You don't want every blog post to seem like a sales pitch, but you can certainly include a simple, "For more information, contact us today! We would love to answer any questions you have." This will give the reader permission to inquire further about what you have to offer, which oftentimes is the exact push they need to take action.
Post Often
Now that you know how to write a good blog post, you need to know how often to post one. The easy answer is at least once per week. This is the bare minimum that you need to stay relevant and to impress Google. However, if you can do more, then you will be rewarded for your efforts.
So what do you think? Does business blogging sound like something you can tackle head on? If it sounds too intimidating or time-consuming, you are not alone. That's why we offer affordable content services that will help your blog stay up to date and Google friendly—and yes, our writers know how to write a good blog post.