Keyword cannibalization might sound like a term straight out of a horror movie, but in the world of search engine optimization (SEO), it's a very real and common issue. If you're unfamiliar with the term or need clarification on what it means for your business, you're in the right place. In this guide, we'll dive deep into what keyword cannibalization is, its potential pitfalls, and how to steer clear of it. By the end, you'll be equipped with the knowledge to enhance your digital marketing efforts or even consider seeking expert assistance from full-service agencies like Zero Gravity Marketing (ZGM).
What Is Keyword Cannibalization?
At its core, keyword cannibalization occurs when multiple pages on your website target the same keyword or very similar keywords. This leads to a situation where your pages compete against each other in search engine rankings rather than working together to boost a single page. Imagine having two salespeople from the same company trying to sell the same product to a customer. Confusing, right? That's precisely what happens with keyword cannibalization in SEO.
Why Is Keyword Cannibalization a Concern?
Diluted SEO Efforts: When multiple pages target the same keyword, search engines struggle to determine which page is more relevant. This can lead to neither page ranking as high as it could have if it were the sole focus.
Wasted Site Authority: Backlinks and other SEO efforts get spread thin across multiple pages, reducing the impact of your SEO strategies.
Confusing User Experience (UX): Visitors might land on a page that isn't the best match for their query, leading to increased bounce rates.
Detecting Keyword Cannibalization
Detecting keyword cannibalization requires vigilance and regular technical SEO audits. Online tools like SEMrush and Ahrefs offer features that can help identify instances of keyword overlap. Additionally, a simple site search on Google using "site:yourdomain.com 'target keyword'" can reveal multiple pages targeting the same keyword.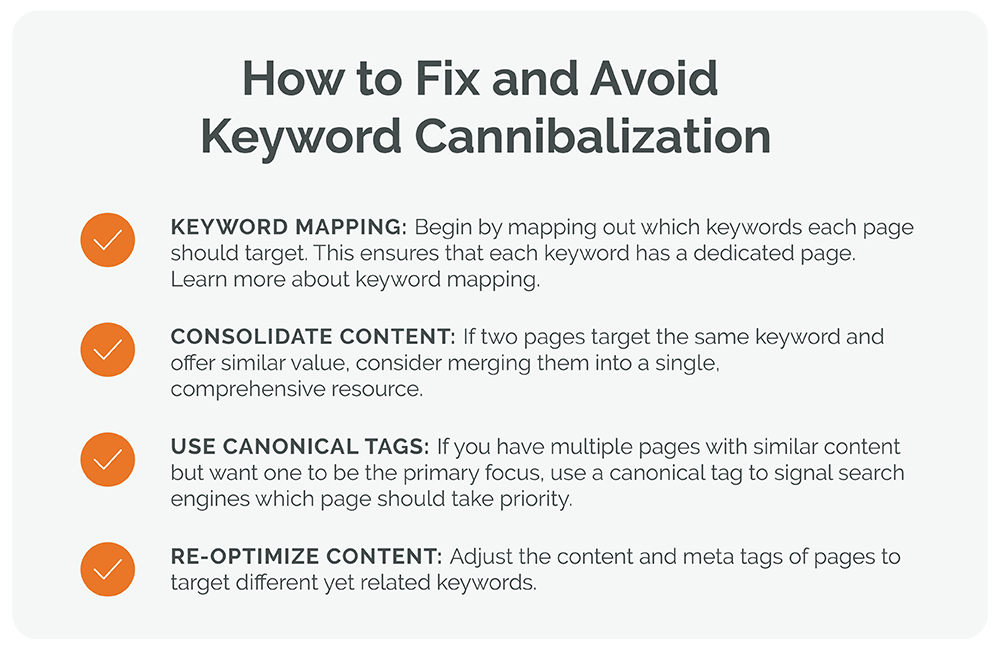 Is Keyword Cannibalization Ever Good?
While the term "keyword cannibalization" often carries negative connotations in the SEO world, it might actually be advantageous in some instances. Here are a few scenarios where keyword cannibalization can be beneficial:
Different User Intents: A single keyword can sometimes have multiple user intents. For instance, the keyword "apple" could refer to the fruit or the tech company. If your website has content catering to both these intents, it's natural for both pages to target the same keyword. In such cases, having multiple pages rank for the same keyword can cater to the varied needs of the audience.
Dominating Search Results: If your website is authoritative in a particular niche, you might find multiple pages from your site ranking for the same keyword. This can be beneficial as it allows your website to dominate the search results, pushing competitors further down the page.
Testing Content Performance: If you're experimenting with different content formats or styles for the same topic, you might end up with multiple pages targeting the same keyword. This can provide insights into which content type or style resonates more with your audience.
Geographical Variations: For businesses with multiple locations, it's common to have separate pages for each location, even if they target similar keywords. This can be seen as a form of keyword cannibalization, but it's essential for local SEO.
While these scenarios highlight the potential benefits of keyword cannibalization, it's crucial to approach the situation strategically. Regularly monitoring the performance of your pages and ensuring that each offers unique value will prevent the typical pitfalls associated with keyword cannibalization.
Wrapping Up: Navigating the Complexities of Keyword Cannibalization
Keyword cannibalization can hinder your SEO efforts, but it's entirely avoidable with the right knowledge and strategies. Whether you choose to tackle it on your own or seek expert assistance, the key is to remain proactive and informed.
At Zero Gravity Marketing, we understand the intricacies of SEO and the challenges that come with keyword cannibalization. Our content marketing services and natural SEO solutions are designed to ensure your content is optimized, relevant, and free from cannibalization. If you're ready to take your SEO efforts to the next level, we're here to help!