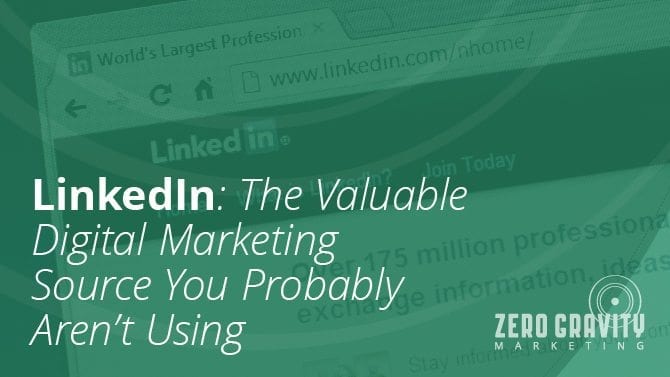 The nearly 500 million people on LinkedIn come to the site to network, create a personal brand, and look for jobs, so their profiles are almost always current and accurate. This makes marketing on LinkedIn one of the most valuable forms of digital marketing if you are looking to target a pre-qualified audience of decision makers, influencers, and executives. Here is a closer look at how to use LinkedIn targeting to improve your ROI.
How LinkedIn Targeting Works
Every LinkedIn profile is laden with essential information, such as job titles, years of experience, valuable skills, names of companies, etc. Because LinkedIn is a professional networking site, people are willing to put all of their information out there to attract potential employers and make themselves look good. What this means for you is that with LinkedIn targeting, you have so many more options than just your standard age, gender, and location. Here is a look at the key areas of targeting available on LinkedIn:
Experience – This includes not only how many years of experience someone has, but also what their job title is, what their job responsibilities include, and their seniority level
Company – Target by the name of the company, the industry, or even the size of the company
Education – Choose to target people who studied specific fields, received specific degrees, or attended specific schools
Interests – Show your ads to people based on the groups they are a part of or by the skills they state they have
Identity – This is your basic demographic info, such as gender, age, and location.
When you set up a campaign on LinkedIn, you can choose from any of these many targeting options; however, LinkedIn does require you to specify the location you are targeting. But the good news is, they will count both the location listed on a profile and the location of the IP address.
How to Make the Most of Marketing on LinkedIn
Now that you know the many options for LinkedIn targeting, it's time to dig a little deeper and explore how to use them effectively. Here are four helpful hints:
Create different campaigns for each of your buyer personas. It is simply not smart to target people in unrelated industries and varying locations in the same campaign.
Speaking of buyer personas, it is crucial that you are very specific with yours. Group together the targeting options that make the most sense so that you can deliver the right message to those users.
Don't be too specific when selecting your targeting options. While it's great that LinkedIn offers so many options, you don't want to go through and select every one. If you dramatically limit your reach you will not see the results you want.
Don't be too vague either. In addition to selecting a location, LinkedIn recommends choosing two other targeting facets. This will give you a narrowed down audience while still allowing enough scale to see results.
By implementing LinkedIn targeting, you can easily connect with individuals who will make a big impact on your business. But just like all forms of Digital Marketing, you will need to use some trial and error to find your LinkedIn sweet spot. To learn more about marketing on LinkedIn, contact us today.