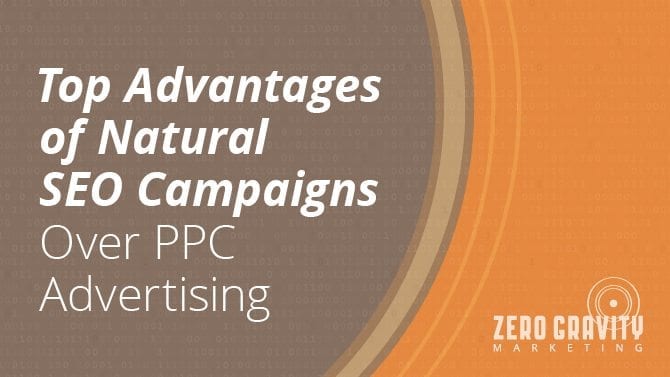 Drawing new visitors to your website is a goal for most online businesses, but figuring out the most effective method for doing so can be challenging. You may have heard of search engine optimization (SEO) and pay-per-click advertising (PPC), but understanding how these strategies can be used to drive new traffic to your website and which strategy is the most beneficial can be confusing. As you begin to explore your digital marketing options, keep in mind these top four advantages of utilizing a natural SEO campaign over PPC advertising.
Cost
One advantage of natural SEO over PPC advertising is long-term cost. PPC ads may be guaranteed to get your company's website in front of potential customers, but you'll end up paying for every click-through. On other hand, a natural SEO campaign entails zero cost for each potential customer's visit after your initial implementation costs. The long-term costs for natural SEO versus a PPC advertising campaign are usually significantly lower, even if you provide digital marketing services to clients through a reseller SEO agency.
Consistency
Companies are often tempted to rely solely on PPC advertising because of its immediate results. Natural SEO, on the other hand, requires time to produce sustained traffic-producing outcomes. However, once your website has reached the top of its search engine results via a natural SEO campaign, you can expect more consistent and continuing traffic as long as you stay on top of your SEO efforts.
Credibility
The average Internet user may not always understand the precise nuances of PPC advertisements, but they are savvier than many give them credit for. A typical search engine user understands that the highlighted results at the top of their search were paid for, and these sites can seem less credible as a result. Conversely, sites that show up at the top of a search engine's organic results due to an effective natural SEO campaign are frequently assumed to carry authority and are imputed with a positive reputation that is important for generating customers.
Competitive Advantage
All businesses have competitors, and one important point to keep in mind: every top search result you get through natural SEO bumps competing businesses down in visibility. The more time and effort you put into improving your organic search engine rankings will naturally result in your competitors losing out on valuable traffic, giving your business an important boost.
Of course, Digital Marketing is often most effective when you utilize a combined approach, and best when strategically planned within an overall comprehensive digital marketing strategy. While a natural SEO campaign presents many advantages, integrating with a PPC campaign can yield better results, depending on your goals. As a full-service digital marketing, PPC and SEO company, Zero Gravity Marketing provides an entire suite of services that can help maximize your ROI. Please contact us today to learn more.