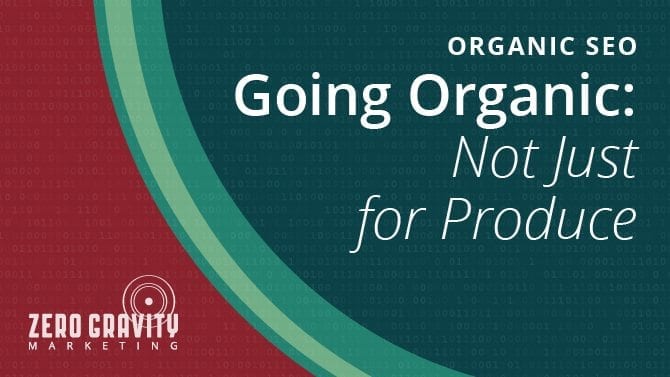 Going Organic: Not Just for Produce
No doubt you've heard the term organic SEO. And without a doubt it is one of the most important parts of online marketing for any company or brand. But what exactly does organic SEO mean, why is it so important, and what strategies should your company be implementing to make sure that yours is as strong as possible?
What Is Organic SEO?
SEO refers to search engine optimization. And put simply, it's when someone does a search on any search engine, such as Google and Bing, that is related to your business, how high up does your website rank. If your company sells sneakers and a person Googles 'sneakers,' will your company's website come up first? Of course, that is extremely unlikely unless your company is Nike or Zappos.com, or if you've paid for a PPC advertisement using a service such as Google AdWords. While placing advertisements that operate based on search engines is definitely a valuable tool in online marketing, it's not organic SEO, and it doesn't have quite the same power as when a company's page automatically comes to the top.
Why Is Organic SEO So Important?
While only the largest corporations are going to be first in a search as broad as sneakers, few people actually Google sneakers, rather they look for something more specific and use those terms. "Where to buy sneakers chicago" or "sneakers made in US small company" would be searches that your company would want to target.
Of course the simplest importance of organic SEO is that it's not advertising. While having your company appear on the top of the page as a paid ad will drive traffic, people are generally aware it's an advertisement, and it does not have the same authority of a link to a page that naturally appears on the top at Google. The ones that are at the top is the one people are going to truly trust as being the most relevant to what they are looking for.
How to Make Your Organic SEO as Strong as Possible?
This is a major topic and one that fully occupies many a content strategist. As algorithms become increasingly complex, the answer has continually changed, but at this point search engines do a very good job of mirroring how people actually use the internet. There are two terms referring to different SEO practices, whitehat SEO and blackhat SEO. Whitehat SEO is when a company uses techniques to push their website to the top that favor how a person would naturally search for something on the internet. Meanwhile, blackhat SEO operates by trying to take advantage of the rules of a search engine's algorithm to try and game the system. To have organic SEO that is strong and stays strong in the long run, over continuous changes in search engines algorithms and wont get your website penalized, it's important to use good whitehat SEO techniques.
Currently, the world of search engine optimization is highly diversified. While so much of previous techniques involved keywords and backlinks, now a wide variety of social media and having sticky webpages and quality content is more important than ever. In fact, organic SEO is much like organic farming. While traditional farming can pay to use massive amounts of chemical fertilizers and pesticides to ensure a single crop grows over a wide swath of land, the organic farmer must pay careful attention to a wide variety of conditions, employ a whole host of techniques such as different forms of natural pest management and create a carefully integrated farm that allows a diversity of crops that will support each other and the land naturally. There isn't one secret formula that will yield great organic SEO, rather it is a variety of carefully implemented marketing strategies which is going to bring your company the best possible online marketing. To find out more details give us a call.