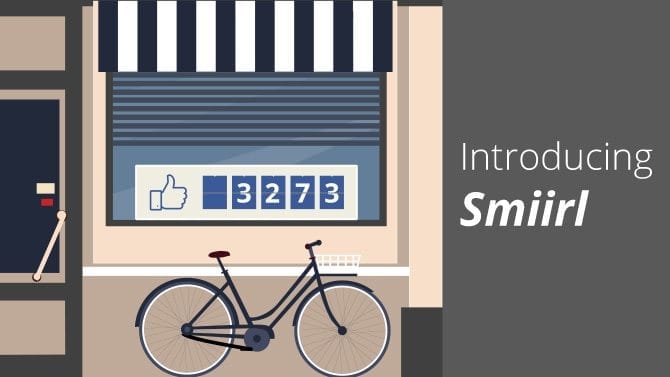 What Can Smiirl Do For Your Social Media Marketing Strategy?
Imagine someone walking down Main Street, and glancing into your boutique shop window. Instantly, they see a counter indicating how many likes you have on Facebook. The counter keeps ticking, right before their eyes, as more people continue to like your page. This customer is going to be intrigued, as they will know that you have captured an online audience and likely have something valuable to offer.
Then, they'll walk into your store.
This scenario can become a reality with Smiirl. Smiirl is the first analog social media counter that is designed specifically for small businesses, linking with any social networking account and providing real-time information within a brick-and-mortar location. It should be the latest addition to your social media marketing plan.
What is Smiirl? 
A Smiirl counter is a physical counter that can be placed within a storefront or small business, providing real-time information about likes and follows. Its interactive display is also autonomous — electricity and an Internet connection is all you need in order to get it going. The goal of Smiirl is to help connect online activity with real-life business, motivating employees and encouraging customers.
How Can It Help Your Social Media Marketing Campaign?
Designed specifically for small businesses, Smiirl can help you evaluate your social media strategy. If you are hoping to earn more likes on your page, you can watch it happen before your eyes on your Smiirl counter while you still operate your business from the storefront.
You can encourage your employees to continue to meet their goals and revise their own social media marketing strategies. The Smiirl counter helps motivate them, as they see the data displayed on a regular basis.
The interactive display allows Smiirl to be versatile for you. You can use it to inform people about your social media presence, or you can use it as a reward for your social media team who works tirelessly to improve your online platform.
Smiirl is an innovative way to connect your digital and physical business. Find out more information about this unique product here. For full-service social media marketing management that is results driven, contact us.