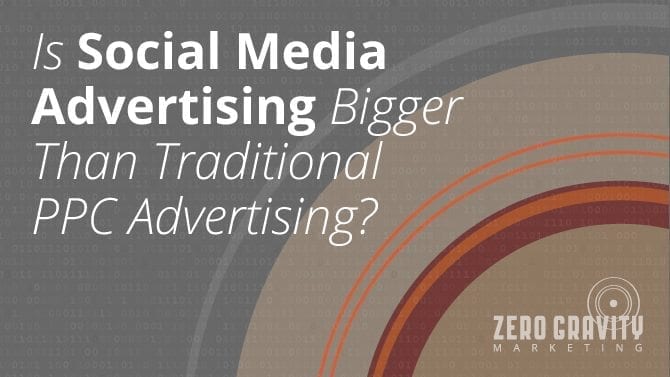 Comparing Social Media Advertising With Traditional AdWords Advertising
Determining the best advertising platform for your business is challenging, but there are ways to simplify the process. Two common advertising methods to help businesses make more-informed marketing decisions are social media advertising and PPC advertising. Both have their place.
Social Media Advertising
social media advertising uses Facebook, Twitter, and other social media platforms to drive traffic or users to websites and businesses – 1.55 billion people use social platforms each month.
Highlights
Extremely specific audiences and demographic targeting often create a lower cost per click (CPC) compared to traditional AdWord advertising that uses keywords to determine relevancy and ad rank.
Marketers can use unique availability of information to optimize ad campaigns. Users unknowingly offer a plethora of personal and demographic data that is unusual to find anywhere else and can be invaluable to marketers.
As of November 2015, 1.28 billion people were using Facebook Ads monthly.
Social media sites are compatible with full-scale mobile advertising. Mobile advertising revenue constitutes approximately 21.7 percent of total ad revenue for marketers.
Incredibly high return on investment potential makes social media advertising a compelling marketing choice, particularly for small businesses and companies that cannot afford to spend a lot of revenue on advertising campaigns.
Brand engagement is a proven way to boost sales and secure customer loyalty. In this way, businesses excel at meeting the specific needs of their customers. Social media campaigns allow businesses the opportunity to address their customers' individual concerns and offer solutions.
Interactive, high-quality ads give these campaigns an indisputable edge in the marketing industry. Marketers can move beyond traditional text ads on these platforms and use graphics and videos to help promote their business. This expands on the interactive quality of the ads and increases efficacy.
PPC Advertising
Traditional pay-per-click (PPC) advertising generally uses major search engines such as Google to drive traffic to web pages and businesses online. Advertising this way has become a necessary part of any advertising campaign.
Highlights
People use Google and similar sites to make specific product searches compared to social media. This is a great advantage because you can instantly reach your target consumer. People searching for products on Google and related sites are essentially shopping already, so ad viability is much more pronounced. Likewise, social media users are not actively searching for products or knowledge per se, so there is less potential for immediate marketing success.
PPC advertising is designed to reach specific audiences through geographic location, keywords, and device type.
PPC advertising is flexible in terms of budget options. For instance, marketers can disperse budget based on device type.
PPC ads focus on relevant, high-quality ads and user experiences.
Which Is Better?
PPC advertising is designed specifically to optimize for every possible consumer. Complex search queries and keywords are invaluable ways to reach potential customers. And, there are more potential customers to reach on sites such as Google. The audience is massive and continues to grow.
Social media campaigns, on the other hand, are able to reach specific targets that might otherwise be hard to identify. Social media marketing is so successful because ads target individual needs without any active effort to search for products. It is vastly psychological and effective. For this reason, may be the most complex advertising platform available.
The answer is specific to each individual business, but a combination of both of these advertisement approaches could be the most effective.
Contact us for more information.