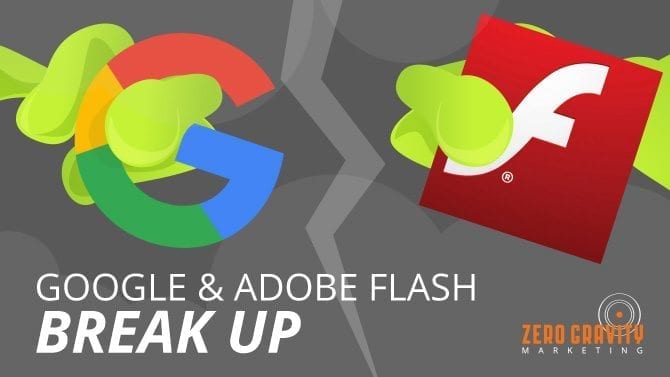 Any outdated webmasters or PPC campaign managers that still use Adobe Flash to create PPC banner ads, animations or games will be forced to make a big change this year.
Many people have long complained about Adobe Flash. It takes a long time to load, uses substantial battery power, has limited compatibility with devices, and even poses security concerns. So it's no surprise that Google is saying goodbye to Adobe Flash by the end of the year in hopes that webmasters and PPC campaign managers will finally make the switch to HTML5.
The Details for the Google and Adobe Flash Split
The good news for webmasters is that Google is giving them plenty of time to eliminate the use of Adobe Flash. Google will not switch it off by default until the end of 2016 (an exact date has not been given). Adobe Flash content will still be accessible after the change; however, users will need to physically turn it on for each website they visit. And as you know, the more a user has to do to view your content, the greater the chance of them hitting the back button.
There Are a Few Exemptions
In addition to the approximately six-month period Google is giving webmasters before cutting ties with Adobe Flash, it is also making an even longer exception for the top 10 domains that currently use Flash. The list includes the big players, like Amazon, Facebook and youtube. That being said, these exemptions will expire after a year, and the list will be reviewed regularly to ensure the whitelisted sites still require the use of Adobe Flash.
AdWords Is Impacted Too
Google has long been encouraging its advertisers to use HTML5. Not only is it faster, it doesn't have the compatibility issues that Adobe Flash does. Well, it seems like Google is skipping the subtlety this time around—on June 30, 2016, they will no longer allow new ads to be uploaded if they use Adobe Flash. This change will affect DoubleClick Digital Marketing and the Google Display Network. If there are any existing campaigns using Adobe Flash, they will have until January 2, 2017, before they are eliminated from Google's advertising networks.
What It Means for You
It's pretty clear that Google's goal is to bring the entire industry to the HTML5 side and eliminate Adobe Flash completely. To save yourself a lot of trouble, your best bet is to just get rid of Adobe Flash now. The last thing you want is for your bounce rate and user experience to suffer because you didn't use HTML5. And hey, your website will also load faster, be more compatible with varying devices, and be less prone to hacking, so really, it's a win-win for you.
Don't wait until the deadline to make the changes. Contact Zero Gravity Marketing today to get your website and AdWords campaigns switched over to HTML5 and stay ahead of the curve.